Black Friday marks the beginning of the huge holiday shopping season when some of the best deals around are unearthed. Are you ready to join the big crowds and brave the shopping lines and traffic?
For those of you who are into this shopping holiday craze, here are some tips. They're pretty applicable and should remain pretty useful for any form of shopping you intend to do this coming season.
Black Friday Shopping Tips and Tricks
#1 Get organized before shopping.
Get your Black Friday coupons together, finalize your list of stuff to buy, strategize with your family. If you're serious about making this an event worth your while, then why not get your family involved? Assign different family members different stores to visit in order to take advantage of the promotions. Without a plan, you may not get as much bang for the buck and you'll just be treating the event like any other shopping experience, maybe just wasting your time. Remember that the family that shops well together, stays together. But if you're out there to just window shop, then that's another story of course.
#2 Prioritize your list of things to buy and stores to visit.
If you're like me, then you're not the type who can shop all day long. I used to enjoy shopping much more when I was younger and had more energy ;). These days, I budget my time as well as my money when I go out to shop — usually because I get either bored or exhausted after walking around the malls for a couple of hours. If time is an issue for you, then ensure that your list is prioritized, and you've planned your logistical route for the day.
#3 Shopping on Black Friday is like visiting Disneyland — get in early to save time and hassle!
Believe it or not but there are hard-core shoppers out there who look upon the event as an "experience" or part of their family "tradition". If you see that line snaking out of a store the night before Black Friday, then those are some serious consumers who've decided to camp out to beat everyone else to the merchandise. Now that's something just completely out of the question for me, but it could actually be "fun" for some people.
#4 Watch out for specials.
There are promotions that may only be valid for Black Friday. "Doorbusters" and "Early Bird Specials" may only run from 5 am to a few hours afterwards. If you miss these, not to worry, there are tons more shopping sales to find every retail season.
#5 Shop online.
Now that's more like it. The web has its own version of Black Friday deals which I no doubt prefer over the offline shopping experience.
#6 Check out a store's pricematch policy.
Find out if a store has a "lowest-price" guarantee or policy — if so, make copies of the pricing information for the products in question that are being advertised for less. Price guarantees may not extend to products available on the internet but you can attempt to persuade the store further by providing copies of the pricing from web sites (especially if it's from their own web site). What's great about valid pricematch guarantees is the convenience of buying the products in one store at those lower prices. As mentioned, this entails preparation and price comparisons of products available at various stores.
#7 Buy earlier, then return/rebuy on day of sale.
This may not be entirely ethical, so first inquire if this is within a store's policy to honor. The return policy may explain or hint at the acceptability of this tactic. Those who have already bought a particular item before a big sale may be tempted to visit a store on the day of a sale, only to return the item they've purchased earlier, which they then repurchase at a lower price. I wouldn't be surprised if a lot of customers do this sort of thing. Here are more tips on returning and exchanging merchandise.
When Is Black Friday? Mark Your Calendars!
Some people will say you need to prepare several days in advance for an event like this, treating it like a sport. For those who want a small reminder of when Black Friday sits in the calendar, there's this nifty tool from calendar-365.com that gives us a countdown. Here's a screenshot of the schedule (minus the countdown, which is a dynamic number that gets updated daily):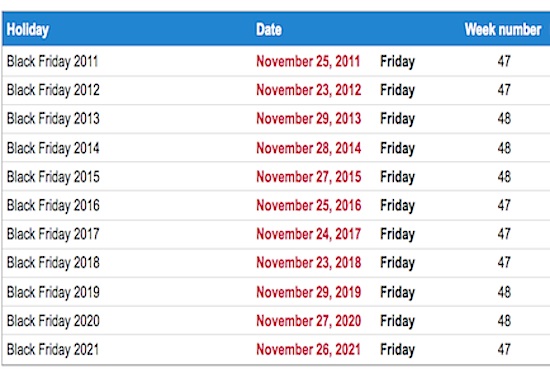 So are you raring to shop? In my case, I'm just a casual shopper who'll be taking it easy. Sales come and go, after all. I usually take note of Black Friday to see if it can give us a glimpse of the current state of the global economy. In years past, we saw a surge in foreign travelers who would go shopping for these deals all the way here, thanks to currency exchange shifts. Let's see how the season unfolds this year.
Created November 23, 2007. Updated November 20, 2011. Copyright © 2011 The Digerati Life. All Rights Reserved.