Is shopping on Black Friday worth the money or the risk?
To many, the week that encompasses Black Friday and Cyber Monday is "buy or die" week. It's buy or bust. I've never figured out how people can brave the elements, fight over limited parking spots, stand in long lines waiting for store doors to open, then try to avoid being trampled upon during the mob stampedes. Why Oh Why do people subject themselves to this? I will actually PAY to avoid crowds, parking difficulties, the inconvenience and the waiting. Time, after all, is money too! Let's see why I avoid this like the plague while others revel in it. There are actually a few good practical reasons.
Black Friday: Not The Best Time To Buy Certain Items
I've seen some reports stating that Black Friday is not the best time to purchase certain merchandise. Deals sites are stating that the following items will be discounted but you can get them at better prices at a different time.
Toys – Buy these the two weeks before Christmas.
Winter Clothes and Christmas Decorations – Better prices in January and February.
Next Year's Calendar – Again, wait till January.
Jewelry – You may get better discounts throughout the year.
Black Friday is a tradition. That is, this is the time when retailers make sure to hype things up with price cuts, but these prices may not be the lowest you'll get during the year. Retailers are out there psyching you out and mixing great prices with more mediocre deals, while perhaps saving the best deals for later. Monitor prices of items on your Christmas list online before venturing forth!

In general, shopping on Black Friday can save you money, but be careful. Because in some places, those discounts are not worth the risk to your life and limb.
Why Black Friday Could Be A Safety Risk
I culled together a collection of quotes and interesting facts I found in various stories about this day from CNN Money and the San Francisco Chronicle to explain why I hole up at home during the buying season.
"I just heard about [T.M.X. Elmo] in the summer and when I came here, they said they were all sold out," said Terminator Coles, who waited three hours in front of the Toys R' Us flagship store to buy one of the red robots for his 1-year-old son. "I figured if I came here the day after Thanksgiving, they'd have one."
From my experience, little babies don't really have that much of an attention span and toys are easily recycled and outgrown, so I hit Craigslist for many children's items at an immediate discount. Then if the kid ignores the toy after a few hours, I won't feel so bad.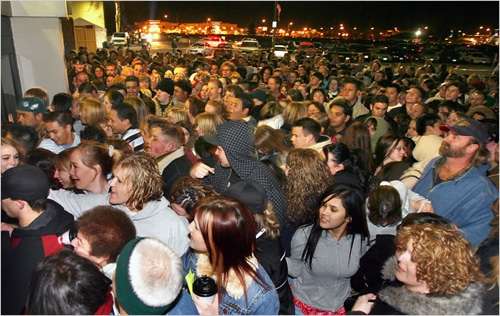 Photo by NY Times
I hear stories that involve customers who come in early but leave empty-handed because they were still beaten to the punch by those who make off with popular products (particularly in the electronics and toys categories). For example, when the Xbox was all the rage, it would be off the shelves in as little as 29 seconds in some cases. Other prized toys would be gone in a short 15 minutes — even in online sites like Amazon!
One hot item was a 19-inch TruTech flat-screen TV, selling for $179. A few customers even loaded up on four of the television sets. "I see everyone getting it, but I don't really know how much it's worth," said 40-year-old Margalie Simon, who was carrying her own TruTech TV.
"My wife sent me out for this one," he said, pointing to the television in his shopping cart. "But then I saw this one (a 20-inch conventional TV) for $85 and said, what the heck, I'll get that one, too."
Fourteen-year-old Marie Logan had $1,000 burning a hole in her pocket Friday at 5:30 a.m. when she arrived at the Glendale Galleria in suburban Los Angeles with her mother and 11-year-old brother. "I just bought whatever I liked," said Logan.
This is what retailers want to hear: this puts the Black in Black Friday. This is why the frenzy is not just potentially physically dangerous. It plays with your mind as well. When you get caught up in any frenzy, your brain shuts down and the herd instinct kicks in. This whole event may be dangerous to your wallet; rather than save, you can end up spending more on things you may not need since the temptation to make your effort be worth something is strong. The crowd tendency to spend is heightened, so it's another "madness of crowds" moment.
But what would be the point of the experience if you won't be guaranteed that you will get what you want? Well that could be the case on any other shopping day, but this day at the mall to me is scary. Let's look at the bright side: at least if you end up empty-handed, you saved the money for another day.
Now what about that other aspect of shopping during Black Friday — the part where your sense of security is at stake? Where there are manic crowds, there can very well be threats of violence. There have been many incidents in years past when shootings would occur due to customers fighting over the same merchandise. And of course, theft is common as well, when thieves try to swipe the stuff you buy. Imagine this though, some people who have been interviewed by the news media have admitted to hiding guns in their jacket while they go shopping. Beware of the angry or defensive shopper!
Just another thing to worry about: more crowds, potentially more trouble. This is one of the reasons I don't go out on this day.
Some people claim they even skip and miss Thanksgiving dinner to participate in the Black Friday bonanza. Some camp out like they would at a concert, eating nothing much but junk food. For many, this sounds like absolute, utter fun and excitement, like a rite of passage you need to go through if you're living in America. Scalpers should also watch out: this could happen to you!
Isabel Quintanilla of Los Angeles waited in a long line outside the Disney Store at the Glendale mall with her impatient nephew for 45 minutes. Once inside the store, it took Quintanilla 60 minutes to pay for her items, which meant she missed the 10 a.m. deadline to get an extra 20 percent off on top of the 40 percent off. But for her, the wait was worth it when she noticed she saved $14.40.
All that pain to save $14.40. That was $14.40 for 2 hours of your life in an unpredictable mosh pit, maybe not including commute time either. I prefer to save $14.40 by buying less merchandise.
Tourists & Black Friday
And have you heard about the tourists who come to the United States just to shop on Black Friday?
Visitors usually flock to metro areas, like Chicago, Los Angeles and New York, and also major border cities, like San Antonio, which draws Mexican nationals to its North Star Mall. Japanese jet-setters come to Honolulu's Ala Moana shopping center for high-end fashion retailers like Dior, Fendi, Louis Vuitton and Hermes. In Miami, tourists are headed to Miami-based Dolphin Mall from Latin America, Mexico, Brazil and the Caribbean.
They travel here because:
of the better prices they get for American brands. "Tourists are finding great value over here since we have items that they cannot get, and it's way more expensive to import them over there."
believe it or not, some enterprises are now marketing Black Friday to tour operators.
it's a spectacle tourists want to see and they want part of the action. "They want to see the madness of people going to the mall at 5 a.m. to go shopping because that usually doesn't happen in any other country," said Lucia Plazis, a marketing specialist for Taubman Centers' Dolphin Mall.
According to Marshal Cohen, chief analyst at NPD Group Inc., Black Friday is "becoming the biggest sport"; sure, just like running with the bulls in Pamplona, Spain. Even with the day over, you can look forward to another big shopping day on "Cyber Monday", on the first day of work after Thanksgiving, when people go shopping online at the office(!) in record numbers.
As for me, I try to get our Christmas shopping all wrapped up in October.
Source: CNN Money, San Francisco Chronicle
Copyright © 2006 The Digerati Life. All Rights Reserved.