Want to skip out on traffic and crowds, and save some time and money when you shop? Then check out these best coupon sites for online shoppers!
I live in a pretty remote area that is seriously deficient when it comes to decent shopping. The retail event of the century was when the new Super Wal-Mart opened, so "dining out" around here means making a trip to the local Ponderosa. There's certainly nothing wrong with any of this, but I sometimes miss the enormous malls full of pretty, shiny things (many of which I couldn't and still can't afford) that I left behind.
Because I can no longer visit the stores where I used to shop at when I lived in the city, I do a lot of shopping online. Just because I live in a rural area with few shopping opportunities and locales, I shouldn't have to give up the brands that I love. I also shouldn't have to pay more for those brands just because I end up buying them through the internet. Even with shipping costs, I've found that it's often easy to meet or beat store prices by shopping online. All it takes is a little detective work and a good coupon site.
Best Coupon Sites for Stay At Home Online Shoppers
There are dozens of websites dedicated specifically to retail coupon codes for online shopping. They contain tons of coupons that can be used at your favorite e-tailers, so you've got less of an excuse to pay full price at an online store. Here are some of the more popular options:
1. Ebates
While Ebates is technically more of a fantastic cash back rewards program, they actually offer a great listing of coupons for hundreds of online merchants. Just click on the merchant and a little pop up window appears to advise you of all the great deals and coupons that are available in addition to the cash back that you'll receive.
2. RetailMeNot.com
Retail Me Not is a very easy to use coupon site. Simply type in the name of your target merchant on the site's front page, and the site will provide you with a list of coupons for that merchant. Some notable features of the site: users may submit and share coupons through a submission page; there's also a forum area where you can make money (through revenue sharing) by posting and participating in the RetailMeNot community. The site also allows you to vote and comment upon how well a coupon has worked for you and shows the coupon's success rate (the percentage of times a particular coupon has worked for users who have tried it).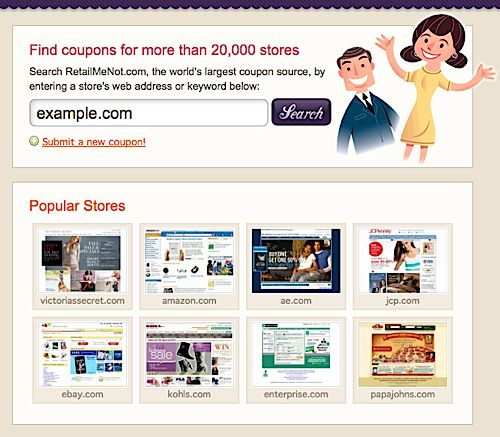 Image is from the coupon site, RetailMeNot!
3. CouponMountain.com
Coupon Mountain is also very easy to search. I've had less luck finding usable coupons through Coupon Mountain recently, but it may be because my merchant preferences have changed. YMMV.
4. CouponCabin.com
Coupon Cabin is a site that has received many positive media reviews. The most popular coupons on Coupon Cabin are tested daily to ensure their validity, which saves the user a lot of time. Additionally, you can read user reviews written about various merchants, and/or view exactly where on the merchant site the coupon code should be entered.
5. CouponCode.com
Coupon Code is not a site that I've used before, but I think I'll be trying it out in the future. The site appears to be very well designed and user friendly, with a drop down list on the top of the page listing dozens of merchants. Selecting a merchant takes you to another page that lists all of the coupon options for that particular merchant.
Quick Tips on Using Online Retail Coupons
Which retail coupon site should you use? It depends, really, on what you need or want. Not all sites have all online stores listed. Also, you may find that some coupon sites have better codes than others, or more working codes. E-coupons expire just like paper coupons do, though sometimes you will get lucky and the code will work for a day or so past its expiration date.
You might need to spend a little time finding the best coupon code for any given transaction. Most online stores will accept only one coupon or promotional code, but multiple codes may be available for different types of discounts. Weigh free shipping offers against dollars off or percent off coupons to determine which will give you the most benefit. There are a few merchants who will allow use of more than one offer. Victoria's Secret, for instance, allows the use of up to three promo codes per transaction — no wonder it's a popular pick at these coupon sites! On my last Victoria Secret order, I scored $15 off, a free lip gloss set, AND free shipping!
With all of the coupon sites available, there's little reason why I should pay more than my city-dwelling friends for the things that I love but can't buy locally. Now how about sharing your favorite retail coupon sites with us?
 
Contributing Writer: Emiley Thacker
Copyright © 2008 The Digerati Life. All Rights Reserved.