Ebates is a great shopping portal which is designed to give you cash back when you make purchases through their site. I'd like to track the latest offers they have on this page. It changes up quite a bit, so I intend to have this page capture the different deals they've got going on over time.
Active Ebates Double Cash Back Merchant Discounts
During certain occasions, Ebates increases cash rebates for certain retail partners they have — usually during holidays and events throughout the year. Right now, Ebates has an ongoing "Stars & Stripes" sale, in honor of Independence Day, July 4. Here are some of the featured merchants they have who are offering twice the amount of cash back that they normally give.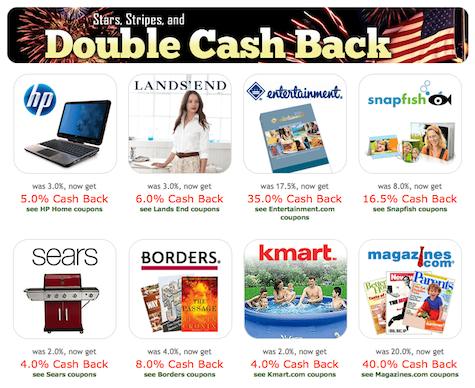 HP Home Coupons from 3% to 5% cash back
Lands End & Saks Fifth Avenue from 3% to 6%
Entertainment.com Coupons from 17.5% to 35%
Snapfish Coupons from 8% to 16.5%
Sears & Kmart from 2% to 4%
Borders from 4% to 8%
Kodak Gallery from 7.5% to 15%
Expired Ebates Offers
I've archived some of the past sales that Ebates has held.
During Valentine's Day, Ebates has offered double cash back through some select online gift stores. Note that for even MORE savings, you can apply online store coupons (provided by Ebates) to your purchases you make at this site, that are already subject to cash back. Thus, you get the stated cash back PLUS the discounts you get through the use of coupons. This is always true, regardless of which special sales events they hold.
These were the Valentine's Day Cash Back Sites that were in effect in the past (and which are no longer active at this time):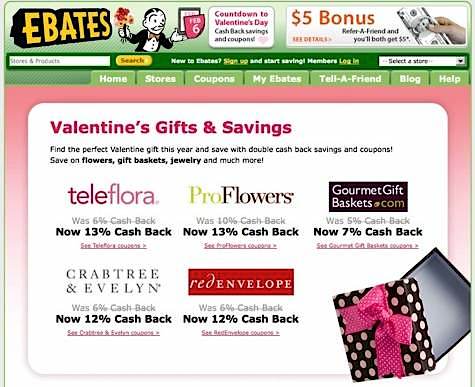 Ebates Stores With Double Cash Back For Valentine's Day
Here were the select stores at Ebates that offered these extra bonuses:
Teleflora: Was 6% cash back, now 13% cash back for flowers
ProFlowers: Was 10% cash back, now 13% cash back for flowers
Gourmet Gift Baskets: Was 5% cash back, now 7% cash back
Crabtree and Evelyn: Was 6% cash back, now 12% cash back
Red Envelope: Was 6% cash back, now 12% cash back
Remember that you can always apply online store coupons and discount codes on top of these cash back rewards. If you want to know how Ebates functions, check out more details in our Ebates review.
Shopping At Ebates For Those On A Flexible Budget
If you're shopping for gifts, Ebates is a great destination given that they're an online retail hub. I checked out other etailers at the Ebates portal, to see what kind of gift suggestions they have. Note that some of these gifts may be on the pricier side. I wouldn't suggest committing your credit card to any of these unless you've got the budget to back it up. I'd use these ideas as inspiration for something more affordable if the prices are a stretch (even with the discounts). Here's a sampling of what you can get from gift merchants at Ebates:
In the quest for better health, my spouse, a big fan of beef, has eaten far more veggies and skinless chicken in the last year than he'd like to admit. As a little treat for the steak lovers in your life, check out the great deals offered by Omaha Steaks (Ebates: 2% cash back).
Does your fella seem a little lost in the weeks following the Super Bowl? You might want to check out NFLshop.com (Ebates: 6% cash back) to pick up a team jersey and take an extra 15% off your entire order.
If you've got the budget for it and diamonds are something you've been mulling over for your significant other (there are still a few of you out there going this route, maybe?), check out Ice.com (Ebates: 4% cash back) to pick up some sparklers with her name on them. Use coupon codes as well, to save an extra 20% and score free shipping.
Most ladies I know love pretty underthings. Visit Victoria's Secret (2% cash back) for a fantastic selection of lovely lingerie that both she AND he can appreciate. Note to the guys: If you aren't sure of sizes, don't even bother trying.
If, like me, you're shopping for a single female friend, visit RedEnvelope.com (Ebates: 6% cash back) for a great selection of cute, thoughtful gifts such as a luck toggle bracelet or a pretty embellished purse mirror.
These are just some examples of what you can find at Ebates. So while I like Amazon.com, I also do some shopping at Ebates.com and other online sites to compare the prices.
Created February 6, 2009. Updated June 30, 2011. Copyright © 2011 The Digerati Life. All Rights Reserved.