So who's ready to start their shopping this week? Whether it's to stock up on supplies, gear up for the holidays, or just for the sport of it, we're probably going to be hitting the stores pretty soon. But one way to ease the pressures of spending would be to make sure you're smart about it. If you can't be a "no spender", you can at least be a "smart shopper". In my case, I try to be rewarded every time I buy something. The first thing I do when I know I have to make a purchase is to figure out (a) what type of deal I can get or (b) how to get rewarded for the purchase. As lots of you already know, online shopping can result in huge savings if you're a shrewd shopper. One great way to save is via cash back sites, or what are also known as "rebate sites".
Top Cash Back Shopping Sites for Great Discounts
Cash back shopping sites are those sites that give you some money back when you make a purchase. All you have to do is to become a customer or member of the site or in some cases, apply for a debit or credit card they offer. For maximum savings, you can shop at these places and use your cash back credit card or rewards credit card so you can also save through your credit card company.
1. Upromise
One of the most popular sites for cash back online shopping is Upromise, which has been around for many years now and has proven to work pretty well. Its major focus is on college savings (saving for a 529 account, in particular). As soon as you join Upromise, you can start earning money towards college expenses for your favorite student. There are different ways you can make Upromise work for you. One way is by shopping through their website to earn anywhere from 1% all the way up to 25% back on your purchases. With more than 600 retailers like Sears, Target, and the Home Depot, it shouldn't be hard to find a retailer you like and save money for college.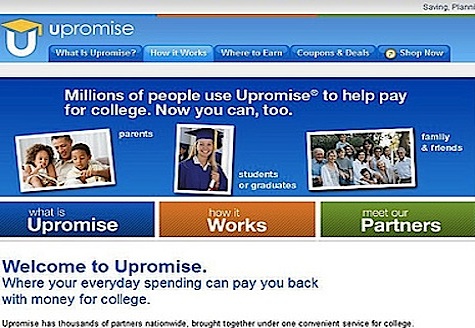 Another easy way to earn cash back from Upromise is to use a credit card or debit card you register through their site to pay for your restaurant bill. More than eight thousand restaurants participate in Upromise, and it's possible to earn up to 8% cash back.
You can also earn 1% to 3% back on eligible grocery store or drugstore purchases. To earn even more cash back, you can recruit friends and family members.
When it's time to get your cash back, you can elect to have a check sent to you for college expenses, or you can open a 529 college savings account for college, invest in a high yield savings account, or pay down a Sallie Mae student loan you already have. The best part: Upromise membership is free.
Tip: If you open a Sallie Mae Savings Account and link it to your Upromise account, you can receive an additional 10% of your Upromise rewards earnings as a bonus into your Sallie Mae account. Read more about how this works in my Sallie Mae Bank Review.
2. Ebates
Ebates is another popular site where you can earn cash rewards by shopping at tons of online shopping retailers. It's actually one of my favorite shopping stops aside from Amazon because they've got cash back relationships with almost all the retailers I regularly visit. Instead of going directly to Macy's or Land's End, why not visit Ebates first then jump to your chosen retailer site? By doing so, you'll be tracked by Ebates and you'll end up receiving additional cash back simply by doing this extra step. It's not much more trouble but you get savings in the process. Not only that, you can also apply online coupon savings ON TOP OF the cash back if you find a merchant through Ebates that offers those extra coupons.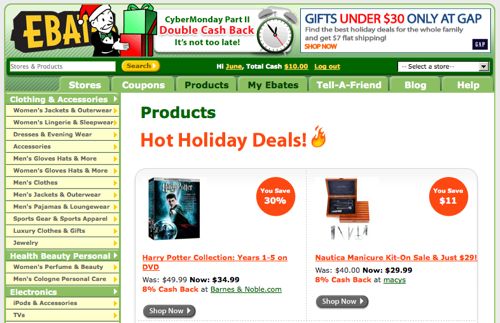 At Ebates, more than 1,200 stores offer goodies like rebates and coupons. Featured stores offer as much as 10% cash back, while certain stores can get you discounts from coupons as well as cash back. Deals of the Week come from retailers like Crate & Barrel, Gap, and Barneys New York. Don't forget to sign up for alerts about the Daily Double Deal so you can nab double cash back when you shop.
Tip: Just for signing up, you're eligible for a $5 bonus from Ebates, or you can select a $10 bonus from a few different retailers. Again, the best part: Free membership. Here's where to sign up!
Once you sign up, make sure to make it a habit to use this site as a "pass through" before shopping at your target merchant. I see too many people (including my family members!) forget to do this and they lose savings in the process! Find out more about this retail site through our Ebates review.
3. BigCrumbs
BigCrumbs is similar to Ebates and is a top cash back shopping site where you will find a lot of familiar retailers like Beauty.com, Barnes & Noble, and even eBay, which offers a hefty 36% cash back when you shop through BigCrumbs. Earn cash back when shopping online by becoming a BigCrumbs member: just follow the links to your favorite retailers, then shop.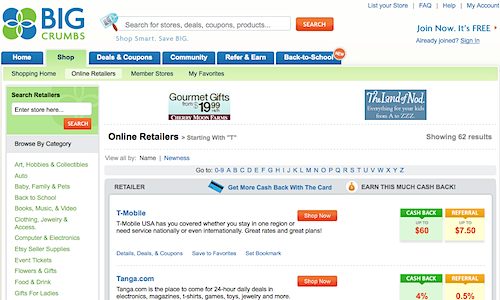 You'll be able to see the cash back offers before you make your purchase, so there's no big mystery. You can subscribe or save your top retailers to your Favorites, and then check out the Deals and Coupons section to save even more.
Tip: Besides the rewards you earn on your own shopping, you can also earn cash by referring other shoppers to BigCrumbs. You can earn extra through the shopping that others do as well! You can sign up for BigCrumbs here.
4. Mr. Rebates
MrRebates.com has cash back offers of up to 30% from almost 2,000 partners. These partners include Best Buy, Staples, Overstock, and Dell to name a few. The Store of the Week section offers a temporary increase in the cash back percentage, while the Weekly Deals section features incentives like free shipping and discounts. And like other cash back sites, you can get a $5 registration bonus just for signing up.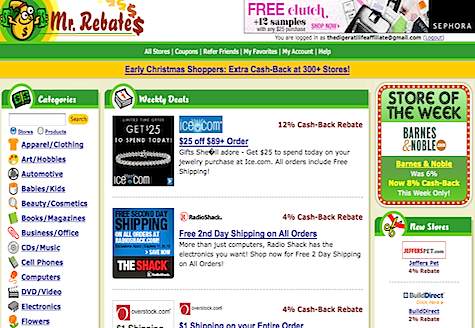 5. Cashbaq
Update: Cashbaq is no longer doing business! Say what? If you go to their site, it looks like Ebates has stepped into their shoes and has taken over. Well, changes in the online economy continue to happen and unfortunately, Cashbaq is a casualty. We'll try to find other options for you in the meantime!
Cashbaq.com has more than thirty new stores and more than 3,000 retailers in all. You will also get a $5 bonus for joining this cash back site, and it couldn't be easier to search for deals, coupons, or even specific stores. And when you're ready to cash in, you can get your money in a check or through PayPal. Stop to look at Today's Big Find in different categories — you might just land a deal with free shipping.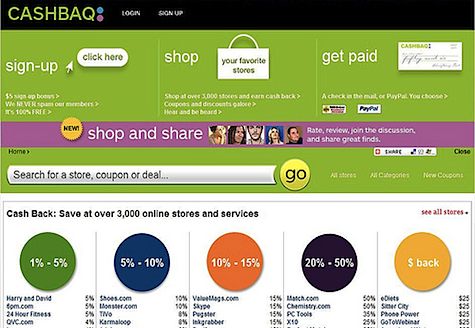 6. MoreRebates
MoreRebates.com has tons of coupons, rebates, and cash back offers. With this rebate site, you will find a 10% cash back offer at Verizon, and Priceline.com offers 3% cash back. Categories include electronics, toys, and groceries. The Deal of the Day section has tips along with the scoop on different categories. Referrals can earn you and your friends $6 each, so you can all start getting cash back.
7. QuickRewards
Finally, QuickRewards.com is a similar site that offers up to 30% cash back from around 1,000 retailers including Marriott, ToysRUs, and Macy's. If you don't want to redeem your rewards for cash, you can opt for gift certificates or prizes. One thing to note though, is that the site does not look as well maintained as the other sites. The design isn't too pretty, and they don't seem to be as popular as the other sites mentioned here.
To stay on top of all the temporary offers, you might want to hunt down your favorite cash back sites on Facebook or Twitter, or sign up for their RSS feeds or newsletters.
Bottom Line
Each time you need to pick up household staples or gifts for a special occasion, you have the opportunity to be rewarded. Take a look at several of the best cash back shopping sites so you can get familiar with what they offer, and you can start earning rewards for yourself. There is no better time than now to take advantage of every dollar you can!
Copyright © 2010 The Digerati Life. All Rights Reserved.