Are you looking for ways to cut back on your entertainment costs? If so, then here are some options to get entertained for less.
With the nation coming out of a recession and into a jobless recovery, Americans are cutting back across the board. Unless you're starring on "The Real Housewives of Orange County," chances are good that your family's spending habits are in the midst of an overhaul. In such times, the first budget category to typically take a hit is entertainment.
A while ago, we published a post that addressed how you could save money on cable television and TV services. We've also covered some free ways to watch television online. This time, we'd like to take a look at some popular online DVD rental services and what they offer:
Blockbuster vs Netflix? Online DVD Rental Plans For Less
1. Netflix
Netflix was the first of the online DVD rental services to really gain attention, and we're happily using it! Actually, we've been satisfied customers of Netflix since 2005.
It's easy to use. After signing up with Netflix, you just log in to the service and add movies that you want to see to your queue. The movies will be delivered to your mailbox via the USPS in a day or two, with the number of DVDs received depending on your membership level. Keep the movies as long as you want, as there are no late fees. As you finish a DVD, mail it back in the prepaid mailer and the next movie in your queue will be sent. Shipping is free both ways. Some movies are also available for viewing by instant streaming.

What's the Cost? There are four Netflix plans available ranging in cost from $4.99 per month for one DVD at a time with two hours per month of online viewing, to $34.98 per month for several DVDs at a time with unlimited online viewing and unlimited streaming. You can start out with a 1 month free trial membership.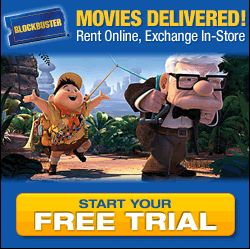 2. Blockbuster Online
When video store giant Blockbuster realized that Netflix was taking a chunk out of its business, they decided to offer a similar service.
How Does It Work? The Blockbuster Online program is set up similarly to Netflix. Choose your DVDs online and receive them in the mail. Send the DVDs back when you are finished, and the next ones on your list will be sent to you. Shipping is free. The twist in Blockbuster's program is that it has a few options available: you can pick a plan that will allow you to have one, two or three movies at a time, with or without store exchanges. If you opt for Blockbuster by mail with 5 in-store exchanges allowed, then you'll pay a slightly higher charge per month than if you go with the plan that's mail-in only.
What's the Cost? There are six different membership options available for Blockbuster Online, ranging in cost from $9.99 per month to $19.99 per month. But you can always start out by signing up for a 30 day free trial which you can cancel at any time. Also, there are no due dates or late fees with these plans.
3. RedBox
A relative newcomer to the realm of online DVD rentals, RedBox's red boxes are springing up at retailers nationwide.
How Does It Work? After signing up for this service, you simply visit their website at Redbox.com to pick the DVDs that you want to see and reserve them at your local kiosk. When you visit the RedBox location, swipe the credit card that you used for the reservation. When you're finished with the DVD, return it to any RedBox location nationwide.
What's the Cost? RedBox charges $1 plus tax per night for each DVD rental. Keep the movie as long as you like. There are no late fees; you will simply be charged the nightly rental fee for each night that the movie is kept.
So, Which Program Is The Best?
That will really depend on your family's DVD viewing habits. If you intend to watch a LOT of movies and want the convenience of being able to exchange them at your convenience, one of the Blockbuster programs may be preferable. If you watch several each month, but don't mind waiting for them to show up, then good old Netflix may be perfect for you. On the other hand, if you rent only a few flicks per month and have a RedBox location in the path of your commute, perhaps RedBox is the way to go. Regardless of which online DVD rental program you choose, don't forget the popcorn!
Copyright © 2009 The Digerati Life. All Rights Reserved.