With the economy sluggish, traditional vacations are a no-go for most people, so many are choosing to forgo elaborate trips and deciding instead, to take their vacations closer to home. With the huge array of interesting feature films slated for release, it could be a great time to visit your local movie theater. It's an inexpensive way to get away for a few hours and to get lost in a little Hollywood Magic. While I'm a big fan of the Netflix movie rental service, I go out to see a movie on occasion for the fun family experience.
6 Ways To Save Money At The Movies
Of course, going to the movies can be an expensive option too, unless you employ a few money saving tactics. And no, you don't need to sneak into a movie theater to catch a show for free either (>_
Use coupons. You may luck out and get some discounts from a coupon book like The Entertainment Book. The 2010 book is selling for a big discount now as they're switching over to the 2011 version. From $35 to $10 while supplies last! Here's a sample of what it looks like for my area, but you can get a book that caters to your community.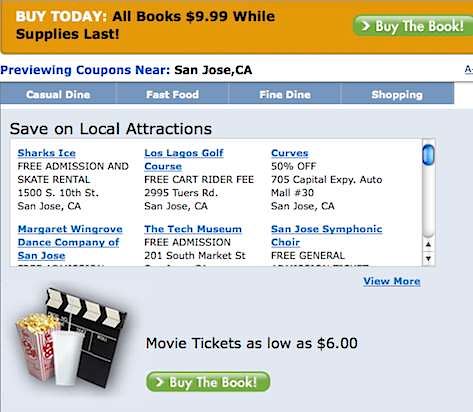 Skip the concession stand. One of the most expensive things you can do is to visit the concession stand at a movie theater. In fact, the concessions bill can sometimes outpace the price of your movie tickets. One of the best ways to keep this cost down is to make sure that you eat before you go. Also, although it's against the rules, you can take sodas into a theater as long as you are discreet about it. You can also bring in candy; however, I would suggest that you forgo bringing in the popcorn. If you simply can't watch a movie without the popcorn, buy it at the concession stand and bring your own drinks to reduce the cost.
See a matinee. A Saturday afternoon matinee will save you several dollars per ticket and will actually be a more enjoyable experience since fewer people attend these showings.
Take advantage of movie saver promotions. Most theaters now have a savings card, kind of like what you have for your local grocery store, where they track your expenditures and offer you a free ticket after you reach a certain spend level. These programs cost nothing to join and will continue to reward your patronage year after year.
Take advantage of group rates. Get a group of people together to see a flick. Maybe you'd like to treat your child's daycare group or have a bunch of people over to your local theater to celebrate a special occasion. Regardless of the event, the more people you take with you, the better your opportunity to become eligible for a group rate. Call ahead to make sure that the theater can accommodate your group and that you qualify for a discount.
Buy your tickets early. If you are sitting on pins and needles waiting for the next installment of Twilight to come out, you can save a few bucks on your ticket as well as guarantee your seat by buying your tickets early.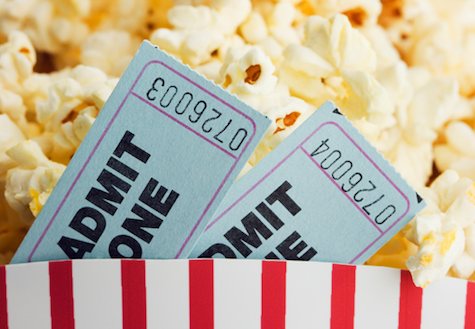 These are just a few of the money saving tips that people are using out there to see the movies for a lot less than retail prices.
For other great tips on saving money on entertainment, here are some of our articles on the subject:
If you have other money saving ideas to share, please pass them along!
Copyright © 2010 The Digerati Life. All Rights Reserved.