I love buying used — the idea of getting a good deal for a gently used item that looks almost new is something I find pretty satisfying. I offer some great tips on how to live green, recycle and buy used.
Used is definitely better in many instances: buy used and you buy cheap, and instead of throwing useful items away, you can resell them for some pocket money. And on top of it all, we're able to promote a cleaner environment. Many used items are not only much more affordable, they are also equally reliable and carry their own unique, charming history.
Green Living: 6 Ways To Recycle And Buy Used!
I'd like to suggest a few ways we can explore buying used and participating in recycling efforts.
#1 Have You Checked Out Freecycle?
If you're looking for something specific, you may be able to find it at Freecycle.org, right in your own neighborhood. Freecycle is a network that encourages recycling by allowing people to find and give away stuff for free. It's broken into local groups so you only deal with people in your vicinity, thus making it pretty convenient. The website started on a small scale in Arizona in 2003 and now serves over 75 countries with different groups. Besides getting what you need for nothing, you don't have to pay to dispose of the stuff you want to unload. Just list your old items on Freecycle and appreciate the joy of giving and receiving; nothing is wasted and tons of useful items are kept out of landfills!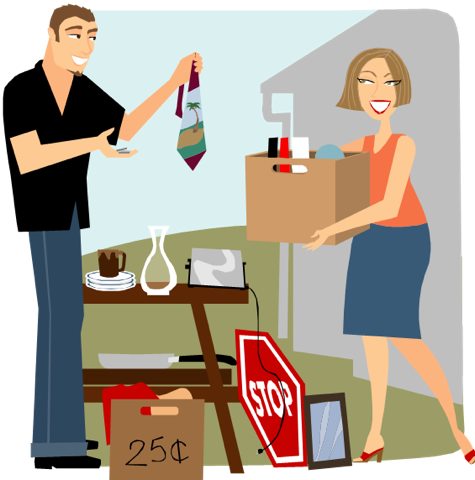 Image from sheribrown.ca
#2 Bequeath Heirlooms Across Generations
In days gone by, family heirlooms were cherished for generations. I never had the pleasure of meeting my grandmother on my mom's side because she passed away right before I was born, but she left behind a beautiful silver marcasite pin I treasure and only wear on very special occasions. Recently I wore the pin to my cousin's wedding and it brought tears to my mom's eyes. Items like these are priceless. I think this blog entry brings the point home with regards to the deeper value of used items.
If you don't have heirlooms from your family, there are plenty of thrift shops offering gently used items with an interesting background. From a hand-carved rocking chair to a feather boa, you just don't know what exciting treasures you'll find! Where to look for such items?
The Salvation Army and other thrift shops that charge low prices for quality items with the proceeds going to good causes;
Garage sales where hidden delights are always a possibility;
The classified section of your local newspapers: you never know what someone has to offer;
Craigslist and eBay offer a variety of unique items;
Local churches and community organizations: no need to be a member in most cases;
Estate sales for high end, gently used furniture and household accessories; and
Secondhand shops and antique stores with a down-home vibe (not those pricey, posh ones).
#3 Make A Used Car Purchase
We're all for saving money and the environment by purchasing used vehicles. Buying a lightly used car can save you thousands of dollars within the first five years of ownership. You can shop around for secondhand automobiles at new car dealers, used car dealers, auctions and the classified ads.
While we all know that a car loses its value as soon as you drive it out of the showroom, many of us still feel compelled to buy a new vehicle — just check this article on popular reasons to buy new. But maybe this Consumer Reports study can convince you otherwise: they report that buying a V6 2005 Toyota Camry can save you around $13,000 over five years compared to buying the 2008 model. Those are some significant savings!
Edmunds reports that buying a used car is the most cost-conscious strategy, followed by leasing a car. It's something to think about the next time you're shopping for a new vehicle. Check out these stories for more ideas:
#4 Get High End Fashions For Less
If you love high end fashion lines like I do but hate the price tags, check out estate sales and thrift shops. Unbelievable designer finds could be lurking in someone's racks: just imagine a Coach tote bag, an Irish cashmere sweater with a detachable fur collar and sparkling buttons, and a silk designer dress in a ravishing shade of purple! It involves plenty of hunting but it's well worth it when you get a fashion find for $10 when you know its original price is around $200. This is a great approach for women with office jobs, especially for those who find that their paychecks don't quite allow them to "look the part" at work.
With the higher cost of living that we face, many women find that they must return to work to cover their family expenses. They may find themselves without the proper clothes for job interviews. DressForSuccess.org helps women across the nation by giving them an interview suit and additional suits for work when they land a job. Check them out if you're interested in getting and donating suits, or shop online at MyGirlfriendsCloset.info to order low cost fashion items.
#5 Go For Used Furniture
I enjoy online shopping at Craigslist; I've seen lots of great selections for used furniture here. My used Italian leather sofa was a mere $300 compared to the $1,500 my friend spent on hers. Who knows, you may even luck out like I did, when I got my sofa in a custom "rose beige" color instead of the generic black my friend settled for.
#6 Check Out Cheap Entertainment!
Books, musical instruments, CDs and small electronics are also cheaper to buy used. Often, these items are shared, tossed or given away anyway, so buying them used makes sense. Books, radios and CDs can easily be found for pennies at garage sales and charity flea markets. Small electronics such as radios and MP3 players often cost only a few bucks, making them worth the entertainment investment. Check out this article on great places to earn and save money on used items for more tips!
Copyright © 2009 The Digerati Life. All Rights Reserved.