This piece shares some simple ways to save money and the environment. This is part of Blog Action Day, an online event that unites together our thoughts on the environment.
Sometimes, I wonder what our world would be like without us in it — a provocative thought experiment that I've conjured more out of curiosity than anything else. Without the human race and our impact on the atmosphere and our environment, would nature rejoice? A lot has been covered on this topic, including this interesting interactive graphic that illustrates a timeline for the world once it is left to its own devices.
Environmental pollution is prevalent in many places (I've lived in a few) and a lot of it is due to a lack of awareness or concern for these issues. But there are steps we can take to become more aware and to help conserve the world's resources. Some ideas may be tougher to achieve, but there are small adjustments we can definitely make to help the environment rejoice even with us walking the Earth. Even at this time, I know there are certain changes that may not be entirely practical to commit to, but I also see some simpler things that can be achieved with no trouble at all.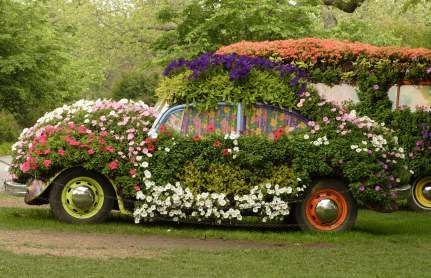 Here are my own tips that I've written about or found around the blogosphere that I hope can be helpful towards conserving our budget, as well as towards preserving the environment.
Simple Ways To Save Money and The Environment
Here are some methods to go green while keeping more of the green in your pocket!
#1 Stop receiving junk mail
Junk mail is such a nuisance. I spend a couple of hours each week just to sort through them and shred them afterward. I've been swimming in them since time immemorial thinking I couldn't do anything about it. But actually we all can fix this problem by following these Smart Money tips. The easiest change is just to get your name delisted from a number of junk mail sources. To get you going, think of these statistics:
The average American receives 11 pieces of unsolicited junk mail each week, according to the Center for a New American Dream, a nonprofit dedicated to promoting responsible consumerism. Tallied up, that bulk accounts for 100 million trees lost each year. By reducing the amount of junk mail you receive each year, you personally will save two trees and prevent some 92 pounds of carbon dioxide from being released into the air.
#2 Go paperless.
There are so many benefits from going paperless, mainly by signing up for online services. Your information will be more secure, you'll save a lot of paper and help businesses cut down on the costs of mailings. Imagine having to get rid of an extra filing cabinet or two at home!
#3 Telecommute.
If only all our work places and offices allowed us to work at home more often. During this age of outsourcing, you'd think this mentality of conducting work remotely would be more widespread. We've certainly made strides in the direction of workplace flexibility, but it's still not enough in my opinion. I live about an hour away from where I work and not only is commuting a huge drain to my energy and pocket, it's also a gas guzzler. With one day a week telecommuting privileges, I could save a tank of gas and $50 each month.
#4 Use mass transit, try car pools or rethink your mode of transportation.
Consider mass transportation if you have access to trains and subways. In my experience, it has been more inefficient time-wise to ride the trains, but not entirely so if you can somehow manage to do some work while on board or even just get some shut-eye. I've also seen some car pooling services and spots around the city. How about a bike? Not so sure how ready we are with this sort of thing. However, we can participate in our local city's Spare The Air programs, including the act of keeping our cars well-tuned, maintained and smog free.
#5 Turn everything off when not in use.
One of the simplest tips to follow — turn off all your lights and anything that feeds off of electricity while not in use. But see here, the holiday season will soon be upon us so how do we enjoy our Halloween and Christmas lights? With new energy efficient holiday lighting of course.
#6 Replace less often
How about consuming less and conserving more? You can try to make things last longer such as soap, cleaning materials, clothes. By using less than the suggested amounts, you won't need to replace things as frequently.
#7 Buy used.
Just recently, we got ourselves some well-made, used furniture from Craigslist. We've also sold many items through the online classifieds such as hardly used clothing, collectibles, electronic items, furniture and even a car! We've also picked up great bargains on unique, hard-to-find art pieces, beautiful tapestries and home decorations that we're quite proud of through eBay, our local flea markets, estate sales and home consignment centers.
#8 Don't throw away leftovers!
I don't have any qualms about dining on leftovers but it can certainly be unexciting to one's palate after a while. So instead, we've recooked and recycled older meals into newer ones when we are able. And when we do, we usually find those secondary dishes tasting pretty good!
#9 Consider energy efficient alternatives.
There are energy-efficient light bulbs out there which we're already using and already, we're seeing a difference. We've also just replaced our old fridge with one that has more space but more importantly, has a water filter built in. Thanks to this nice new refrigerator, we no longer purchase water in those plastic gallon containers.
#10 Plant trees and other foliage
I've written about my love affair with trees before. Because I used to live in a suburb where soil had a high water table due to being on landfill, there weren't too many trees to shield and insulate us from the weather during those days. But we've moved to an older neighborhood since, located by the woods, and it's much easier to grow trees. New plants and trees have added to our environment but have also helped us receive weather insulation from our surroundings, which allows us less need to turn on the thermostat.
-ooOoo-
The above list is comprised of simpler tips, but if you're willing to make a serious change or a lifestyle decision, why not look into living in a smaller home? Or even join a community focused on simpler living. Many of these moves can bring down your maintenance costs and exert less demand on our environment at the same time.
Copyright © 2007 The Digerati Life. All Rights Reserved.