Our conservation plan is working. Our utility bills are down 25% from last year!
We've recently found out how successful our plan was to replace a couple of ailing appliances that we inherited from the former owners of our home. Some couple of decades old, one appliance was our standard white fridge and the other was our groaning washer. By replacing these twin household legacies, we are now enjoying 25% lower utility bills every month: from $200 a month to a more acceptable average of $150 a month. This isn't as good as it can get of course, since we haven't decided whether we'd do something more radical such as go green with roof solar panels. But we're still pretty happy with the results.
It seems that a lot of can be done to really cut down on energy and utility costs if we commit ourselves to the cause. But some of these improvements may require a bit of outlay or investment in newer household tools and items. This went against my frugal mindset because I preferred to make things "last longer" in order to avoid having to buy something yet again. But we are now seeing that it's worth it and at the rate we're going, we should pay off the cost of our $1,200 fridge and our $800 washer (before applying several hundred dollars worth of rebates) in about two to three years' time.

Here's how our utility bill has fared throughout time: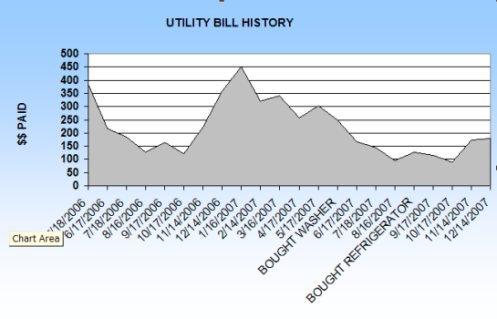 In that vein, I'd like to offer some Dos and Don'ts for wrestling down those household energy and water bills.
Surefire Tips For Bringing Down Your Utility Bills
DO replace your ailing old appliances especially if your bills are excessive. Swap them out with Energy Star appliances that automatically provide you rebates. In California, we pay $0.11 per kilowatt hour for the first 73.8 kilowatt hours as our baseline and the rates go higher quite a bit the more power is used, so those savings add up a LOT.
DO replace your toilets with lower water use models. Hmmm…. this way, unless we have a terrible drought come upon us, we won't really need to go so far as to leave toilets unflushed just to save water — an idea that gives me the willies and that seems to be more common than you think (at least from what I've seen)!
DO cut down on water costs by opting for showers instead of baths plus you can also install low-flow showerheads that better control water release. Did you know that a bath takes four times more energy than a shower? You don't have to skip out on good hygiene to save money.
DON'T use appliances during peak hours if you can help it.
The amount of electricity you purchase each month is the result of two basic components: the electric use of each appliance in your home (watts) and the length of time you use the appliances (hours). You can reduce your Time of Use bill if you can shift the majority of your electrical requirements to off-peak hours.
Apply full loads when you use your appliances to shorten your length of usage.
DON'T turn up your heater or air conditioning. Instead, consider using a programmable thermostat and make do with more or less clothing. 😉 How about caulking your house up and improve insulation on your house? Insulating and weatherizing your home will save you a bundle — maybe a few trees around the house can help as well :).
DO shut down and turn off your power at night if possible. Less use, less money spent. If you're going to develop a habit, this is one of those good ones to pick up. How about replacing your old bulbs with the more energy efficient fluorescents?
DO launder with a few steps in mind: readjust your water temperature to 120 degrees, wash and dry in cold water and clean your dryer lint traps regularly. Pull clothes out of the washer slightly damp instead of when they're completely dry and maybe consider going back to the basics to some degree by hand washing and line drying some of your laundry.
DON'T buy the biggest appliances although you may be tempted to pick up the SUV versions of these items. Unless of course, you can manage full loads every time you use them. Oversized items, like anything else bigger, will cost more to run and use. For energy efficiency, opt for appropriately sized appliances that run on natural gas if at all possible.
DON'T forget that there are a lot of incentives available for buying more environmentally friendly products. Rebates, coupons and discounts can abound, so with a bit more product research, you can be on your way to spending less.
Copyright © 2008 The Digerati Life. All Rights Reserved.