Are you thinking of installing a pool or buying a home with one? Why not save yourself many thousands of dollars and cool off with some water fun activities and the best toys of summer instead?
In many places, a swimming pool is still considered some kind of status symbol. But unless you live in the desert somewhere, or decide that money is no object for you, a swimming pool is likely more pain than its worth. A while ago, I questioned the effect a pool has on one's home valuation and offered reasons why it just isn't worth the cost. I'm all for following this up with some cheaper alternatives, especially if you're eager to get wet this summer. 🙂
Swimming Pools: Water Holes Or Money Pits?
But first, here's a look at the dollar amounts you'll face when you decide to own a concrete watering hole (from MSN Money):
In-ground pools add 7.7% to a home's value, according to the National Association of Realtors, but it really depends on where you live. They're much more popular in desert states, while not as desirable by the coasts.
Above-ground pools take away 1.9% from a home's selling price.
Typical cost of installing a pool: between $25,000 to $50,000.
Hiring a pool service may cost between $1,500 to $2,000 annually to cover maintenance, water, regular repairs.
Heating your pool may easily add another $500 annually to your utility bills.
Running a pool filter may add $600 annually to your electric bill.
Liability insurance, pool fences, warning signs, a pool cover and other maintenance tools may take away several hundred to thousands of dollars from your budget.
Verdict: I added up at least $3,000 in annual costs alone to maintain a swimming pool. What more the enormous installation costs and potential hit to your home's value?
Cheap Summer Options: Water Fun Activities and Toys
But all is not lost as there are always cheaper alternatives for everything. So if you're hot and bothered, here are some guaranteed ways to save yourself upwards of $50,000:
Where To Go To Have Fun in the Water
Visit someone who already owns a pool.
Visit amusement parks with water rides.
Go to the nearest local water hole or beach (if you live near one).
Become a member at a sports club or YMCA or any place with the facilities you are looking for.
Make your own water toys. Have you tried to make a DIY slip and slide or water slide?
Have a ball with your garden tools: a lawn sprinkler or hose will do.
Fun Water Toys You Can Get
And if you want to have fancier toys at hand, here are seven more fun ideas that are way more affordable than a swimming pool!
| | | |
| --- | --- | --- |
| Little Tikes Super Spiral Sprinkler | | WaterWheel Play Table |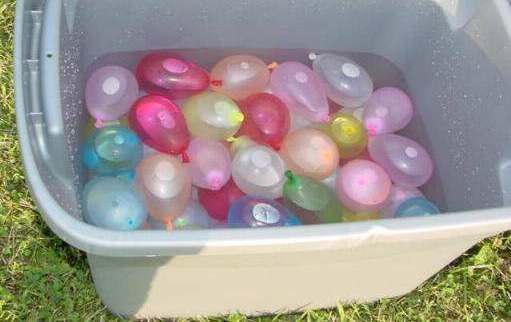 Water Balloons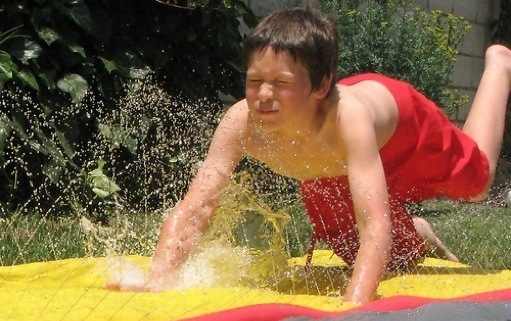 Slip and Slide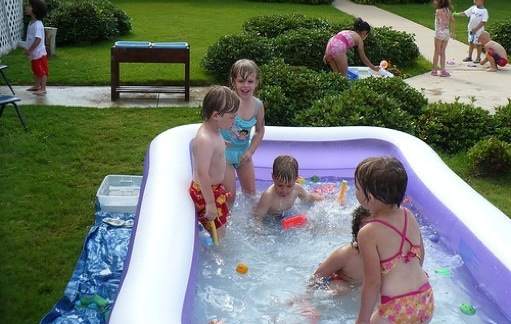 Inflatable pools are my favorite summer toys. How about the Swim Center Family Pool — we have one that is very much like it — or the Sun Fish Snapset Pool for the younger set?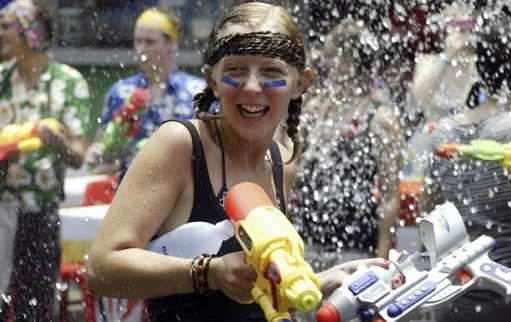 Water Gun
Even with some variants of these toys costing in the very low hundreds, the costs are negligible compared to what you'd be spending for a permanent swimming pool. I also love the fact that these "toys" are portable, easy to put away, easy to replace if necessary, low-maintenance and fairly low risk. Best of all, they won't interfere with your home's valuation 🙂
If you've got kids, these items offer some of the best value for your money. So skip on the pool and apply your savings towards a 529 plan instead!

Image Credit: FreeLooseDirt and AbbaMouse
Copyright © 2008 The Digerati Life. All Rights Reserved.