We share some money saving ideas from the book, The Ultimate Cheapskate's Road Map To True Riches.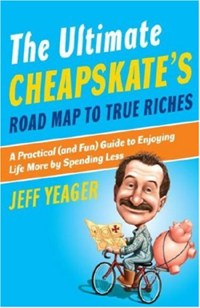 Years ago, when I passed the personal finance section at the bookstore, I envisioned heavy tomes with plenty of intimidating graphs, worksheets galore, and enough lectures to scare me off from spending money. Jeff Yeager's book The Ultimate Cheapskate's Road Map to True Riches: A Practical (and Fun) Guide to Enjoying Life More by Spending Less upends that stereotype entirely.
Throughout the book, Yeager, who used to be an executive for a non-profit company, tells humorous anecdotes about his struggles to understand his behavior when it comes to money. For instance, he casts his wife Denise as a long-suffering heroine who puts up with his cheapskate tendencies. By showing us his personal money issues, he's demonstrating that he's not a money expert expounding his ideals behind a desk — he's a guy who's confronted the same sort of obstacles we might be facing.
Money Saving Ideas From The Ultimate Cheapskate
1. How much is enough?
One key concept that comes up early in the book is the Enoughasaurus. In other words, how much money is enough for you as an individual, and how do you handle the desire for more? Rather than spend the rest of his life on a career track to keep pace with the mythical Joneses of the world, Yeager calculated his expenses, set a monetary goalpost for himself, then worked toward an early retirement.
2. Spend less. Don't spend for a week!
When it comes to managing money, a lot of advice boils down to "earn more income", but Yeager advocates spending less as a better solution. To that end, he proposes that we go on a one week fiscal fast in which we don't spend any money at all. Such an exercise may quickly teach us to use what we have on hand, to plan our future purchases instead of filling our bags to the brim at the mall, and may even keep our cash in our wallets longer. Of course, that doesn't mean this exercise will be easier than the Boston Marathon.
During the fiscal fast, he suggests that everyone in the family should try to participate, and that members track their experiences in a household journal. I enjoyed the story of how his family endured their first involuntary money fast during his childhood, when bad weather marooned them in their home, and they achieved a closeness in that time that many of us would envy today. The fiscal fast idea is a lot easier to handle than the tedium of tracking every penny I spend every single day. Also, spending an entire week away from recreational shopping both at the mall and online would help my finances.
3. Control big household expenditures.
For more specific examples on how to cut back, the book's other chapters address several big household expenditures and dealing with big ticket items. The chapter on housing suggests that we don't need the biggest house ever to have a happy home. When he and his wife found their dream home, it may not have been the fanciest house on the block, but it came with an additional apartment that they rented out to help pay the mortgage. He also discusses transportation costs, attempts to engage the Amish on the topic of technology, and rounds out the book with some investing tips and advice.
4. Spend on wants when you have something left over.
Despite the reduction in expenses, Yeager emphasizes that frugality shouldn't be considered deprivation. For instance, he and his wife are able to use their savings to travel and pursue their interests. At one point, he says that taking stock is better than buying stock; he seems to be stating that mindfulness of what our needs are as opposed to our desires can save us thousands over a period of time.
A Few Missing Points
Although I enjoyed the book a lot, I felt it needed more coverage on how families with children could cope with expenses like child care, college, and all those after school programs that want extra slices of our incomes. Also, the humor tends to be a bit crude sometimes and the profanity might be a turnoff for some readers. Actually, this is the first personal finance book I've read that I'd give a PG-13 rating.
But if you're looking for advice on reducing your expenses in a way that isn't cut and dried, give this book a try. Like me, you might end up laughing and saving at the same time!
Copyright © 2008 The Digerati Life. All Rights Reserved.