I thought I'd try retiring at 50, but I'm now actually aiming to do it in my forties.
Retirement (early or otherwise) means different things to different people. To some, it means an extended long vacation with leisurely trips and travels to far flung places; to others, it's sitting in the backyard with a book, watching the grass grow and learning to relax. To me, it means having the time to do the projects of my choosing, without feeling the insecurity of financial instability. Oh, and learning to relax is cool too.
So my spouse and I have come to this solid goal: that I'd be quitting my job within the year. I've been wavering on this thought on and off for the last few months but now, I'm psychologically ready to pull the plug off my corporate career. These decisions have caught me by surprise as I never thought I'd be thinking about this way so soon. Not a couple of years ago I was happy with work status quo, enjoying what I was doing and building my 401K. I was happy enough that I didn't want things to change, satisfied as I was with how my job and boss were treating me.
Soon enough, things change and we have to roll with the punches. Kids are getting older and needing more parental contributions at school; more family activities are taking place with additional extended family relocating in the area; the job is starting to get pretty stressful and my health is not liking it. And the big surprise is that we got introduced to a secondary income through this blog and other web projects we've been working on.
All that has lit a bulb in me, telling me that it's possible to escape the rat race once and for all. Don't we all need the flexibility afforded by our own self-structured work schedules and lifestyles? Then of course I heard of Super Saver at My Wealth Builder and David at My Two Dollars making such dramatic life/work shifts and now I'm doubly eager to do it as well.
Are You Ready To Quit The Rat Race?
Quitting your stable job for other pursuits can be a scary thought because of the changes and uncertain financial future involved, but many people have made that transition and have never looked back. There are many ways to determine if you're ready to retire from the regular work force. Do you agree with any of these points? If you do, you're emotionally ready to stop working for the man. I'll take my own test and check off each condition to see how ready I really am.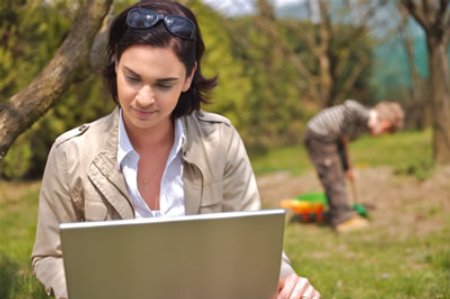 You won't sorely miss the social bonds or interactions at work.
I've made some great friendships during various employment stints but have noticed that those relationships don't exactly have longevity. Once I leave a job to move on to another one, I sadly lose track of my former colleagues even as I forge new friendships at my new place of work. I derive most of my social connections from very old friends and a big family that I'm lucky to have living close by.

You don't need the structure that work offers.
I appreciate the structure that work gives me: getting up early in the morning, doing the commute, walking the several blocks to work, do whatever work is handed to me and then do the reverse when I clock out in the afternoon. But I can replace this structure with a new one! Wake up early, take kids to school, go home, exercise or walk around the neighborhood, do my various projects, pick up kids from school, take a nap, chores. Retaining structure is a good thing so that you remain productive, and if your scheduled is filled, that's a good sign.

You have a lot of other stuff to do.
A few years ago, I was pretty unsure of what I would do in case my job was yanked out from under me. I thought I would simply find a new job to replace the last one. If I stopped working, I didn't have quite enough "stuff" to fill up my time — which I describe as tasks that would count as keeping me productive. That's not the case today as my growing family has taken up that time along with creative pursuits that I only started to address recently. I'd have to thank my blogging experience for opening my eyes to many creative outlets that fortunately are also income generating. The nine-to-five job is no longer as interesting all of a sudden.

You have higher priorities.
There's this phenomenon called "mommy guilt". Once you have kids, your priorities and your life will change. A lot. Given the way things traditionally work, it is common for career moms to struggle quite a bit with figuring out their priorities, more so than men have to.

You realize that your job has a cost and is triggering higher expenses.
We incur a lot of work-related expenses and costs that would vanish once we get off the job. Many corporate jobs require certain attire and keeping up appearances, and there are also commute costs like gasoline, parking fees or mass transit tickets. You can also include dining out, convenience meals and health related costs in the list because a lot of health issues can be caused by work related strain! But the biggest expense of all is child care for those dual-income folks, unless they have family who can cover for them — a rarity in itself in this part of the world. Is that job therefore really worth as much as it is? I've known people who end up spending on treats like massages, nights out or even scheduled exercise sessions to neutralize their stress in the office. Without the time-consuming job, you can also save money by doing things yourself rather than outsourcing services you once paid for because you were too busy to do them.

You want to be "healthier" by seeking a better work and life balance.
No more work stress?! Yes I'll take that! Work has taken a bit of a toll on me lately. I've been increasingly experiencing fatigue and other health issues that are tied to juggling too many things at once and which have been requiring some attention and resolution. I need to give up something to get more rest, which leads us to the next point.

You have other sources of income to live on.
Something has to give, and since my time is mostly spent on job, business, household and family matters, the only feasible thing to cut out is an activity that takes me out of the home, takes up most of my time and is providing some inflexibility in my schedule. What else fits the bill best but my "day job". Though it provides the most stability in terms of income, I don't feel like it has the same potential for growth in income that is afforded by my entrepreneurial projects. So even if it could take a while for the home business to replace the job income, it may be a worthwhile trade given where I plan to apply my time — to stuff that really matters to me. By giving up my job, I can spend more time on family, home and other self-fulfilling activities I've always wished I had the time to do. The question of course is whether we're ready and willing to take the risks of losing income stability given the status of our nest egg today. Can our current nest egg sustain us? We'll find out when I cover this in a future post.
Looks like I've checked my way through all these conditions. It's no longer a question of "if" I'm leaving corporate life but "when". Now that I'm all set for that lifestyle change, how do I plan to accomplish this? Please stay tuned to find out!
Copyright © 2007 The Digerati Life. All Rights Reserved.