A lot of us share the dream of being able to change our lifestyle (for the better) while still being able to afford all the things we've become accustomed to. If given a chance, a lot of people would prefer to get off the rat race and retire from corporate life. This is one of the most commonly held dreams that we have. I can say that this sentiment was in fact something I harbored for a long time, as a full time working mother with two young kids. In my case, I put in at least fifteen years in the corporate circuit, which felt like a much longer time than it actually was.

Then there came a time when I faced a fork in my career, and I contemplated when and whether to "jump ship" from the predictable work path I had carved out for myself and move into the unknown. Of course, I had a lot of concerns back then, which I believe are common concerns felt by many who are seeking a reprieve from the current state of their work life. As part of a dual income household, allow me to share some of my thought processes below.
Is It Time To Overhaul Your Work Life?
Do you ever feel that you're at an age and stage in your life where you need change? In my case, there was a point when I felt less comfortable about working in Silicon Valley startups and technical teams at the same level as single, younger guys who churn out software code at a zillion lines an hour. As a dedicated "careerist", I wondered about where my career was going: should I try to work my way up the corporate ladder and join management OR strike it out on my own and begin my own business ventures? Should I take a step back and aim to be a stay-at-home "mompreneur" instead? I eventually decided that I needed a break from the corporate world for a while, so I began nixing any form of career advancement in a 9-to-5 setting, which can actually become quite demanding and consuming. After much careful reflection, my spouse and I both decided to re-orient ourselves towards becoming more self-independent financially in order to give ourselves more time with family.
But this type of change doesn't come easy. As you enter a time of larger budgets and expenses, you'll need to explore this type of shift via all angles, starting out with making the proper justifications for it. There were a few things I thought about as I sought more balance in my work and family life.
How Can I Build A More Ideal Work Life?
1. Know what life you want and why you want it.
What's your ideal work life? Do you wish you could run your own show and still make a decent living? Perhaps the kind of work life that you want is something that you could control and manage better. But for change to happen, you've got to start somewhere, and usually, there are signs that plant that seed in your mind. In my case, my stress levels were reaching an unhealthy level. So I sought inspiration somewhere.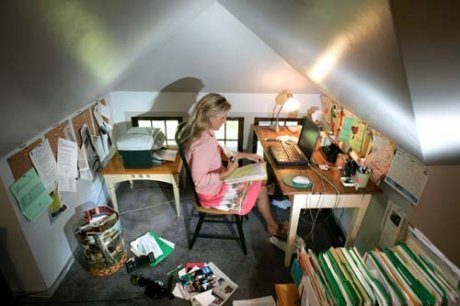 I came across the story of Maureen Evans, who was once a working mom. But at some point, she begun working on her own terms. She ditched her job to start her own public relations company, capitalizing on the skills she developed while cultivating her career. She was able to achieve what seems to be an elusive goal for a lot of people: a happy balance between work and quality of life. She was one of many who inspired me to want to make a change with my own life.
2. Acknowledge and expect the challenges you'll face with change.
As part of my own desire to capture that happy medium, I reflected on the question: Are we ready for a change? While change is good, it may not always be easy. Usually, the most common concern is a financial one. If you slow down in favor of a more balanced life, you may end up having to give up some or all of your current paycheck or you may have to readjust some of your work goals. You may have to give up current ambitions and redirect your energies elsewhere. Some people, have had to alter their lives radically and think about downsizing. But what's great about this exercise is that you aren't forced by the whims of the economy to slow down. Instead, you are doing so voluntarily. Change does not happen to you, but rather, you are the one who dictates those changes. From my experience, this is actually quite empowering.
So you may wonder whether you need a big shift or just a series of smaller adjustments to feel less stress in your life. You should weigh the tradeoffs. It's easy to feel that you may need to do something radical in order to be happier, but before you go down that path entirely, you may want to first make smaller changes to see if they make a difference.
3. Determine if you can afford to change.
Some years back, my entrepreneurial spouse decided to take the leap into an uncertain future in business. So for a time, it was up to me to bring in whatever income to keep us afloat, as my spouse pursued his work interests. But in California (I'm sure many Californians or San Franciscans will agree), it's almost impossible to live on one income unless of course you're either:
Extremely frugal and live very *very* modestly
Someone with a small family or who has minimal or no dependents
One of the "Haves" in this neighborhood, where your single income supersedes the GNP of a small Pacific island
But from our experience, even residents in the most expensive areas can make it work, albeit with some careful planning. Find out what kind of deficits you'll have in your income stream and see how to plug those. Have you got savings set aside for this transition? Are there any expenses you can cut for an extended period of time? Can you actually live on one income while you develop a new game plan?
Tip: You can actually test this plan out before actually executing it permanently: while you and your spouse are still gainfully employed, try subsisting on one income for a period of time, while setting aside the earnings of the other spouse in a savings account (and don't touch that account!). Try this exercise for a while to build up reserves and to get accustomed to one income. Only make your move if you feel that you can be comfortable living this way. There's nothing to lose by trying this experiment first.
For us, our immediate plan was to determine how we could close that spending gap and to LEARN how to live on one income for the long term.
4. Keep visualizing your goals and the future.
Keep your eye on your prize. If you keep focused on the future, the short term hiccups may not be as miserable as they seem. When we thought about what it was that we truly wanted to achieve, not just for ourselves but for our entire family, then certain options made better sense. Specifically, our plan was to better define our roles as providers and parents. For families with growing children, this usually means that time becomes your most valuable resource. If this is your story, then find out if you can work out a more flexible schedule with your employer or if it's best that you establish a new, more flexible routine for yourself. When you think about what can be, you'll be much more motivated to do something about it.
Our current goal is to become more financially self-reliant with lives that have improved work/ life/ family balance. We all want the time to spend on more things that are meaningful to us and our families. If you're feeling tired, stressed and unhappy about your job today, realize that you can make changes that can be healthier for you. It all starts with knowing what it is you'd like to change and what it's all for.
Created September 4, 2007. Updated April 16, 2012. Copyright © 2012 The Digerati Life. All Rights Reserved.