I come from a family of white collar workers. But once in a while, I wonder — or even fantasize — about how it would be like to be working a different type of job: maybe something less stressful, like planting flowers in somebody else's garden (but only in the spring and summertime), or opening a craft shop (open three times a week only).
After some additional thought, I end up convincing myself I'm just trying to escape this week's bedlam at work and I'm not really serious. Then again, many people actually are. Such as the office manager who decides one day to become a home builder, or the tough saleslady who's traded high pressure for high chases, as a cop.
Do you have a calling? Lots of people out there have been stuck with one kind of job for a while, wondering if they should make a move to do something else. I figure that by the time you hit middle-age (like myself) you're about ready to try something new.

Have you asked yourself if you'd prefer to work in this team: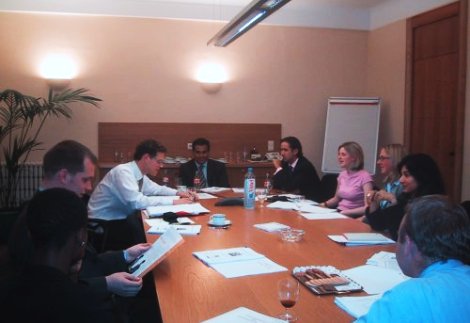 or this one?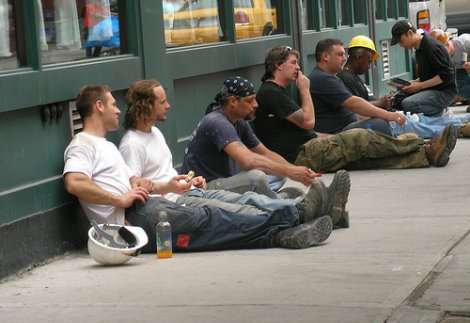 Every job actually falls into some sort of classification, and for the most part, they can be described by the "color" attributed to it. I've always found it interesting how occupations were typed by the color of your collar (I like how that sounds), with the definitions here picked up from the Wikipedia:
White Collar:
This type of job refers to a salaried professional or a person whose job is clerical in nature, typically what you call a "desk job". White collar workers are usually salaried professionals who do work that is expectedly less "laborious" but typically more highly paid than blue-collar workers. White collar posts are seen in the medical, legal, administrative or clerical fields. The name comes from the use of traditional white, formal shirts that workers wear in offices or places of work. Known for: desk jobs and high pay.
Blue Collar:
Refers to manual or technical labor, such as in a factory or in technical maintenance "trades." Workers are members of the working class who perform manual labor and earn an hourly wage. They may be skilled or unskilled, and may involve factory work, building and construction trades, law enforcement, mechanical work, maintenance or technical installations. We normally associate the term blue-collar to the dignity of labor and hard work ethic. Known for: manual labor and unions.
Gold collar:
This is a rarely used term that refers more to marketing than to a class of society. A typical demographic portrays people who've gone to a community college or vocational school, or have acquired an education beyond high school. However, some don't actually graduate or may not even hold a high school diploma. They range in age from 18 to 25 years old and hold full time or part time jobs. Interestingly, because they don't have the same tuition or debt load as college students, they may actually have more disposable income than college students do. But in the long run, gold collar incomes turn out to be much lower than the incomes of college graduates. More on gold collar here and here. Known for: youth and spending.
Pink collar:
Refers to typically female jobs — hence the term "pink collar". These occupations are relatively safe, clean and traditionally held by females, and aren't considered as well-paid or prestigious as white-collar jobs. Neither do they require the same kind of professional training as white-collar jobs do. Some sample jobs: waitress, florist, nurse or medical assistant, secretary, receptionist, tutor, babysitter, maid, nanny, cosmetologist and other low-level positions in the service industry. Known for: female service jobs.
-ooOoo-
Despite all the subclassifications shown here, I see a lot of overlap among these jobs; it's still much simpler to refer to these occupations as just white and blue collar, using the more popular socio-economic terminology.
If you're thinking of shifting careers, you may decide to do something very different from what you've been doing all this time; I notice that most people I've heard who go from a white collar job to a blue collar job do so to follow a passion, but the other way around — to move from a blue collar post to a white collar one is normally done to improve their status and financial situation. Notice that "collar shifting" mostly goes in the direction of blue to white.
But before I personally make any radical career changes, I'd refer back to a lesson learned from years of work and job-hopping. From yet another cliche: when you're working a job, the grass always seems to look greener on the other side. How common is it for people to regret leaving a job for a more inferior one? Pretty common I'll bet. Definitely something to ponder before a career shift! Because if you look hard enough, you may still find a reason or two to like (or maybe just appreciate) your job, no matter what color it is.
Image Credit: BeMoreHealthy.com, SiriusCentre.com, HGAssociates.com
Copyright © 2007 The Digerati Life. All Rights Reserved.