While many people in the workforce tend to emphasize their base pay, I believe it's also important to factor in benefits like vacation pay. The amount of vacation time you take can contribute to your well being. And for some workers, the right combination of employee benefits can make a lower-paying job more attractive than a slightly better-paying job elsewhere.
But here's an interesting fact: the U.S. Department of Labor informs us that the Fair Labor Standards Act (FLSA) actually doesn't require employers to pay their employees for vacations, sick time or holidays. But as you'll see from my report below, there are those employers who will go the other extreme (and the extra mile) with compensating their employees for vacation time.
How Do You Earn Vacation Pay?
Each employer you work for may go with a different method of allocating your vacation time. Some employers allot a certain number of days to you at the beginning of the calendar year. For instance, you may know someone who earns two weeks of vacation time each January. Elsewhere, someone who is just starting a job may be limited to earning a few days of vacation time. Salary.com points out that staff with more seniority might earn more than a few weeks off each year for paid time off, depending on the vacation time policy.
Other employers may require you to earn vacation time throughout the year, which means that you'll accrue a predetermined amount of vacation time each pay period. As an office worker, I earned a maximum of 120 hours of vacation time. Each of us accrued about 4.5 hours of vacation time each paycheck. Some of us used a week in the summer or a few days at a time. Knowing that we had to use the vacation time or forfeit it gave us incentive to keep tabs on our accumulated balances.
Companies have differing policies on how they pay out their vacation pay. You may find it typical for your employer to include vacation pay in your next regular paycheck. Some employers might be able to give you the vacation pay before you leave your place of employment. However, it's best to double check before you start packing. One coworker who joined a company I worked for assumed that the vacation pay policy was the same as that at her last employer. She was unhappily surprised to find that she didn't have a big check awaiting her upon her resignation.
Some of you may feel pressure to skip vacations due to important projects or because of the state of the economy. CNN took note of several surveys that indicated that the average American gives up two vacation days a year, an equivalent of over $34 billion lost. By giving up those days, workers are missing out on the chance to refocus and to avoid the burnout that can strike even the most diligent employees.
Vacation Pay For Unused Vacation Time?
Interestingly, vacation pay has actually been the subject of abuse and corruption in some localities. Check out this article about how the State of California has misused their budget.
Apparently, government employees have made off with pretty huge paychecks in California, simply by NOT taking vacation time. Their unused vacation time translates into big six figure payouts, with the top 25 checks reportedly ranging from $203,921 all the way to a dazzling $815,736. Wow. Imagine this — those state government positions can be a gold mine, with overtime paying off for a whole lot of people. Here is an image that portrays this predicament (Click this link or the image below for a larger picture.):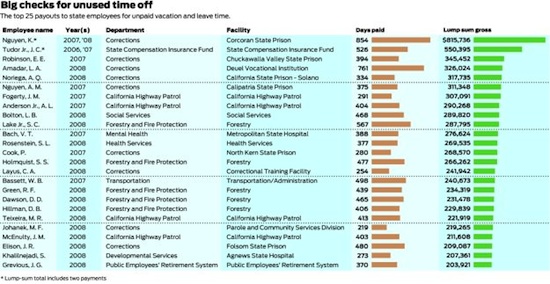 And here's a breakdown of vacation pay amounts across California agencies: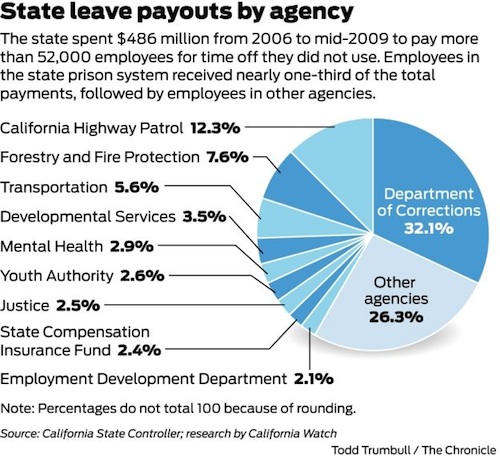 On one hand, we see how paying out for vacation time can be quite an expense (and in the case of California, it's an unfavorable one); on the other hand, employees who have taken advantage of this boon can only be grinning from ear to ear.
The Value of Employment Benefits
The California budget aside, this article aims to remind you to partake of the free programs and generous benefits that your employer may be affording you. At many workplaces, additional employee benefits are usually offered besides vacation pay. Sick leave can be a useful asset when you need time off to see a doctor or when you're feeling ill. Does your company pay for holidays? One part-time worker I know feels pressured to make up her hours when she faces holidays such as Thanksgiving or New Year's Day.
Additional benefits that companies may offer include a health insurance plan, a dental plan and a retirement savings plan such as a 401(k). I've also encountered vision plans, life insurance and disability insurance at several workplaces. You're likely to pay premiums of varying amounts for these services, but they'll generally be less expensive than the cost of individual policies. A health insurance policy that's $400 a month for an individual policy may only cost you $60 a paycheck through your employer's group health insurance plan.
Also, some employees can encounter daycare options, discounts with local or national retailers, and tuition reimbursement as benefits. MetLife did some research and found that a strong benefits package can go far when it comes to retaining staff and encouraging their loyalty. In the next five years, their forecast predicts that non-medical benefits will become more important to employees.
And when it comes to employee benefits, some people may ignore or forget about aspects that could make their compensation package more appealing. Take the retirement plans. If your employer offers a 401(k) and matches your contribution, then you're turning down free money if you don't sign up. Also, the 401(k) is a good example of an employee benefit that lowers your pre-tax income, so you're liable for less tax later. If you missed the window for making changes to your retirement plan or for signing up for benefits like health insurance this year, then set up a reminder in your calendar for next year. If you're limited to making changes during your company's open enrollment period, then set up alerts to remind you to make those adjustments when you can.
How much do employee benefits add to our overall compensation package? Employee benefits can add as much as 30% to 40% to the base pay of employees. How can we value employee benefits that are received, especially when comparing job offers? You can quantify the dollar value of your employee benefits with some research. This table can help you narrow down some of the values.
| | |
| --- | --- |
| Employee Benefit | Estimated Value |
| Vacation Pay | Several days to several weeks of base pay, depending on employer policy. |
| Health Insurance | Quotes from health insurance providers can help you determine this value, otherwise estimate what you'd pay for your own individual policy. |
| 401(k) or Other Retirement Plan | Consider the amount of the employer match and fees you'd pay for a self-funded retirement plan. |
| Dental Plan | Seek quotes from dental plan providers. |
So if you're just entering the workforce or you're about to commit to changing jobs, compare the employee benefits available to you. Is vacation pay offered and how do you accrue it? I think it's critical to ask what other employee benefits are offered, too. Calculating the impact of your total compensation package can direct you to the right job choice.
Created March 10, 2010. Updated February 22, 2012. Copyright © 2012 The Digerati Life. All Rights Reserved.