When I was in high school, I had braces. It was a very unpleasant experience, and when I was old enough to be in charge of my own health care (18), I began skipping the dentist entirely. In hindsight, this was a really dumb decision.
When I was about 24, I had a tooth problem that required attention. A friend of mine suggested his dentist.
I had some cavities. I needed a root canal. I also needed a couple of crowns. Those receding gumlines? Yeah, it took three surgeries to fix them — a process that involves taking a patch from the roof of your mouth and sewing it into your gumline. Did I mention that you're awake and alert when this happens?

The one silver lining in this whole affair was that I had dental insurance. I honestly don't remember signing up for it when I was hired, but I must have — because when I needed it, it was there. I quickly maxed out the annual benefit, but it still saved me a ton of money over the course of a couple of years.
What about YOU? Should you purchase dental coverage?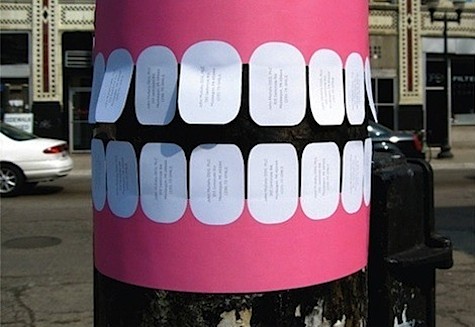 Image from trainingtime.files.wordpress.com.
The Nature of Dental Expenses
Dental expenses tend to be a bit more predictable than general medical expenses. While some plain dumb luck might cause a spike in medical expenses, it's less common for someone with no history of dental problems to suddenly have six cavities in a year. It can happen, but it's unlikely.
The best way to keep your dental expenses in check is prevention. Brush regularly, floss regularly, and see the dentist on a regular basis. While six month appointments are common, if you have a history of problems, it might not be a bad idea to shift to fourth month intervals to catch problems before they get out of control. Insurance often covers just two visits, but spending your own money on the additional annual visit can save you money in the long run.
It's also possible to delay some dental expenses. I've got a tooth that needs a crown. I'm having this done in January. This allows me to put some money into a flex spending account to cover my share of the cost.
What Does Dental Insurance Cover?
You're probably going to see multiple levels of coverage. Generally, they are broken down like this:
Preventive — This category consists of your standard checkups, x-rays, and such. Often, these are completely covered, with no deductible. This makes sense for the insurance company — catching a problem early means that it is much easier to fix.
Basic restorative — This generally refers to fillings. Note that coverage is often for the cost of amalgam (silver) fillings. If you opt for a different material (often for cosmetic reasons), the extra cost is generally your responsibility.
Advanced restorative — These are big problems such as root canals, crowns, bridges, implants, and dentures.
Orthodontics — Braces. This is usually a separate category, often with a high deductible and/or co-insurance.
There's some variation in how certain procedures are categorized, though. My current plan pays 80% of the cost of simple fillings and 50% on crowns. My wife's plan (which we are switching to in January) pays 80% on crowns, but 50% of things like implants.
Cost of Insurance vs. Expected Dental Expenses
The dental plan offered by my employer is so cheap that it's a no-brainer. The routine checkups for the four members of the family would cost more out-of-pocket than the dental premium. The coverage for other procedures is gravy.
If the cost of your dental coverage is considerably more than the out-of-pocket cost of the dental checkups for your family members, then you'll need to take a moment to estimate the costs your family will incur. If the family has averaged three fillings each year for the past five years, then it's reasonable to estimate three fillings for this year. Past performance is not a guarantee of future results, but it's generally a decent predictor.
Do you have reasons to believe that your dental expenses will be higher during the next year? Maybe your dentist has mentioned that your wisdom teeth are starting to get in the way of other teeth, or perhaps you have a crown that has seen better days and will need to be replaced soon.
You're also going to have to determine your tolerance for risk. Are you willing to pay an extra $300 in premiums in order to avoid having to pay the full cost of a crown (currently $943 in my locale)? If you have 80% coverage on crowns, you'd save $750 on the cost of the crown if you had insurance. However, if you only have two checkups during the year, then you may have been better off just to pay out of pocket.
Dental Discount Cards
Another way to decrease your out-of-pocket cost is to use a dental discount card. Often, the dental discount cards will be cheaper than full blown dental insurance, but the benefits may be limited, and you may need to choose from a small number of dentists who are on the plan. If you have limited dental expenses, the dental discount cards could be a good option, but if you have significant dental expenses, a regular insurance plan might make more sense.
Let me close with a tale that emphasizes why we probably need coverage — you see, anything can happen!
My dental horror story may very well be one of the highlights of my oral surgeon's career. You see, I have a tendency to downplay health issues and only see a doctor when I'm seeing St. Peter beckoning in my direction. Several days after my third gum surgery, I noticed swelling in the roof of my mouth. The surgeons were both out of town on that day, so I agreed to call back the next day.

By late afternoon, not only had the swelling increased, but the site was beginning to bleed. I called the emergency number for the clinic, and within a half hour, the surgeon was tending to me and taking a look.

I had developed a subcutaneous hematoma. He told me that I should have been more insistent when I called in the morning as this was not normal. "I should have brought my camera," he exclaimed with a broad grin. "This is the biggest hematoma I've even seen. My partner will never believe this." Gee, thanks, Doc.

This piece is written by Kosmo, a writer of fiction and the blogger who runs The Soap Boxers, a web magazine on a variety of compelling topics. Oh, and he's got a background in the insurance industry.
Copyright © 2011 The Digerati Life. All Rights Reserved.