I'm one frustrated client. I don't usually like to rant, but thar she blows! My most dreaded financial task ever is dealing with insurance companies, and that's above dealing with creditors. Why? Because they've been holding my money hostage… for most of the year.
Here's what I want to know — am I the only one struggling, attempting to recover our money from insurance limbo? The new year has finally begun so I'm trying to get our records in order; however, our insurance records are a complete nightmare. I get the shingles just thinking about the chore I have before me, where I'd need to rifle through the paperwork an inch thick to go over our medical and prescription records. That serves us right for using a PPO rather than an HMO so that we could seek any medical professional we so needed. For that flexibility, we are paying dearly in terms of major hassle and annoyance.
We have managed to rack up reams upon reams of medical expenses logged into two separate insurance company databases (as we changed insurance companies when my spouse quit mid-year), and now it has fallen upon me to pick through the mess and determine how much we can claim.

So far, our records show that these are the outstanding amounts against which I am owed a portion. Last I heard, I should be able to claim and subsequently get a reimbursement for a certain percentage of the total, which I've tallied up here:
| Insurance Company Claims | Amount Claimed | Reimbursement Percentage | Estimated Reimbursement Amount |
| --- | --- | --- | --- |
| Flexible Spending Plan At Old Company | $5,428.95 | Up To Flex Plan Contribution Limit | $1,222.61 |
| Flexible Spending Plan At New Company | $1,933.29 | Up To Flex Plan Contribution Limit | $1,300 |
| Regular Insurance Claims At Old Company | $720 | 65% For Out Of Network Claims | $468 |
| Regular Insurance Claims At New Company | $2,520 | 65% For Out Of Network Claims | $1,638 |
| Total | $10,602.24 | N/A | $4,628.61 |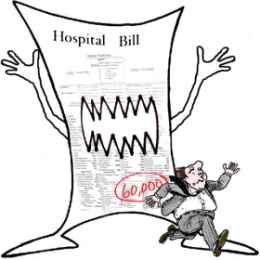 Well that's not something to sneeze at! I suppose it doesn't help that we've racked up a ton of transactions and that I've procrastinated on the claim submissions — mainly because I abhor dealing with customer service reps who have the ball in their court.
I never really fully appreciated the need for medical insurance reform (we need it like we need tax reform!) until having kids and growing a family. It's either you get standard medical care through HMOs but care that won't fly in the face of exotic medical conditions, or you get a PPO where you have access to the specialists you need but then you face that dreaded insurance claim nowhereland; where you get stuck dealing with a revolving door of ironically termed "care" representatives who exist to stall you long enough from receiving the reimbursements that are due you.
So I'm hoping we'll somehow get a smidgen of the money we're entitled to. For all that money we probably lost out on due to the insurance runaround, we'd probably be able to afford more than a nice walk in the park.
How typical is our family in terms of our medical expense scenarios? I'm not sure, though I think we aren't that far from ordinary with life just happening to us and throwing us a curve ball now and then, by tossing us a couple of chronic conditions and causing us to land in a clinic or ER every so often (well, maybe in the case of last year, it was QUITE often). When that happens, chuck one more up to the "risk" or claims industry and a zero for the home court.

< Image Source: GilroyDispatch.com >
Copyright © 2007 The Digerati Life. All Rights Reserved.