We're shopping a lot these days. But here's an underrated piece of money-saving advice: skip those extended warranty programs!
As I look around my home, I can see a lot of electrical products that I use every day without even thinking about it. For instance, there is my computer, which I use for work. Then there are the TVs, the DVD players and so on and so forth. Pretty much, it is the usual hoard of items most everyone has in their home. Probably you have the same things too.
But how many of those electrical products do you have extended warranties on? I can tell you how many we have –- exactly zero. Why? Because I don't believe they are worth the money.
Why An Extended Warranty Program Is Insurance You Don't Need
Here are my justifications for avoiding extended warranties:
1. An extended warranty is an extra cost.
I can tell you this much. If we had bought extended warranty programs on every single appliance we have ever bought, the total cost could probably have added up to the purchase of a great new TV. Extended warranties are just an extra expense.
The first thing I consider when buying anything new is the warranty that automatically comes with that item. Most times it will be a year at the absolute minimum. Two years is quite common and you might even have it for longer if you are lucky.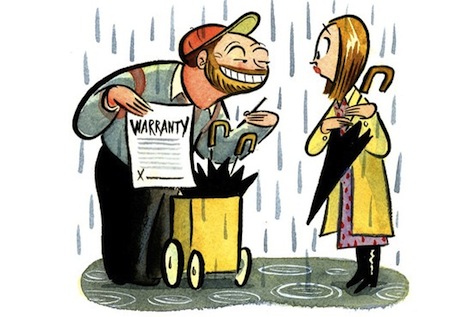 Image from WSJ.com

Now I'm not saying that electrical items don't go wrong. Of course they do: someone gets unlucky at times and buys a dud that goes on the fritz two days after the underlying warranty they get with it expires. In the end, you need to make a choice whether or not to extend your warranty. But you'll have to consider its cost.
2. Check your credit card benefits for this freebie.
Many credit cards provide extra insurance coverage at no cost as part of their benefits to customers. This is actually pretty common among those cards with top credit card deals. If I were considering getting a warranty, I'd first make sure to read the fine print on my cards to avoid any redundancy.
3. The warranty you buy may be redundant.
I just mentioned redundancy. Know that many items already have built in warranties that could cover you for a few years. Don't be duped into buying additional coverage if you've got that insurance already in place! Once the original warranties expire, you may just want to wing it. You may be better off just taking the risk of replacing your item at a later time, than end up paying for an unused service. After all, insurance on "stuff" is much harder to justify than other forms of insurance. Just like with credit cards, always check the small print when you purchase something.
4. Instead of spending, why not save?
To my mind, it makes more sense to save the money you would spend on warranties and use that if ever you need to get something repaired or replaced. You could do this with your appliances. This is just a completely hypothetical case, but supposing you have twenty appliances. Now let's assume that a three year extended warranty program costs about $70 for each one — this adds up to a whopping $1,400! If you saved that cash instead, that's a lot of money you could use towards replacing anything that could possibly go wrong. In fact, you'd be seriously unlucky to have more than one thing go wrong anyway.
Of course this is a gamble –- but it's one where the odds are very firmly in your favor. Some people always want to be covered regardless of whatever they buy, but if you are like me and you would rather save your cash, then you should put it in a separate high interest savings account (and christen it your "warranty fund"), just in case you do need it for any reason.
Think very carefully before you buy a warranty. Salespeople will always try and tempt you with an extended warranty, but don't feel pressured into buying one. They will be programmed to sell you the benefits, but don't be swayed. It's important to understand the value of taking out insurance against your appliances and electronics, and the truth is? It's really not worth it.
Copyright © 2010 The Digerati Life. All Rights Reserved.