One of the bits of conventional wisdom that seems to pervade the personal finance world is that credit cards are somehow evil. However, like many other money-related products, credit cards are, themselves, mostly neutral. Those who know how to use credit cards to their advantage usually come out ahead. So, while credit card use can be devastating for those without a concrete plan for credit use, for those who make savvy use of their credit cards, they are actually valuable money tools.
Why Credit Cards Are A Great Financial Tool For The Responsible User
Here are 5 solid benefits of credit cards:
1. Rewards
One of the most obvious advantages to using a credit card is the opportunity to earn rewards. When you make purchases with your credit card, you can earn reward points. Depending on your program, these rewards can be used for travel or merchandise. You can even get cash back from rewards programs.
Properly used, a credit card rewards program can mean free stuff, from airline tickets to shopping sprees. Or it can mean actual cash in your pocket. Free money, free gas, free hotel stays: All of this is possible with the right credit card rewards program. But there is a caveat. In order for all of this to truly be free, you have to avoid paying interest. If you carry a balance, the interest you pay quickly destroys the value of the rewards. As long as you pay off your balance each month, without accruing interest, then your credit card can offer you financial benefits.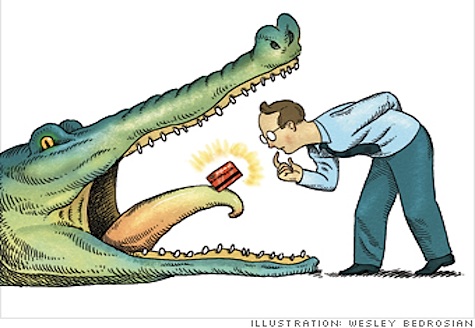 Image from CNN Money
2. Insurance
Another benefit to having the right credit card is that you get some types of insurance for free. Many credit cards offer rental car insurance as a perk. As long as you pay for the rental car with the credit card, you get the insurance for free. No need to pay for it at the rental car place. Also, if you have rental car insurance as a perk with your credit card, you won't need the coverage on your regular car insurance, which could save you money. Check your credit card terms to see whether or not you have other types of insurance perks, including some types of travel insurance and even cell phone replacement insurance.
3. Purchase Protection
Credit cards often come with purchase protection. If you buy something, and pay with your credit card, you have recourse if the merchandise is faulty, or if it is not as represented. Normally, you can call the credit card issuer and have the charge reversed. With a debit card, on the other hand, the money is already taken out of your bank account, and it can be hard to get it back. With a credit card, you can often get the purchase protection, which means you can settle things with the merchant before you pay for the purchase. Many credit cards also provide some kind of warranty protection on certain products purchased with the credit card. So you get guaranteed returns, even if the merchant won't take the product back.
4. Price Protection
Along with purchase protection, you can also get price protection in some cases. Many credit cards will refund you the difference in price if something you bought drops in price within 60 days. You will probably have to keep the original receipt and be able to produce the print ad showing the lower price, though. Many card issuers won't accept online prices, or seasonal and clearance sales. Check with your credit card issuer to find out about exclusions to such policies.
5. Charity Donation
If you want to help others, it is possible to do so with your credit card and not just to make cash donations. Many credit card reward programs will allow you to donate your perks to charity. You can choose to donate your cash back, or you can choose to donate your airline miles or merchandise points. These donations can help charities operate more efficiently. Indeed, if charities receive enough reward points donations from enough people, they can redeem them for items or cash that can help further the charity's goals. If you want to help your favorite charity without spending extra, you can check to see if your credit card will allow you to donate your rewards.
Bottom line: As long as you have an actual plan, and as long as you understand the fine print, it is possible for you to take advantage of credit card perks without spending extra money. Pay off your credit card balance each month, and ask about the perks offered by your card, and you may find that your card, instead of being evil, offers surprising financial advantages!
This guest post is from Ramsay, a personal finance blogger who helps people improve their finances and get moneyedup!
Created November 19, 2010. Updated September 3, 2012. Copyright © 2012 The Digerati Life. All Rights Reserved.