Something really weird happens when you graduate from college and the weeks go on. You realize that you're structured life is no more. This means no more 8 AM classes or evenings filled with group meetings. Now you have all the time in the world, yet you can't seem to find any structure. By not being forced to wake up early for class, you tend to sleep in more often. Without any major assignments, you find yourself watching reruns of some of the stupidest shows. If you're tired of this and are ready to have a great year out of college then this post is for you.
Graduated From College? Financial Tips For The New Graduate
Let's go over what you can do to have a productive year once you graduate from college:
Don't become a couch potato.
After spending four years in college, it's really easy to get lazy and feel that you deserve to relax. We're all entitled to some rest but how much rest do you really need? Rest is good but it can often be more counter-productive than anything. Once you realize how much time you've wasted, you'll become more stressed out than anything. My advice is to rest a little, but try not to become a couch potato.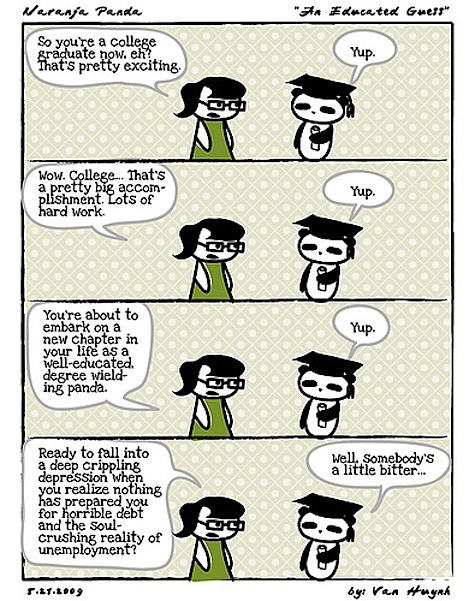 How optimistic are you about the future?
Create your own job.
You won't always find your dream job. This is why you should try to create your own job. Now this may seem like a daunting task at first but it doesn't have to be. You can create your own job through a variety of different ways. You can try to sell one of your skills for freelance income or you can get in touch with the firm that you interned at last summer. For example, I took my understanding of personal finance concepts and used it to write freelance articles for money. My cousin was able to find steady summer work after completing an internship where he built contacts. Creating your own job can also be much more fulfilling at the end of the day.
Apply for unique jobs.
If you're going to work for the next 40 years, you might as well enjoy it. If you have flexibility with your financial situation and don't have to stress about finding work immediately, then you can take your time and look for jobs that truly interest you. I've been very picky about the jobs that I apply for because I don't want to be another miserable person with a 9 to 5 job.
Simplify your finances.
Once you start working and making some real money, you're going to want to ensure that you keep this hard earned money in a bank account with decent yields. I've taken the time to automate my bills and create sub-accounts so that I can save for my many different financial goals. Once you simplify your finances, you can move on to more important things.
Strive to build your network.
You can use your new found free time to go out for coffee and connect with others. I've been working lately on getting in touch with old friends whom I didn't have time to visit with when I was rammed with assignments. I'm also trying my best to stay in touch with college friends (snow storms in Toronto are making it difficult to get much driving done). It's important that you don't burn any bridges because you never know who will be able to help you.
Pick up a new sport.
You can lose those extra pounds that you found in college by trying out a new sport. I've been using my lunch hour to attend a kickboxing class at an MMA gym near my home. It keeps me in shape (and helps me to avoid using a boring treadmill).
Get some traveling done.
Ideally, this is the best time to experience the world and get some traveling in. This is the one time in your life where you don't have any major responsibilities or bills to worry about. If you're interested in this, then you can check out my 2,000 plus word post on vagabonding and everything you need to know about traveling the world.
Sell your crap.
You can use your down time to start selling some of your stuff online.You'll be surprised by how much of your stuff you can get rid of for a profit. You'll also get to declutter your room for once.
Cheers to all of you as you try to have a killer year post-college. Please share your experiences with us here!
This is a guest post from MD, a recent college graduate who makes money talk fun for 20-somethings at Studenomics and tries to figure out how to make money at Passive Income Now.
Created February 4, 2011. Updated August 6, 2012. Copyright © 2012 The Digerati Life. All Rights Reserved.