This is a guest post from MD of Studenomics — the perfect place for those who are looking to destroy their credit card debt, who want to have more money now and wish to enjoy life a little bit. Come on over to check out my new design! If not then at least consider subscribing to my feed.
Work From Home Jobs: How To Find Legitimate Opportunities
With all of the get rich quick schemes and work from home scams that plague the Internet, many young people are wondering this: are there any legitimate work from home jobs out there?
Of course there are.
The problem is that many amazing opportunities are buried below scams and penny earning jobs. If you search hard for these jobs and are willing and comfortable to work from home, then here are some possible options for finding a real work-from-home position:
Within Your Own Company
Don't look now, but you can potentially find an opportunity like this from within your own company. So how is this possible? Well, it's 2010. Does every single person have to commute to the office every single day? Nope. As long as you can prove that you're productive from home and that your quality of work won't deteriorate because you're away from the office, then telecommuting from home could certainly work out.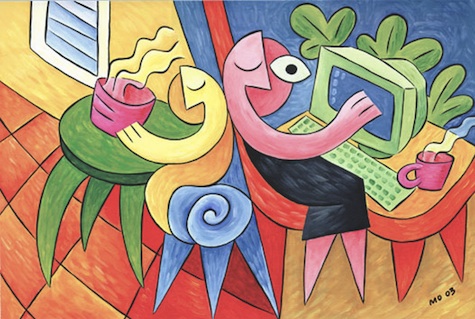 Image from MoGallery.com

How is this entrepreneurial? Because most of the other people within your company will want the comfort and discipline of being confined to working at their desks. You, on the other hand, know that you can work from anywhere, as long as there's an internet connection and a cup of coffee available. There's nothing wrong with being the entrepreneur within your company.
Freelancing
Write some articles. Create some website designs. Draw some logos. Give some lessons. Sell some products. Maybe start an online business. Do whatever it is that you're good at. I can't give you all of the answers, nor can anyone else. You know yourself the best. You know where you excel, more so than anyone else out there does. So use it to your advantage.
My friend is an amazing guitar player. He's studying guitar in college, he plays in a band, and spends all of his spare time practicing. The unfortunate thing is that guitars are not cheap and neither is studio rent. So he decided to go into freelancing; he put up a bunch of posters and got the word out that he was available for gigs. Now he makes money playing the guitar in ways that he thought were originally lame. He plays at weddings and teaches others to play guitar. He's not going to get rich any time soon but he has enough money to support his hobby and have some left over to do as he pleases.
Blogging (apparently!)
Setting up a blog is idiot proof (I did it!). The challenging part is making some decent money off a blog. Anyone can tell their buddies to click a bunch of Google ads for pennies a day, but that'll get you banned by Google in no time.
But once you do start making money from blogging (the legitimate way), not only can you work from home but you can work from anywhere in the world.
How do you make money blogging? I'm nowhere close to there yet but the plan is to use Adsense, to join affiliate programs, and yes — to eventually sell my own products.
The next time you see a flyer or an internet site or ad promoting the fact that you could make a ton of money from home, give pause and think twice. Research that opportunity very well. Check for web and offline chatter about these endeavors (in fact, watch out for those proprietors, sites and companies that don't have any footprint on the web or anywhere else) and find out what you can about the opportunity. Any promises of easy money should be met with suspicion. Be wary of big promises as many of these leads are merely scams that are set up to separate you from your money. So please watch out!
Copyright © 2010 The Digerati Life. All Rights Reserved.