Have you heard about one web page that made its owner a million? The Million Dollar Home Page as a "business" idea has spurred an epidemic of pixelized cyber real estate offering ad space for sale. It worked for one person a long time ago, and is considered an interesting flash-in-the-pan marketing strategy.
Among those who are on the "pixels or links for sale" bandwagon is an enterprising young man who figured out a way to improve upon the Million Dollar Page idea. This time, the young man is Brandon Rowe, and his project is called the Link Experiment (@ the LinkExperiment.com). He's simply auctioning off space for your links on his page and so far he's made a tidy $9,120 and has an Alexa ranking of: 26,403. As an aside, the Alexa ranking is no longer much of a measurement for website traffic, but it's one that was used as a metric when this post was written.
So who else out there is making money this way? I gave it a closer look and checked up on several dozen or so copycats that capitalized on the clever notion of requesting donations…er I mean selling ad space…for a seemingly worthy cause. There's quite a menagerie of ubiquitous ad selling sites out there, and if you're looking to hook up with one of these places, then here's a quick review for you.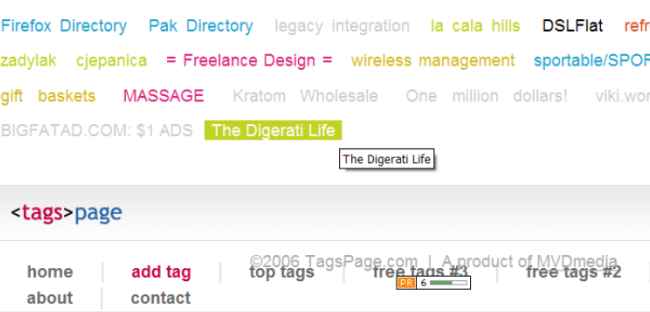 Let's see how this concept is realized. Just for fun, here are some variations of the Million Dollar Page, where you can buy ad space on someone's page. You decide if they're worth it:
The Original Million Dollar Home Page @ MillionDollarHomePage.com
Alexa Ranking: 12,675
Back Story: First mover into this space, Alex Tew is 21 years old with the goal of paying for his undergraduate studies
Take: $1,000,000
MMMZR, the Next Million Dollar Home Page
Alexa Ranking: 63,469
Back Story: The site owner is Tadashi; he's half Japanese, half English and lives in Tokyo. Now wait a sec. After reading the "How It Works" section, I have come to realize this may be something like a web based pyramid scheme. In a way it is, because the premium ad positions are priced higher and proceeds from those ads are distributed to previous sponsors. I suppose everything is in the up and up if the premium sponsors realize they won't be getting their money back… and simply getting the most exposure. But I question how much more exposure you gain by being on top: after all, everyone has a trusty scrollbar. Tadashi says: At the end of the day, either your ad is at the top of mmmzr's front page in prime clicking position, or you have received your money back or better! It's touted as a "club" that only accepts links from sites that have quality content and nice looking and stylish ad buttons/icons. Currently he's no longer accepting ad orders.
Current Take: $697
Update: This site now has a new orientation.
The TagsPage.com. More about it here.
Alexa Ranking: 58,935
Back Story: Nobody with a heart wrenching story to share unfortunately. The people behind this are anonymous as far as I can tell. They have a tiered system with free tags on PR 6 pages and $x per characters in a PR 7 home page. And as you can see from the posted photo above, I am a proud resident of one of their free tag PR 6 pages for one year!
Current Take: Hard to tell given the relatively complex tiered pricing approach and free pages thrown in
The 1 Million Dollar Home Page @ 1-milliondollarhomepage.com
Alexa Ranking: 91,910
Back Story: You can get a 10×10 space for $10 – $20 depending on length of "lease"; the site also offers a built in affiliate program that everyone can sign up for, for free, and make some money referring others to this site. On top of that, there's a pixel exchange program as well.
Current Take: Hard to tell but there are around 120,000 busy pixels and a lot of other bargains thrown in, so I'm guessing wildly around $10,000.
The Million Dollar Screenshot @ milliondollarscreenshot.com
Alexa Ranking: 274,027
Back Story: He's anonymous but says his "main motivation for doing this is to get enough money to start a software company without putting at risk his family. This is also a good opportunity to learn SEO and website promotion." At $100 an icon on a PR 6 page (or in this case, screen), he's made around $2,000 already given the following page pronouncements: Are my icons worth buying? 19 icons sold, 18 reserved and 58 available… Daily average 560 (visitors)
Current Take: $2,000
The Australian Million Dollar Home Page
Alexa Ranking: 5,638,020
Back Story: The owner of the site is Norman Rozental. In his words, "a proud Aussie, currently living and working in London as an IT professional." You can buy a pixel for $1 AUD. He's also giving away $10,000 AUD worth of free pixels for promotional purposes. Exchange rate: $1 AUD = $.80 USD
Current Take: 7,800 pixels sold for $.80 a pixel yields $6,240
Update: This site is now something else entirely. Now move along!
The Indian Million Rupee Home Page, and more about it here
Alexa Ranking: 468,264
Back Story: Sunaina Bansal, married to her loving husband Karan, is highly educated and would love your support. Her site is "by an Indian woman, for the Indian people" and you can buy 1 pixel for 10 rupees.
Current Take: Exchange rate: 45 Rs = $1 With 37,400, so far she's made $831.
My Million Dollar Ad Page, a copycat page that even advertises on Alex Tew's site
Alexa Ranking: 1,121,669
Back Story: JJ Nixon is greatly inspired by Alex Tew as he has purchased space on Alex's page. Now he wants to host a million dollar page himself! You can park on 4 blocks of his page for free for one year, with additional blocks at $25 each.
Current Take: 186,600 pixels covered, but hard to tell with all the terms involved
Update: As is usually the case, the copycat has bitten the dust. Copycats don't work out all too well over the long term.
A Million Dollar Help Page for Katrina victims?
Alexa Ranking: 1,926,671
Back Story: Globat.com in partnership with UBC Mission Rescue is behind this noble effort. With a 10×10 block for a minimum of $100, they received traffic through the roof in late 2005 but it's virtually non-existent now.
Current Take: 13,100 sold yields $131
Update: Stuff like this may come across as a scam. So do your due diligence!
A Million Dollar Women's Home Page
Alexa Ranking: 916,489
Back Story: Teresa Luquette is a home based entrepreneur, wife and mother of two daughters, is 41 years old and lives in small town Texas. She'll be applying the money she makes to women's entrepreneurial endeavors.
Current Take: 180,200 sold for $1 a pixel yields $180,200 but who knows if there were freebies thrown in to diminish the take.
Update: Again, gone with the wind.
The Zero Million Dollar Home Page
Alexa Ranking: 2,585
Back Story: This page is a parody of the other million dollar home pages and Google Blogoscoped is not accepting buyers.
Current Take: Nothing
Update: This page is just plain empty. Nothing to see here!
There are a ton more sites like this dotting cyberspace, but success and gains are all over the map. Many of them took off pretty well when they first came out but are now promptly entering oblivion. Whipping out a page like this is probably no longer worth the time to set up and market unless you're offering something quite a bit different.
From the point of view of an advertiser though, why not try out these clones that claim to be unique or more highly evolved from the same concept?
Well okay, this is all just for fun. I doubt very much you'll get far by advertising this way. 😉
Copyright © 2006 The Digerati Life. All Rights Reserved.