Well, well, well. It's been an eventful week here in the online world as Google did a rather major overhaul of the web. And there's been quite a hullabaloo over this matter as many long-standing web pages were pulled out of their usual rankings and banished into the deep recesses of the Internet where no eyes can find them. Translation: some site owners and publishers found themselves seriously demoted by this new algorithm.
And yes, I found myself taking a hit because of this change, and at first I thought it would right itself soon enough, but it's the kind of thing I think will take a while to shake out. In the meantime, well…. I guess I should sit tight and wait for things to blow over.
Google Panda (Farmer) Update: The Aftermath
I thought to read about this change anyway and found a lot of interesting stuff. That there were a lot of "false positives" and collateral damage in the mix. Thank goodness, because I was starting to question my own competence as a web publisher (well okay, I'm not saying I'm the best writer around, because I'm not, but I'm as far as you can get from being a "content farm" by its very definition).
What this algorithm was supposed to fight were the bad guys of the web: content farms, scrapers, autoblogs and splogs (those useless blogs that aggregate feeds from different sites), article spinners, black hats, spammers etc. In particular, Google wants to clean the web of "sites that copy others, are useless or low quality". Yeah, I'm all for that but instead, this change seems to have caught a lot of innocent sites along the way, including a list of sites and blogs I follow, correspond with and highly respect (for their owners' expert knowledge in their niches).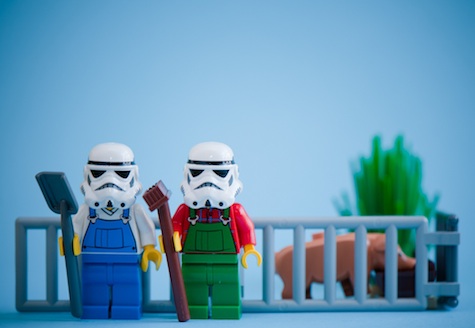 Image from NewCommBiz.com.
Who's A Content Farm, Scraper or Evil Spammer?
Next thing I did was try to figure out why I ended up triggering some of Google's new signals. I went back to finding out what a content farm is — by definition, these are sites and companies that produce "shallow content at a massive scale" (Wikipedia definition). Hmmm…. I write around one or two posts a day. I'm a one person operation: that should dispel any notion of me being a factory or farm.
Next, am I useless, shallow or low quality? Haters may debate this… ;-), but then again, it's all pretty subjective. Still, I'll argue this one out and defend my hard work thus far. I can also say that I have such big plans for this site this year, and am striving to provide you with even more useful features. All I know is that I work pretty hard to produce the content I present here daily (as do many in the personal finance blogging space), and spend an easy 4 hours a day on just writing (most days).
Third, am I copying content? Certainly not! But I've had some unfavorable encounters with people who've offered me writeups that turned out to be plagiarized. And it's not uncommon for many sites to fall into the trap of publishing a contributor's post that has been recycled around the web many times over. I've discussed it before — I'm pretty strict about adhering to uniqueness and quality guidelines here. So the answer is an unequivocal NO. I would never, ever publish cloned content.
So what on earth would cause this stumble? After some investigation and analysis, I've discovered that I've been a victim of heavy scraping. Being a relatively old site (4.5 years old baby!) in the financial space, it's not surprising that a lot of my posts have been copied and regurgitated all over the web. In fact, it looks like most of my pages have been scraped (I've gone as far back as last year and spot checked really old posts). The worst cases involve some of my most popular posts.
Now I'm sure there are a lot of blogs that have scrapers as well, that did not get affected by any changes, so there must be other factors in place that should be taken into consideration. Maybe it's to do with the number of pages scraped, or maybe, just maybe, some of my articles come across like eHow writing 😉 . But I'm banking on the more likely possibility that I appear to Google as a scraper rather than the original source.
At any rate, I can assure myself that at least, I'm in good company — here's a list of vocal victims of this update. The poster child of this "collateral damage" furor is Cult Of Mac, a wildly popular tech blog. And its status has since been reinstated by the big G. Question is, when will it be the case for the rest of us mom and pop shops?
Any other PF bloggers snared by this search update? Strength in numbers as they say. 😉
Copyright © 2011 The Digerati Life. All Rights Reserved.