After a couple of decades of participating in the market, I find myself pretty comfortable with investing. I have learned mainly through research, readings and experience, but I've also picked up a lot of information from the stray seminar or two, a handful of classes and many more animated discussions with fellow investors. These days, I'm beefing up my tactics by checking out stock charting tools and stock trading software to see what it is that stock traders do to make their money. I'm doing this mainly for educational purposes at this point, and not because of any desire to trade stocks just yet. As I've mentioned in many of my previous posts, I enjoy discussing the many dimensions of investing — from long term investing to short term trading.
Can Stock Trading Software Make You Money?
Here's a video from INO.com showcasing their MarketClub software:

Click this link or the image below to watch the video.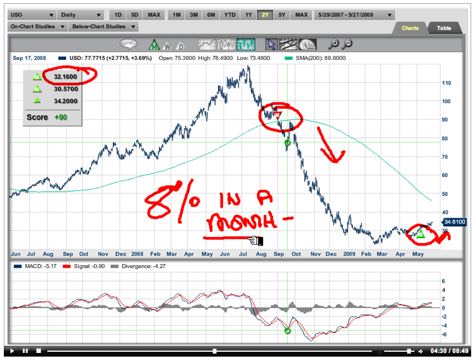 MarketClub is a stock trading tool that demonstrates how you can make money using technologies based on charting and technical analysis. This particular video shows that in the span of a couple of months, traders would have earned the following returns by employing features of the software to help guide their actions.
In Currencies: Using MarketClub software, a trader could have earned a 216% return by trading the British Pound (GBP).
In Crude Oil: One could have made an 8% return in one month's time by trading the USO ETF, which closely tracks the crude oil market.
In Precious Metals: A 50% return in gold in less than a month was achieved by those using trading technology.

This particular tool is intended to spot big moves in the stock market before they happen. And this time, it's worked out for anyone using it. Whether it's consistently successful is another question — you'd only find out by trying it out for some length of time and seeing how it works. I can only relay one piece of advice an incredibly successful trader I know has told me about the art and science of trading: these tools are based on probability.
Just like with any other form of predictive technology, you can only be given the likelihood of events, and there are no guarantees. These tools can only tell you if a given stock or market will be more likely to move up, down or stay sideways, based on how well its algorithms are built to adhere to known investment theories and schools of thought. You'd first have to believe in the theory behind the tool, then believe in the accuracy and quality of the tool before you can trust how it works. Would you be willing to put your money on the line in this way? As for me, count me in as a fan of the "game" (still not a real player though).
Copyright © 2009 The Digerati Life. All Rights Reserved.