Some stock trading tips for new stock traders and investors.
Ah… Your first time. You'll look back on the day you first got started in the stock market and laugh at all the ridiculous ideas, strategies, and beliefs you initially had. But if you're reading this article, it's because you haven't yet had the pleasure at mocking your own inexperienced days. So for you first time investors, I want to give you some tips that I know first hand will help you ease the awkward transition into the investing world.
Stock Trading Tips For New Investors and Stock Traders
1. Learn As Much As You Can About Investing
Before you commit your money to the stock market, it's best to understand how the stock market works and to get educated in the realm of investing (or trading). The internet is full of free resources for this sort of thing. In fact, many of the most recognizable online brokers now offer a lot of educational material and investing tools on their sites which are made freely accessible to their customers. Some online brokerages we like because of their affordability and strong customer support are TradeKing and Zecco. You may want to consider signing up with one of these brokerages if you don't yet have an investment account.
2. Invest With Small Amounts of Money
When you're new to anything, you want to start off with as little difficulty, risk, and pressure as possible. Investing is no different; so investing with a small amount of money is the best way to start off for the first time because it lets you get a feel for the stock market while keeping you safe from any major losses. So with a small amount invested, your potential money lost is minimal but your potential knowledge and experience gained is unlimited.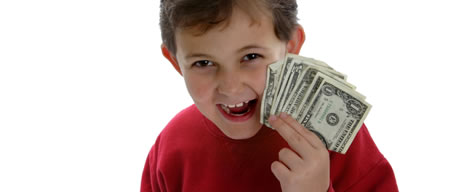 3. Don't Invest What You Can't Afford to Lose
This should be common sense, but many first time investors seem to forget this golden rule. Even if it's a small amount, the money you invest should not be the money you rely upon to maintain your standard of living. Doing this will lower the pressure you'll feel while you invest, and will protect your financial health in case you somehow lose every penny.
4. Try Not To Let Your Emotions Control You
I have a feeling this tip may be pointless since it's like telling a kid going to Disney Land for the first time to not get too excited. Nonetheless, you must try to build discipline so that your emotions will not cloud your mind. Greed, Fear, Anxiety, Excitement, Depression, Frustration, Happiness, etc. — all will be emotions that you will experience during your investing career. It will be your job to overcome these emotions and invest with a clear head.
5. Be Realistic
No matter how much you've prepared in advance for your first investments in the stock market, you'll never be experienced enough to be infallible. Many investors take years until they shake off their amateur tendencies and learn how to become disciplined enough to invest logically and ultimately successfully. Keep this in mind when you first start off, because it's statistically bound to be ugly for your portfolio in the first year of its existence, no matter who you are.
6. Embrace Your Failures
You are bound to take some significant losses with your investments. It's not a question of if, but when. With that in mind, don't look at your failed investments as a means of discouragement, instead look at them as lessons. If you take these failed investments and analyze them to see what you did wrong, you can form a list of rules to invest by that will help you to never repeat these mistakes again.

This guest post was brought to you by The Investor's Journal, a blog written by Adam Freedman, a self-taught, young investor (in his early 20's) who began investing in the stock market in 2005 upon opening an account with TD Ameritrade and who's been studying and learning all he can about the markets since then.
 
Image Credit: AskMen.com
Copyright © 2008 The Digerati Life. All Rights Reserved.