Is one of your financial goals to become a millionaire and make big money online, but all you have is a chockful of weird small business ideas? Well, don't be discouraged as all may not be lost.
Do you recall Simon Cowell's brainchild called The American Inventor which was a television series that aired some time ago? If you don't know about this show, it was a take on American Idol except the contestants were inventors or innovators and the audience was supposed to vote for the winning concept, which would then receive a huge $1 million prize. The prize money was intended to take the winning prototype to implementation and production. Boy, did they showcase some nutty inventions there.
I've had many harebrained designs before, each one shot down handily by people I've confessed them to. But there's a part of me that sometimes wonders, well… What if? Could my ideas have a shot?
Could I be nurturing a misplaced optimism from some of the success stories I've come across? You see, there are those who had strange or even bizarre ideas that made them tons of money anyway. Some of these ideas are actually clever and out of the box. And this kind of thinking often gets rewarded mainly because nobody's thought of them before! Do remember though, that not all such ideas will "stick" since the more offbeat something is, the less likely you may find a market for it. Check out the following unusual business ideas that have done well, and be inspired. I have seen this list floating around the web and wanted to share them here:
Top 10 Strange Online Business Ideas That Made It Big
1. Million Dollar Homepage
You may have heard about this odd online business idea. But pure and simple, it was a novelty idea that went viral back in the day. The entrepreneur here is Alex Tew, who was 21 years old at the time when he set this page up. He charged for advertising at a rate of $1 per pixel on a page that had a million pixels. You can still see his site at milliondollarhomepage.com. Because of the success of this endeavor, the expected copycats have popped out of the woodwork.

2. SantaMail
Byron Reese pretended he was Santa Claus and made a killing. All he did was set up a mailing address in the North Pole (Alaska) and charge people $10 per letter they ask to be addressed to a child of their choice. So if you wanted to go for a unique gift for your kid, you could have asked "Santa" to send one to your child. Byron was able to send out at least 200,000 notes since 2001. Work out the figures and you get a few million dollars! Check out santamail.org for more info!

3. Doggles
Doggles.com offers eyewear for dogs: that is, they make and sell dog goggles. Kind of silly but given that they are still in business, they must be doing well!

4. LaserMonks
There was once a monastery that housed a few monks that were earning revenue by refilling cartridges. However, they are no longer doing business, unfortunately. They used to be known as LaserMonks.com, run by the Cistercian Abbey of Our Lady of Spring Bank.

5. AntennaBalls
What are antenna balls? Are they those things you stick at the end of your antenna? Find out in antennaballs.com. This was a business that made Jason Wall earn millions. Funny huh?

6. FitDeck
Fitdeck.com is a site that sells cards that show off different exercise activities and routines. Seems like a weird idea, but it took off, earning its founder millions in the process.

7. PositivesDating.Com
I think this is an interesting idea that fills a need. This is a matchmaking site for HIV positive people that provides a well-meaning service. This dating site is called positivesdating.com, which is intended for a special group of people looking to find the loves of their lives.

8. Designer Diaper Bags
Custom diaper bags do sell. You can ask Christine Rein about this since she built a business around diaper bags that were well-designed and had both functionality and form. DiapeesAndWipees.com has been doing well with its own line of bags, which are selling in various online stores and boutiques.

9. TruGamerz
I am not sure if these things are for sale any longer, but at one point, game controller covers made out of fake suede and special thumb pads for joysticks that were made out of gel were all the rage. These were popular enough that even big stores like Target and Walmart decided to pick them up as part of their inventory.

10. Lucky Wishbone Co.
Have you heard of luckybreakwishbone.com? They make fake wishbones. I am not sure what the purpose is behind such things, but apparently, people buy this stuff. And according Ken Ahroni, its inventor, sales have hit $1 million (well, in 2006). I'd be curious to know if this site continued its winning streak.
Now that we've discussed some successful yet strange business ideas, what about those that fell flat? The reality is that the risk is higher when we pursue ventures that have had no precedence in the marketplace. But that is what innovation is all about. So let's balance things out by discussing those odd ideas that didn't get traction and that were quickly shelved because they couldn't get funding (source: CNN Money):
10 Weird Business Ideas Pitched to Venture Capitalists
Side-ejecting ejection seats. So popping out of the ceiling of an aircraft isn't as effective?
Online graveyard registries. I've seen a lot of these around, but most are free.
An in-flight magazine detailing all the noises heard during air travel, with explanations for each buzz, rattle and click
A site for used pet toys: eBay crossed with Pets.com. Wait a sec. What ever happened to that Pets.com sock puppet?
An electronic thoroughbred horse to teach people how to become jockeys or just learn how to ride race horses for fun. I'm guessing it's similar to a mechanical bull.
Lifelike robot doll that would talk and interact with others. A shame that this never saw the light of day. Sounds like it would have been the best toy robot we'd ever come across. But they're doing stuff like this in Japan already. But we're talking androids here, not dolls! I actually went to school with this guy who's an expert in this field.
All about ME! Hmmm….an entrepreneur wanted $10 million to fund a movie and a book about himself. Well he could just start a blog….
How about $30 million for an original animated film? Are you Pixar? Then maybe.
Talking sneakers. I'd think this would be distracting at the very least and annoying at most.
An airline with WiFi on every plane. I'd actually like this. But maybe it's already available somewhere?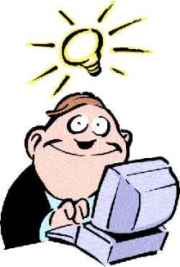 So some ideas took off and some floundered. But no worries, entrepreneurs still keep trying…and creating….and inventing… Perhaps by just taking matters into their own hands and striking it out on their own with their own capital and elbow grease, they may still make it anyway! Dumb ideas have made money before, as we have just learned, so who knows — sometimes, it's a surprise what clicks with the multitude out there.
If they can do it, so can I.
If I ever come up with an outrageous concept, I may give it a second thought and not just toss it asunder. What's ridiculous to you may actually fly with some people and have a viable market somewhere. So if I were to pursue such a crazy thought (and yes, I'll know if it sounds stupid…), I'll first make sure it requires the lowest effort, risk and minimal investment so I won't feel bad if it flops.
If anyone out there has had a weird idea that made it big… or not, how about sharing?
Essential Online Business Resources
What this piece shows is that while a lot of online ideas may seem like a long shot, a percentage of them actually do work out and succeed. What's interesting is that ALL online businesses, whether funny or not, need certain services and tools to get started. To help you out, here are some great resources to help you launch your venture:
You'll need a web hosting provider.
To get your idea off the ground, you'll need a cheap and reliable web hosting provider to host your web site or blog. Some great options? Check out these cheap web hosting services for some options. Along with great customer service, these services also provide you with good deals on all-in-one tools and services including site design, templates and domain registration.
You'll need domain registration.
There are a few ways to make money with internet domains. One is to trade them: there are people who get into the business of buying and selling domains and have made good money doing so. Or if you're a serious entrepreneur, getting your own domain should be a top consideration in order to establish your credibility in your online space. Again, some low cost options can be found in this article on the best web hosts for your business.
Best of luck on your venture!
Copyright © 2007 The Digerati Life. All Rights Reserved.