Small business startup funding in Silicon Valley has slowed down significantly, closing off liquidity and the cash flow spigot. Entrepreneurs are down one significant lifeline.
As a small business owner and one who used to work at Silicon Valley startups, I am particularly curious and constantly mindful about how our general region is faring during this downturn.
Silicon Valley Without Small Business Startup Funding
It's always a nice option that many would-be entrepreneurs entertain: they toy with the idea of acquiring venture capital as seed money for their fledgling businesses. Anyone who's young (usually), with a bright, innovative business idea, a lot of energy and enthusiasm, and the ability to spin a good story has a reasonable chance of winning a golden ticket from Sand Hill road.
But as Silicon Valley is mired deeper in economic recession, it has become painfully clear that venture capital is no longer going to be anyone's parachute for a good long while. Just to put things in perspective, there has only been ONE IPO produced by this region for the entire 2008 (ArcSight, a systems security firm), as compared to the 28 IPO launches a year that was experienced over the last two decades. The Silicon Valley lottery is over for now.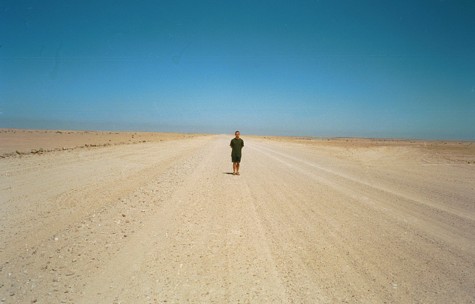 Desolation in the venture capital world. Image by
Cyber Nomad
Adios, Venture Capital!
What this means is that many new businesses now need to survive entirely on their own fuel, by their own merit and left to their own devices — you know, your standard blood, sweat and tears, along with a much greater acceptance of risk. The risk can no longer be transferred to someone else, but must in fact be borne by aspiring entrepreneurs themselves.
So what do we do in the face of tightened purse strings? For many business owners and startup founders, there are always the contingency plans, right? Keeping the day job while supporting the clandestine startup. Multi-tasking. Freelancing. Contracting. Consulting. Networking, just in case an angel investor swoops down and lends a guiding hand.
In our case (as among the self-employed), we're riding the choppy waves on a flimsy boat that's surprisingly sturdier than we first thought. It helps to be open-minded about what can be done. And it also helps that we've taken steps to wrestle our expenses down. We continue to downsize and cut costs, and our efforts are seeing results. Things are showing some promise — maybe in a year or two more, we'll be where we want to be.
At any rate, this recession is teaching us something — to be less complacent, more productive, more resourceful… and to learn to get by with much less.
So how are businesses coping with the recession in your local area?
Now while the Valley goes quiet, hopefully only temporarily, the chatter on the web heightens, with people continuing to use this avenue to share their financial stories and tips to the world.
Copyright © 2009 The Digerati Life. All Rights Reserved.