There's a financing model for every entrepreneur out there and depending on the type of business you have, there's an optimal way to fund it. If you have a small home business, then running it out of your house using your own savings, credit card loans, and eventually your own revenues may be enough to keep it going. If you have bigger ideas and more ambitious aspirations, then you may want to consider other ways of injecting fuel into your business.
In this part of the world, there are many ways to fund a startup, especially the high-tech kind. Not that we're huge experts in this arena, but we're fortunate to come across people who have gone this route not just once but several times over through conventions, local trade shows and various networking venues. I've encountered some people who have become repeatedly lucky and all it really took was one right move. Do you know why? Because if you make it big that first time, then successive entrepreneurial efforts become much easier as you have established credibility, a solid network of business connections upon which you'll rely heavily upon and enough savings to bankroll more ideas.
How To Guide Your Business To Success
Launching a startup is most certainly not like gambling at a casino near you, nor is it like a lottery. Again you ask why. This is because the success of a business hinges upon many factors such that the odds are stacked on your side. Sure, there's much luck and market timing involved, but if you have the right people behind you rubbing the right elbows, promoting the right stories and even implementing your ideas — the right ideas — then you're shot at success is much greater than you may think. And all of this is under YOUR control.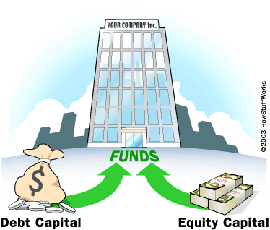 There are many ways to fund your business and just as many ways to grow it. Each track has its own pros and cons and may be best suitable at different points in time in an entrepreneur's work life. Sometimes, there's really no choice but to go down one path because of monetary reasons.
Let's test that out with this question:
What would you do if your business is hanging on by a thread and your credit is maxed out? Suddenly, you get an offer, from an obscure VC (venture capitalist) or from a larger competitor interested in a private acquisition, and for a moment you feel that your dreams are answered. But there are caveats — many of them — such as relinquishing control over your idea, your business and your employees. You'll still be at the helm, but maybe you're just a puppet now, to someone else's CEO. Will you sell out to give your business a shot to some kind of success? Maybe… just maybe.
As I said before, sometimes you have NO choice. But it's still good to be armed with this kind of knowledge in case you DO have a choice. Check out the different ways to get funding and let's see the pros and cons of each.
Different Ways To Fund Your Business or Launch Your Startup
The Self Financed Business
Founders keep maximal equity.
Founders have to invest significant cash (100K+) to hire employees and fund operations.
Founders keep full control and can run the business however they like.
If the company becomes profitable, the owners receive the profits directly.
If the business flounders and fails, the owners lose their investment.
The founders and management have control over any future deals such as private equity sales or even future VC (venture capital) funding.
The Angel Round
There will be some equity dilution (i.e. 20%).
The founders will gain several hundred thousand dollars to pay initial salaries and operate the company.
The founders will probably kick in some "earnest money" as a sign of confidence. By doing so, this will reduce dilution of their equity.
Angel investors help forge business relationships with experienced and influential players in the industry by providing networking opportunities and advice, in addition to cash.
Angel investors will want to have some kind of exit strategy along the lines of 2 to 10 times their investment. Full ownership can be restored if cash from the business is used to buy out the investors. Note that it is possible to use the profits from the company in this manner.
Angel investors are not as high maintenance as VCs.
This avenue provides a less up front risk for founders due to less cash investment.
The Venture Capital (VC) Round
There is significant equity dilution (i.e. 50%).
Company founders can gain several million dollars to keep a 10-20 person company alive for 1-2 years. They give up some control to receive investments.
The VCs will sit on the board and boss the company around. This actually can require a lot of hand holding and distraction.
Beware the "zombie scenario" that features the moderately profitable company without a good enough growth curve to allow for an IPO ending or a high priced acquisition. Such a company with initial VC support no longer receives additional investment and just kind of stalls out. Note that this outcome would be more acceptable in a self financed startup if you can operate independently on your own revenues.
This is the lowest risk path to take if your idea is good, since you build maximal resources and receive the most advice/networking this way. It becomes higher risk if your idea is only moderately good, due to falling into the "zombie scenario".
The founders only get money out through acquisition or IPO. Any profits from the company are tied to the business operations.
The startup mentality that Silicon Valley is known for is one that breeds the culture of speed, 24 hour work shifts, terrible junk food and tight, closed quarters. The mantra: "First To Market Rules." In my mind, there's no way to sustain such a lifestyle for the long term, so this I ask you dreamers out there: to what end? To quickly sell your rights away to deeper pockets and money shakers that will then rule your work lives? I'd like to suggest an alternative to the eager beavers and tycoons in the making: "Best To Market." In the startup climate we have today, there's not such an urgency, because we're no longer in dotcom nirvana but in the throes of a healthier business reality where quality reigns and ideas are cherry picked. Take your time and be GREAT — being just "good" and first isn't good enough anymore.
Picking the right track for your business or startup can be as dicey as trying to walk on eggshells or playing to win a tournament game of chess. One move always means a series of repercussions, and particular ones most certainly mean there's no turning back. So that may explain why I'm noticing how some are going it slowly this time as they gently guide their own startups from incubation to a more mature state. You don't want to rush things and find out you've overdiluted yourselves into nothing, and your business success has indeed enriched pockets, just not yours.
Be on some track alright, but this time, maybe it should be a bit slower.

Read up on funding a business on money.howstuffworks.com. Image credit goes to them as well.
Copyright © 2007 The Digerati Life. All Rights Reserved.