There are lots of tips out there for would-be entrepreneurs that I've found to be very specific, usually discussing the nitty-gritty of building a business or how to finance one. But how about some simple generic advice for those of us who are just contemplating on getting our feet wet in the realm of self-employment? Well I decided to compile some of these pointers that personally resonated with me, as a new entrepreneur, and which struck a chord with me as I watch my spouse and his partner labor to get their startup off the ground.
I got some of these tips from this great speech by Jerry Kaplan, a serial entrepreneur who's been at the helm of GO Corporation, Onsale, Inc. (an online auction company) and Egghead.com, a computer software retail company.
Are You A New Entrepreneur? Then Don't Make These Mistakes
#1 Investing your own money without grasping the financials.
Lots of new visionaries decide to start their new business without really considering the monetary outlay involved in the effort. Bootstrapping your way to an operational business may work out if your costs are reasonably low — say, if you decide to make it an online venture. But those brick and mortar type projects will probably require much more than a few thousand dollars to get off the ground. Unfortunately, many owners and founders overspend their way into trouble by getting their feet wet before much planning is done. Look at your budget and get a good grasp on how you plan to finance your business before you get going.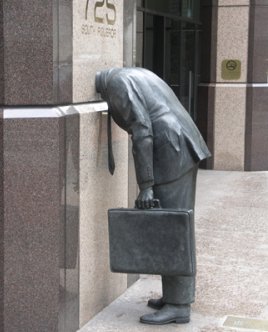 #2 Not doing enough market or product research.
This seems to be a fairly common problem. A lot of creative minds out there get lots of fresh and exciting ideas which are then turned into business pursuits. However, not all wonderful ideas are worthy of your investment, something that sufficient research will uncover. Without the research, you're taking a huge gamble and even WITH enough research, you're still making a leap of faith. Just ensure you are doing enough due diligence to make it worth the risk.
#3 Filing a patent prematurely.
If you've got a great idea, you should consider getting a patent, although you may not want to jump the gun and fork out many thousands of dollars to do so just yet. Patents for simple products can cost you $4,000 to $10,000, while patents for the most complex inventions can cost you over $25,000. Instead, go for a provisional patent first, which may range from $150 to $1,000 depending on who (e.g. patent attorney) assists you in this effort. This provisional patent can cover you up to a year so you can test your idea out in the real world after which you may then file for a regular patent.

#4 Not focusing on your market.
If you're not clear as to who your target audience or market is, you may have some problems positioning your product. But even if you know who your audience is, you'll still need to execute a sales or marketing strategy that focuses on this audience.
#5 Not having clear goals and a clear mission.
How will you measure your success? What are you trying to achieve? Without any form of planning or roadmap, you may just be groping in the dark when it comes to steering your business towards a profitable end. If you haven't identified your goals for your business, how would you know you've reached success?
#6 Using your business to prove you are smart or to gratify your ego.
Having a self-centered approach to building a business will just shoot us in the foot. If a business is developed for the "wrong reasons", I doubt it would reach its potential. At some point, a business owner will need the help of others to get the business to grow, but if the owner or founder is egotistical and arrogant, it can be tough for people to lend their support or even want to stay employed at such a place. [Although I can think of quite a few places where ego seemed to have worked out well, if not contributed to the success of a company. 😉 ] Without wanting to share the credit, we won't be able to attract good people who can help, support and sustain our business.
#7 Doing it for the money.
If your main motivation for starting a business is to make money, you may find that before long, you'll find yourself burning out or losing interest when things aren't moving along as expected. Also, when money is the priority, it may lead to key mistakes being made, such as the decision to eschew raising money in order not to get diluted. Companies may not do as well when owners and founders resist the idea of raising capital in order to preserve their equity. On the contrary, by sharing that equity, you could actually be adding value to your company, which may be worth more if you take in other people's money.
#8 Not distributing the equity.
As a follow up on the previous point, there's an old joke in Silicon Valley that goes like this: "equity is like manure, if you just pile it up, it smells bad. But if you spread it around, lots of wonderful things grow." Again, hoarding equity may be a big mistake. If you focus instead on nurturing the business, the money will come.
#9 Hiring people you like vs people you need.
A company is not a social club: you need a variety of critical skills to build your venture and different points of view to make your business succeed. Be aware that if you hire only people you like, you may be building too homogeneous a work force. So hire people you respect but not necessarily agree with all the time.
#10 Not knowing when to let go.
Building a company or a business is like raising children: as kids change and grow older, your relationship with them changes. The value you add to their lives will change with time. And believe it or not, it's the same thing with companies. So know when to step aside. An example of this is the case of a well-known startup entrepreneur who claimed that his ambition in life was to eventually become the "vice president" of his own company, while allowing other people to fill in the appropriate positions in his company.
-ooOoo-
There are more of these timeless tips in this post by Brendon Wilson. But remember that entrepreneurship also requires luck and sometimes, despite all the preparation we do, we are at times just victims of circumstance, the economic climate, geopolitical events, politics or some other ridiculous ordinance that can suck our money dry. Keep in mind that there are many unlucky small business owners who can tell you that entrepreneurship is often accompanied by many tough reality checks.
Image Credit: Business (Corporate) Head
Copyright © 2008 The Digerati Life. All Rights Reserved.