Any kind of crisis breeds opportunity and changes behavior. And when the financial world did its crazy jig in late 2008, it caused a lot of us to stop and evaluate our financial behaviors and consumer habits. You can probably get a lot of interesting examples along these lines in any type of financial, business or economic environment.
As a reaction to the shifting employment landscape (U.S. unemployment rates still leave much to be desired), we now see a lot of people who've lost their jobs now turning to new careers as a result. Also, more people are becoming freelancers and sole proprietors (me included 🙂 ). So if you're going to start doing your own thing, what kind of things should you be mindful of?
Survival Tips For A Sole Proprietor
You begin by making it official. It's pretty simple anyway. You start out by getting registered at your local county office to register as a sole proprietor. The fees are typically under $50 and give you legal designation as a business. You should then pick up an EIN (Employer ID Number) for your business, which is a tax identification number (TIN). Some people use their Social Security Number as their TIN but I'd recommend against that. Better to have your own business ID number rather than use your own SSN for that purpose. There are lots of reasons for this — you receive greater credibility and opportunities for business grants and credit in the future. I did it for security reasons — separate your business from your personal affairs even as a sole proprietor.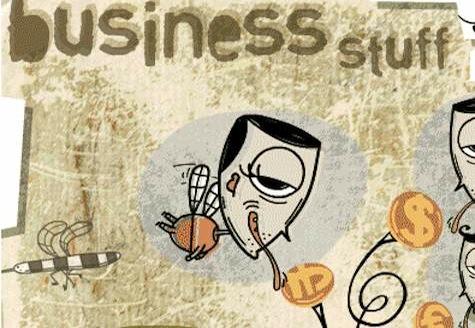 After this, you can start getting to work! If you're out to market yourself, then some basic ways to do it include these following action steps:
1. Get Connected.
Get involved in your particular business circle. Know your niche, as they say. Know your customers or what kind of market you are entering into. Sounds pretty basic, but a lot of people aren't terribly tuned into their market and only begin to understand it thoroughly over time (again, me included). If you're in a competitive space, it's all the more important to get your name out.
Some of you will take out ad space or promote yourself in other ways. Often people look to their business peers first to pick up ideas. You can also seek mentors to obtain insights. You can also start using the services of others when you need them. This builds reciprocal business relationships.
2. Sell Yourself and Start Networking.
So you think your product or service will sell itself? You'd be lucky if that were the case. Most of the time, you're going to have to put in some effort to let the world know about what it is you do. If you don't have business cards and a website, you are missing out on excellent ways to sell yourself.
Marketing is one of the key aspects when being in business for yourself. I didn't realize how big a role it played until I became an accidental entrepreneur. But it can literally take just as much time to do as running your core business. You don't have to be too pushy though — but you can encourage others to talk about you, too. Word of mouth is powerful. Talk about other businesses you appreciate. When you spread positive word of mouth about other businesses, they often return the favor.
Through these interactions, you can build lasting business relationships. Once you do a great job for someone, they remember you. Building positive relationships is one of the keys to business success.
3. Get Online.
So who hasn't gone online yet? Well, lots of brick and mortar places don't. But I found that those businesses who've decided to go online as part of their shtick are seeing some great results. Think about it. Let's say you sell and make jewelry (okay it's a pretty popular hobby and done by several people I know). You may have a small jewelry shop in your town or work from home to do it, distributing some of it around town. Well, why not think about taking an e-commerce slant with your business?
Here's a real life example I can provide you — I've got a friend who owns a tea garden house (our plug: it's called Samovar) here in San Francisco who pretty much bootstrapped his venture. It's taken him 8 years, but now he has three locations, all in the city. It's a great brick-and-mortar business. But he also has his eye on diversifying his income via an e-commerce site that exists to sell his tea off the web. Since tea and coffee are basically non-perishables that are easy enough and lightweight enough to ship, these make ideal products to sell online.
4. Seek Leverage: Think About Bartering and Outsourcing.
Support can go a long way, and it can come in a couple of forms. I've discussed the idea of bartering with other entrepreneurs before (see my post on clever ways for other entrepreneurs to help your business). In the kind of work I do, for example, the idea of bartering has worked out pretty well. I basically trade services with a colleague so that we're both able to get what we need without having to spend a cent. If you know enough people in your field, this could be a great approach! In my case, I've often traded writing services for design or technical services. The online realm lends itself easily to this sort of arrangement, actually, so it's kinda cool that way. Check out the time I was looking to get a logo designed for my site — I basically bartered with a logo designer and helped promote their logo company in exchange for developing a logo for this site! Nice.
So I'd suggest that you connect with other business owners to see if you can create synergy and leverage each others' skills further.
Another way to gain leverage and grow your business further is by outsourcing. If you're at the point that you can grow your business out with the revenue you're earning, then start thinking about investing back into your venture. Maybe you'll get more work accomplished this way! I've felt growing pains now and again while doing my work. And it's a godsend to find really great people who can help support your efforts and become part of your team. From accounting to marketing to possible design work (if you're in a creative field), there are many tasks that can be assigned to an independent freelancer, contractor or employee. The investment can be worthwhile because this will allow you to focus on other productive business endeavors.
After some point, it'll be impossible to do everything alone. The key is to know when it's time to reach out and start taking your business to the next level.
Copyright © 2011 The Digerati Life. All Rights Reserved.