On the heels of Earth Day, I was greeted — no shocked — by yet another environmental disaster that was located somewhere in the Gulf of Mexico: an oil rig exploded and spilled oil off the Louisiana coast. I take the conservative's stand in most respects, but not when it comes to environmental concerns.
With the oil spill disaster in the Gulf expected to wreak havoc on our environment and the livelihoods of so many Americans, I continue to get visceral reactions to the images of this catastrophe that are reported by the media. So how have you been reacting to pictures of dirty beaches, toxic brown sludge in the waters and oil-covered wildlife? I'm sure you're as disgusted and outraged as I am. It's gotten so that I don't want to see these images any more — they've been too disturbing. And as agitated as I am about this, I'm not sure exactly what we can do about this but sit and watch events unfold.

With lots of people angry, some have turned into anti-BP crusaders. For instance, there's the "Boycott BP" Facebook community at 750,000 members strong and counting. While protesters have their hearts in the right place, it's been pointed out that boycotting isn't an effective strategy (meaning you're not really affecting BP this way) since only a small part of the company's profits is obtained from retail gas sales, as the Christian Monitor explains.
The fuel the 10,000 BP gas stations in the United States pumps also comes from a variety of refineries, so consumers can't be sure they're buying oil that came from a BP well. And the stations are all run by small business owners with contracts to BP, which are difficult and costly to break.

"Anytime you boycott a local gas station you're doing far more harm to that station owner than who they're buying their gas from."
And here's another take on this by Newsweek.
So is there really nothing much we can do? Well, some creative types took it upon themselves to find an outlet for their frustrations. I'd like to share this BP logo redesign contest with you, courtesy of logomyway.com: bash British Petroleum and win $200. Here's a peek at some compelling entries: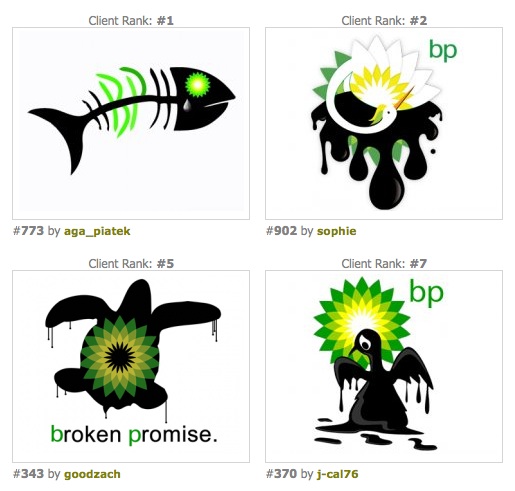 Something even more clever is the New Yorker's take on this tragic disaster. Their latest cover is called After Escher: Gulf Sky and Water. I call it "Escher In Oil".
Thoughts On Environmental Disasters
I've seen first hand, as someone who grew up and once lived in Asia, how the environment can just conspire against you when you don't treat it right. As it stands, many of us are already succumbing to the pressures and consequences of environmental change. And not in a good way.
They're stating that this oil spill is all an accident, but I can't help but feel that there wasn't enough that was done here to try to prevent the accident from happening. And I'm saddened about how big business can do so much damage and easily neutralize the work that so many environmentally conscious folks have tried to achieve with their own simple lifestyle changes. No, it's not all about money, or the pursuit of big money. There's a lot that's far more important — society, the world, people, the Earth and all its creatures, health, relationships. Prevention would have been so much cheaper. So much cheaper.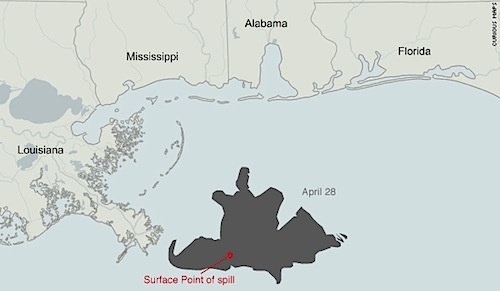 Image from CNN.com
And the costs here are hard to fathom, ranging from those incurred by British Petroleum (who claims responsibility for this) and Oyster farmers who make a living off the wetlands to the rest of the ecosystem in the surrounding areas. There are probably long term effects you won't be hearing about till much later too, affecting people who live around the impacted areas.
Sometimes the cynic in me kicks in and I wonder — what good is there to try to do the small things (for a goal, mission or cause) when some big thing can just come along and wreck everything? And being a personal finance blogger, this is not too far-fetched an analogy you'd make to compare what happens to our own personal finances either: how frustrating is it to be doing the small (and the right) things (e.g. saving small bits of money here and there) when some big catastrophic event can just blow away your efforts? And many times, that emergency fund won't be enough. It helps, but it may not be enough.
Something went wrong here when some people got together to try to figure out how to manage the risks of something like this happening. For more of a community's view on the oil spill disaster, take a look at this Reddit thread on the topic. Interesting how there are some claims that a $500,000 device could have prevented a potential cost of $560 million and counting (info lifted from the aforementioned Reddit discussion).
An acoustic trigger is a football-sized remote control that uses sound waves to communicate with the valve on the seabed floor and close it. It costs about $500,000. This rig had a replacement cost of about $560 million. The cleanup costs are still spiraling.
Quite an incredibly sobering way to teach us about risk management and the importance of preparation and prevention. Here's hoping that "the powers that be" can get control of this situation soon.
Copyright © 2010 The Digerati Life. All Rights Reserved.