I was actually one of those folks who was perfectly suited for the 9 to 5 and worked for many employers over the span of 17 years so imagine my surprise when I found myself turn into an accidental entrepreneur. I never really thought about working for myself until several years ago, when my hobby was fortunate enough to graduate into an online business (yes, you may be able to make a bit of money blogging or working online)!

I was never sure if I would be cut out to work for myself. I am not exactly the entrepreneurial type (or so I thought) until I took the leap around four years ago. I felt right there and then that it would be a huge risk, but I also realized that without going full time, it would be tough to get anywhere with this "hobby". If I were going to take the next step with this venture, I would have to get serious.
It has worked better than I expected, all things considered. I wanted to be my own boss primarily to maintain a flexible schedule for my family, but it turns out that work / life balance can be elusive, depending on how you decide to live your life (and especially for those of us who have Type A personalities). To date, I now work on several projects and businesses (both internet based as well as traditional). My internet business experience actually encouraged me to try out other types of flexible work, and it's been working very well so far. At any rate, there are some really great benefits to becoming an entrepreneur. Not only is this an endeavor where you aim to make money, but the lifestyle itself allows you to save quite a bit of money.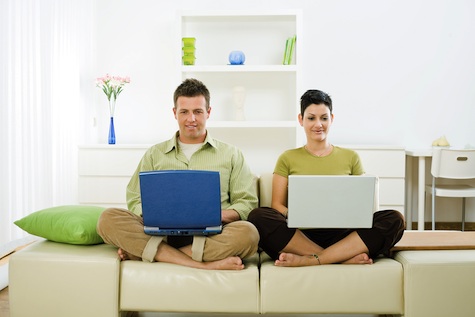 5 Benefits of Working For Yourself
So if you're working on a side business, some of the considerations below may just convince you that going full-time with your own venture(s) is worth trying. These financial benefits may just tip things in favor of full time entrepreneurship!
1. No costs for traveling to work.
I have never gotten tired of getting up by 7am, getting dressed, having breakfast and then starting work in the room next door by 7.30 AM or thereabouts. There is no stress gained from jostling with loads of other people on the train or in traffic, and I don't have to stress about having to be somewhere else by a certain time. If I am a few minutes late I don't have to grovel to the boss either. What could be better? If I need to take a break, I can take one at anytime; later on, I can perhaps make up for the work I miss. I've saved quite a bit when you consider the gas and parking fees I used to pay each work day. I've written about this in my article on how we've trimmed gas costs (and saved around $5,500 per year).
2. No corporate clothes to buy.
I used to have jobs where I needed to wear a "business uniform" and had to buy certain types of clothing so I looked the part. Now that I work from home, I get to choose what I wear and I always make sure I feel really comfortable in it. There's nobody I have to meet in person, so it doesn't matter if I wear jeans and a t-shirt or anything else I so choose 😉 . With the nice weather we're having here these days, I can wear shorts or light trousers if I want, and there is no corporate style to adhere to at all. I don't have to worry about setting aside a special clothing budget any longer. Because of the extra savings, I now have more of my money going towards savings.
3. No expensive lunches.
Perhaps one of the best money saving advantages of working from home is the fact that I don't have the temptation to eat out during lunch. I also don't have to spend time the night before preparing a packed lunch. Instead, I can take a break whenever I'm hungry (not when my boss says I can) and make something fresh if I want to. Try taking something healthy like sardines on toast to work and see if your colleagues won't mind! You can easily do this at home though.
4. No need for extra babysitters?
My kids are of school age and one of the big positives of working from home is the ability to be around when your children are home from school. When they were very young and I was fully employed, I used to worry about this exact issue. For those of us living in California, it can be tough to live on one income (unless you really tighten your belt or have an enormous one person salary), so this was one situation I thought deeply about. The solution we ended up with that ultimately worked out pretty well was to work for ourselves! This has also allowed us to skip or control the one expense that many dual income families are forced to take on, especially if they don't have the benefit of family or friendly neighbors nearby — paying extra for after school care or activities.
5. You can claim quite a number of tax deductions.
One of my favorite benefits for being your own boss is to be able to write off a lot of business expenses. Lots of savings here; I reckon I've saved quite a bit with the help of home office deductions and I don't feel half so guilty when I opt to upgrade my computer, laptop or favorite electronic gadget. And what about travel costs? Internet marketing and blogging conferences have been good excuses for me to visit new places while traveling for business.
There are many other ways I've been able to cut costs and earn even more through my business, but these are the main methods that stand out for me. And when you add up those savings over a year or so they really make a huge difference. I know that if I can save, say several thousand dollars a year because of these advantages, I can earn a few thousand dollars less a year without it adversely affecting my financial situation.
So would you consider taking the plunge yourself?
Created August 1, 2010. Updated November 4, 2012. Copyright © 2012 The Digerati Life. All Rights Reserved.