Tired of your old shoebox? Here's a simple system to keep financial records in order.
Like many small business owners out there, I'm always much more enthusiastic about the actual service I provide than in the back-end, record-keeping tasks I have to do to keep my business humming along smoothly. But over time, I learned how necessary it was to take the time to set up a system to keep track of my business finances, because as I found out — if you wait until tax season, it can really be a nightmare!
Note that along with the simple system I'm about to describe, I also use business financial software to manage my finances. Some notable software products that are popular among small business owners include Quickbooks Premier and Quicken Home and Office.
A Really Simple System For Keeping Financial Records
People will tell you to "save everything" that has to do with your business, particularly receipts. My first year in business, I had a box on the floor under my desk. I would literally throw every receipt, invoice, and business document that I wasn't sure what to do with into that box. When it came time to file my income taxes, I had to go through every sheet of paper in the box, and it was quite a hairy experience to sift through! Plus, whenever I needed to find any receipt, form or other documentation at any time, I had to dig through the pile each time and hope I could find what I needed. Not the best system!

So I had to make changes or face mounting frustration with my paperwork. Here's a better idea for an uncomplicated storage process for receipts:
Materials Needed:
3-Ring Binder
Large manila envelopes (about 10)
3-Hole Punch
Pen
Step One: Assemble the Binder.
The idea is to attach the envelopes into the binder. With the flaps of the envelopes facing up, flaps open, and the opening towards you, 3-hole punch along the left edge of the manila envelopes so that they will fit centered inside the binder.
Step Two: Create Categories and Label the Envelopes.
On the top flap of each of the envelopes, write a business category. These will vary based on the type of business you do, but for me, as a freelance writer, some of my categories include:
Office Supplies
Telephone
Internet
Subcontractor Payments
Travel
Home Utilities (I work from a home office)
Step Three: Record and Add Your Receipts.
Whenever you buy something for the business or make a payment on behalf of the business, write the date and amount on the outside of the manila envelope, and slide the receipt into the appropriate envelope. You can prepare a list of items on the outside of each envelope that can easily be referred to throughout the year if needed, which will then make tax season so much easier. (And help you make the most of possible business deductions).
This system has worked really well for me. Now you may say — why not pick up an accordion folder or "expanding file" to do the job? I say why not? Go with whatever works and what you're happy with. My customized system which you can construct on your own will do the trick, as will many other organizational systems. I just happen to like the use of a binder to carry my papers.
So if you're tired of feeling and looking like this, particularly during tax time 😉 :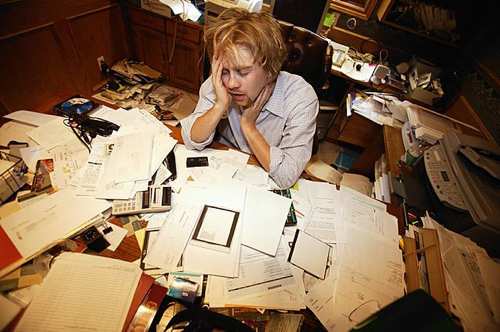 Photo from Hitchcock Realty
And would rather have your place of work look like this instead, no matter what time of the year it is,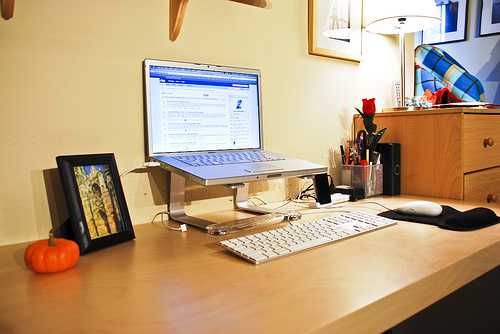 Photo by Jorgeq
Then take a look at one of the steps I've taken to assure that I retain my sanity when it comes to my business records.
If you've got some quick tips for organizing your business (and personal) records that make life ten million times easier for you come tax time, please pass them along! I'd be interested to know how others manage their paper trail. Interestingly enough, many of my entrepreneurial friends still insist on using a shoebox, out of habit. 😉
Copyright © 2008 The Digerati Life. All Rights Reserved.