I've always intended to get my act together and find the time to order business cards for my online business. This has been at the bottom of my ever expanding "to do" list for some time now. I've had the opportunity to attend a few trade shows and meet a lot of people in my area of work (many times in social settings), and I'd always be at a loss when they'd hand me their business cards. Kind of awkward when all I can tell them in return is to check out my site, which I'd spell out on a piece of napkin. Um yeah. Lame.
Well, I finally got the motivation to get myself some calling cards. I received an invitation to check out Print24, an online printing site, and I got the opportunity to do this review. As full disclosure, let me mention that they offered to discount my cards if I discussed my experience here, which I will do without bias. I want to point out that there are also other sites that create business cards for you that do offer free packages, so make sure you scout those out as well. In the meantime, I can give you my experience with one of them.
The Print24.com Site and the FreeDesigner Tool
So first thing to do was to visit the Print24 site. The idea here is to design your own business card, which you can do by using the site's FreeDesigner tool. You can then save your design or any number of designs you want, then order the cards based on a chosen design anytime later.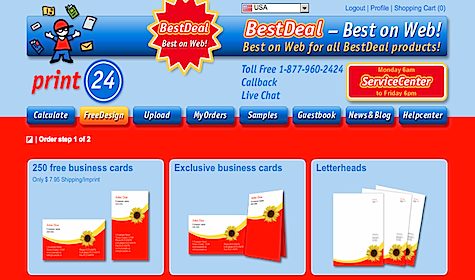 The Print24.com Business Card template page

And how did I fare? I will say that my experience with the DIY design process was mixed. But I'd like to offer you some tips to make the design and ordering process easier:
1. Familiarize yourself with the site.
At first, I wasn't sure how to start. Print24.com is not as intuitive as I'd like it to be, so I ended up having to explore it a little bit before making progress. I believe that the site can benefit from a more user-friendly design and less buggy interface, but it does get the job done. Because YES. IT IS BUGGY. There is a lot of use of graphical icons, particularly in the FreeDesign area, and unless you're familiar with drawing tools, it may take a bit more effort to work with the tool to get your end result. Now I chose to create my own card design using my own custom logo design, which may have required a bit more work; however, if you decide to use one of Print24's default templates, then it should be fairly easy to add your information on a template and to have it ready for order.
2. Create an account before creating a design!
Now this is VERY important. Apparently, in order to be able to SAVE any designs (templates) that you create, you'll first have to create an account. If you attempt to create a design without first having an account, you won't have the chance to save it for future use. So I complied with the requirement and created an account, eventually selected the "250 Free Business Cards" option and proceeded with my work. With some trial and error, I was able to save a few designs under my account.

3. Call Customer Service anytime.
During my quest to get my card designed and ordered, I needed some clarifications on using the site and decided to give Print24 a call. I actually called them twice as I maneuvered my way around the site and was glad that it turned out to be extremely easy to reach a customer service agent. While I commend the company for having available agents at your beck and call (I had contacted them late in the evening), I'm guessing that they could probably reduce such client calls if they invested a little more on a simpler and more intuitive web interface.
4. Create several designs.
I was able to create a couple of designs using the business card templates they had available. After a bit of practice, I succeeded with putting something together in a few hours.
5. Be patient.
If you're new to the Print24.com site, you'll need some patience to get to the end result — a nice deck of credit cards, or perhaps a set of address labels, mousepads, postcards or stickers for the home office. You'll want to get the hang of designing your own cards before picking a design and deciding what it is you'd like to order. There are a few steps involved to get your items ordered; I personally thought that the ordering process could be a bit more straightforward. But I was happy that I got my voucher accepted once I placed my order.
How Would I Rate My Business Cards? Thoughts on Product Quality
I finally received my cards a few days ago. As far as the actual product quality is concerned, it's awesome and I'd rate it a 10. I was quite pleased with the final product and it was just as I designed it; there were no glitches, the paper grade was great, and the cards were all ready for me to give away! 🙂
Here's how my new business card looks, minus the personal information on it. So what do you think?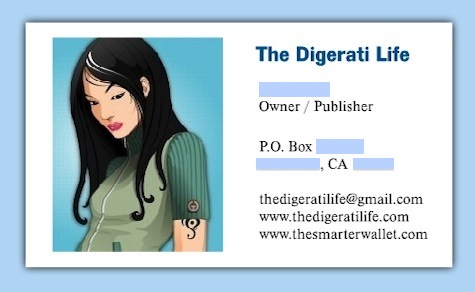 The Digerati Life Business Card
Tip: You can also order a lot of other products through Print24, including flyers, brochures, calendars, catalogs, envelopes, postcards, posters and stickers.
Copyright © 2010 The Digerati Life. All Rights Reserved.