I've mentioned in the past that there are a whole lot of ways to make money online or to earn a part time income. In previous articles, I've covered some ground on how to start an online business or how to make money blogging. There are certainly a lot of things you can do online if you've got creative skills!
I know a few graphic artists whom I've tried to coax into joining me in an online business that dealt with selling custom stuff online. After some research, I thought that CafePress would be a good site to try out for this purpose.
What is CafePress? It's a site that allows you to design and make your own t-shirts and other souvenir items like mugs, caps, posters and so forth. If you're interested in DIY gift items, this is where you can make or purchase them. You'd then price your products and you can either "buy" them for yourself or sell them to the public. You can basically open your own store and sell your custom merchandise this way. It's also a great place to buy stuff from other shopkeepers like yourself. If you're a fan of an undiscovered, talented designer, you might just find them in the CafePress community!
There are those who've become very successful CafePress store owners who do this for a living. Many others do this on the side and are able to make some extra income. Most others join in for the novelty of making their own shirt or bric-a-brac.
Make Your Own T-Shirts, Sell Shirts Through Cafepress
When I first visited the site at CafePress.com to find out more about how the selling works, I was very interested by what I found. For instance, I assumed it would be something you'd have to invest in to get started. Not so! You can get started very easily by opting for what they call the Basic Shop. This costs nothing, so all you have to bear in mind is that CafePress will get the base cost for every product you sell.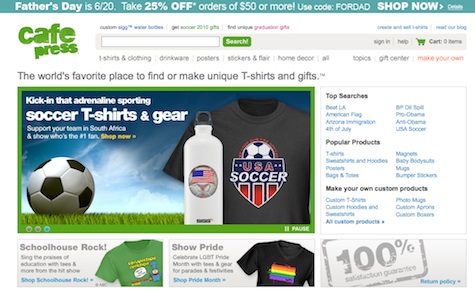 For instance an item may have a base price of ten dollars. You might personalize it to your own design and sell it for fifteen dollars. So when someone buys your product, CafePress will get the base price of ten dollars and you will earn five dollars. But since you get to set your own prices, you'll have to figure out what price points are needed to optimize your profits. Of course, it's not necessarily as easy as it sounds since it's a highly competitive marketplace, and therein lies the challenge for any wannabe online shopkeeper and shirt designer.
CafePress Products: Print on Demand
There is plenty to sell as well. There are loads of clothing items for every member of the family (check out the infant bodysuits for example); you can also expect them to add new items from time to time. For example they have recently added a set of four stackable mugs and some beach totes and gym bags.
In addition, you can sell CDs and books through the site if you have an idea for an audio program, digital product or book that you think would sell well. The secret of CafePress is that it prints everything on demand. This means that you don't have to invest in anything that may not sell. When your customer orders a particular item, it is printed especially for them and sent out in double quick time. I was very impressed by the speed and quality of packaging and shipping that CafePress does.
It bears repeating that if you are going to give this a go, you should start with the Basic Shop. The facilities you get with it are limited, but it's a free service and gives you the chance to try it out and see how it works for you. Once you start making sales, you can think about upgrading to a paid shop (or Premium Shop, at around $5 a month) and reap the rewards as a result.
The thing I love about CafePress is that you can create whatever you like. I've had my own basic shop set up some years ago, which I've since put on hold as I focused on developing this blog. But I know someone who's toying with the idea of opening a shop with products that feature specific slogans (which is a pretty common premise, actually). At any rate, this means less artwork and no drawings needed — a great thing if you can't draw! Simple slogans can be very effective, especially if you're focusing on a specific audience or a niche audience. Hopefully we'll see some sales from this effort.
Remember that your success is highly dependent on how well you promote your store though, so if you're going to try this out, do give it your best shot and let us know how you do!
Copyright © 2010 The Digerati Life. All Rights Reserved.