What if you could be a fly in the wall at some company you're really interested in joining? Know what life is really like at the company where you commit your precious 50 hours a week to.
As employees, we get ourselves ranked, rated and reviewed every time we have a performance evaluation from which our raise and bonus are determined accordingly. Wouldn't it be great if we could have some way of gauging our bosses in a similar fashion and have the world know about it?
Do you want…
A place to vent about your place of work?
A way to see what others are saying about your company?
A way to check out what goes on at other companies?
A place for your inner whistleblower to speak?
Or just a way to screen companies for your job search?
Then use this Web 2.0 solution to kick your company's tires.
We're in luck because all these concerns can now be addressed by a neat little Web 2.0 service called Glassdoor.com. With this fairly innovative (and addictive) tool, you'll get the scoop on whatever company or job within a specific company that you'd like to know more about. It exists to rank, rate and review jobs, companies and company leaders, and in true Web 2.0 fashion, the info is supplied by anonymous insiders (current and former employees). This is where you have the chance to get some feedback (or sordid truth?) about your potential employers. Or if you're currently employed, you can see how your job stacks up against everyone else.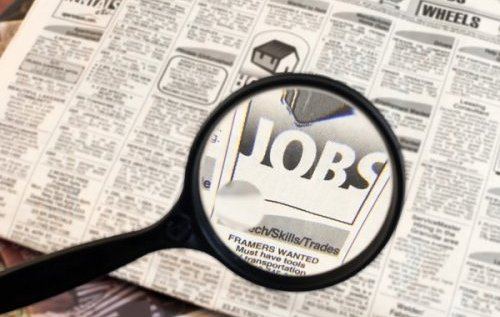 Cool Features
Glassdoor.com offers a number of features that spill the beans on those things you care most about your job. Here are a few of them!
Job Satisfaction
The site measures and illustrates job and company satisfaction to come up with results akin to these:
| Company | CEO or Chairman | Boss Approval Rating | Overall Satisfaction |
| --- | --- | --- | --- |
| Intuit | Brad Smith | 95% | 4.3, Very Satisfied |
| Google | Eric Schmidt | 86% | 4.1, Very Satisfied |
| Cisco | John Chambers | 84% | 3.9, Satisfied |
| Oracle | Larry Ellison | 66% | 3.4, Neutral |
| Charles Schwab | Chuck Schwab | 63% | 3.0, Neutral |
| Hewlett Packard | Mark V. Hurd | 44% | 2.8, Neutral |
| Yahoo! | Jerry Yang | 43% | 3.5, Satisfied |
| AOL | Randy Falco | 19% | 2.8 Neutral |
| Washington Mutual | Kerry Killinger | 17% | 2.9, Neutral |
| Office Depot | Steve Odland | 6% | 2.1, Dissatisfied |
Salary Comparisons
And since we don't outright discuss salary and pay amongst ourselves at work (it's taboo), I like the fact that I can still get a hold of the following data, thanks to anonymous reviewers: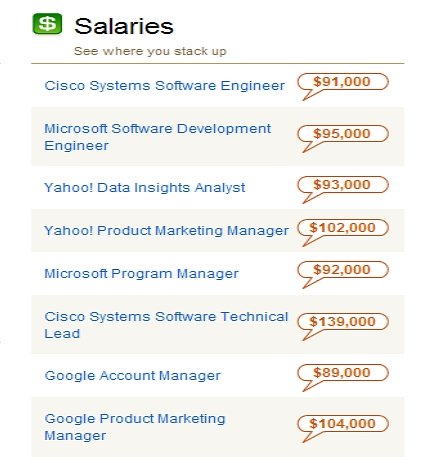 Company Reviews
I think that our voyeuristic side would really enjoy getting "the dirt" about our employer, or "the scoop" about other people's work settings. Some interesting reviews from Glassdoor:
On Cisco

Even if Cisco is a great place to work, consider it more of a slow-paced atmosphere ideal to retire (kind of a "public workers" place, with all my respect to the public workers) rather than a fast-paced technology start-up to launch your career. My advice to management: "wake up!". I feel Cisco is living out of fruits planted a decade ago, and without more innovation and business redefinition, they risk stagnating…

On Yahoo

In so many ways, I feel Yahoo! has lost it's "mojo". I remember when I started – there was this energy around campus, it was buzzing. I even had friends come over and they noticed it – it felt like a college campus and everyone was excited about what was to come next. Then over the years it faded, and I've had friends come over and then notice it was gone (so it's not just me!).

On Intuit

The work atmosphere is awesome. There is a heavy emphasis on work-life balance so you never feel overly pressured or stressed out. The people are some of the most laid back and easy to work with people that I've met in the hypercompetitive software industry.

On Office Depot

Advice to Management: Get a clue. Treat the employees like human beings. Respect + recognition = retention. The turnover in that place is so bad, it got to the point you wouldn't even introduce yourself to the new hires. Because you knew they would be quitting in a week.
All in all, I'm pretty satisfied with this features list!
Get To Know A Company's Culture Before You Work There
If I were on the lookout for a new job, I'd be picking up a job description and some salary information from standard job and career boards. But I'd also certainly find it extremely helpful to know a bit more of a company "under the covers", and this is where Glassdoor.com comes in.
I remember those days when the job market was sizzling and I was in a position to decide on which one of many job offers I received would be the best fit. I looked upon the following factors to help me make my decision:
Type of work
Role and position at the job
Salary and perks
Location
Commute
Company reputation, culled from general information only
But if I had a company review site at my fingertips, I'd be able to supplement my job search criteria with much more information (say with inside information about company culture) — maybe stuff that I can even use to help negotiate pay at a new company!
This kind of tool can be especially helpful when the job market is healthy and there are a lot of companies knocking on your door. But even when times are tough and you don't get much of a choice as to where to work, this tool can still provide you info so you'll know what to expect at your place of employment, at the very least.
One last benefit of something like this: it can be an informal way to measure how well run a company actually is, which can translate to a very unscientific way of determining if it's worth sinking your money into a company's stock. Can unhappy employees equate to lower productivity and influence stock price? Maybe… but that's just me speculating.
What's noticeable though is that most of the well promoted companies on this site seem to be software companies that appear to be primarily located in Silicon Valley — so I may be a bit biased about the value that this web site offers. But I would expect that as the site gets traction, we'll get more variety from here.
My overall impression? Awesome idea — I wish I thought of it first 😉 . Good to know we have yet another tool in our arsenal that can help substantiate some of the company rumors we hear!
P.S. I'm not affiliated with Glassdoor.com in any fashion. I just think their site is cool! 🙂
Copyright © 2008 The Digerati Life. All Rights Reserved.