One of the best ways to live debt free is by living cheaply and by "enjoying" a lifestyle that's espoused by the cheapest family in the nation. Allow me to share some thoughts on how I try to stay frugal; I'd like to focus on one favorite pastime: shopping! Here's a simple and basic list of rules that shrewd shoppers live by:
Basic Rules of Shopping

1. Know how to shop. Plan before you buy and develop negotiating skills.
2. Know where to shop. Find the right places for great discounts and sales.
3. Know when to shop. Timing can be everything!
We'll get into all these tips below in more detail.

As you can probably tell, I always like to find a good bargain. For most people, this simply means finding something on sale at 25% off. For me, however, this means taking it to the next level. My ultimate goal is to try to get something for nothing, but even I know that in most cases that's not achievable. So, what do I do? I look for the next best thing…getting something for almost nothing.
I take comparison shopping to a whole new level when it comes to finding what I want at the best possible price.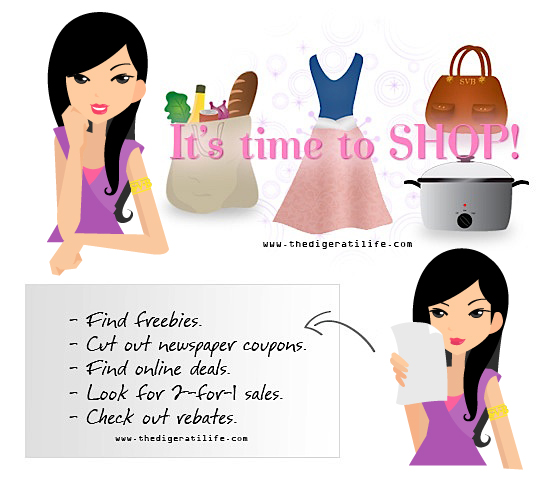 Rule #1: Create a shopping list!
How I Shave Dollars Off Large Ticket Item Purchases
For large ticket items, my husband is the master of the trade. I haven't had a car payment in 10 years, thanks to his superior negotiation skills. I am currently driving a 1996 BMW 3 series that was purchased for $0 in cash. How? My husband scoured Craigslist until he found the car I wanted in the price range he thought was appropriate, and offered to trade the motorcycle (a 2001 Honda Shadow ACE 750) that he was going to sell. The seller of the car jumped on the deal, which got us the car while giving us more equity on the trade (the car's blue book value was actually more than that of the motorcycle).
This very same principle applied to the man that traded one red paperclip for the deed to a house and land over a period of one year. He traded his way up by swapping one red paperclip with stuff that had more and more value, until he got hold of a house, free and clear. Go check out his website at oneredpaperclip.com.
How I Pick Up Medium Ticket Items
Medium ticket items are best bought through eBay, Craigslist or a used merchandise dealer. For instance, I buy all of my designer purses on eBay. Most of them are at least a year old and have been gently used, but they are also significantly less expensive than buying retail. As a matter of fact, the last purse I bought (a Dooney and Bourke) was 95% off the list price!
Craigslist is a great place to find deals on just about anything. From purses, small electronics (like cell phones, etc.) to car parts, and much much more, you can be sure that someone is selling what you are looking for on Craigslist. The key to buying something on Craigslist is to have extensive knowledge about what you are buying so that you can spot a fake or a damaged item; you'll also benefit from having good negotiation skills. If you can walk away from a deal when you aren't comfortable with the terms, then you're steps ahead of the negotiation game.
Another great option when you're in the market for things like furniture, televisions and such, is to scout out rent to own stores. Now, I'm not suggesting that you fall for the 24 month payment plan on a $500 TV or computer. What I am suggesting is that you can find gently used items in stores like this at a greatly reduced cost AND in most cases, your purchase will qualify for 3-6 months Same as Cash, which gives you the option to pay over time without the hassle and expense of paying interest.
How I Handle Small Ticket Items
Small ticket items like event tickets, dinner reservations, clothing etc. can also be purchased at a huge discount if you're paying attention. In Knoxville, a few of the local radio stations have regular ½ off deals where you can purchase gift cards to a number of nice restaurants for half of their face value. This means that you can get a $50 gift card for $25. That's huge!
High end consignment stores are the absolute best place to find great deals on clothing. If you haven't tried this yet, you could be missing out! There is one particular store in Knoxville that I use exclusively for buying my kids' school clothes. The clothes are in great shape and where else can you buy a pair of designer jeans for $5?
I am actually planning a trip this summer to the Unclaimed Baggage Store in Scottsboro, Alabama. It's been called one of the largest flea markets in the world. Picture this — one giant warehouse full of all the stuff people have lost on airplanes over the past 6 months. I can hardly wait!
So there you have it, my list of shopping secrets that keep me from going bankrupt while enjoying the good life. I would love to hear about your frugal shopping tips so leave me a comment and let me know what you do to save a dollar.
Created January 7, 2009. Updated June 19, 2011. Copyright © 2011 The Digerati Life. All Rights Reserved.