You can achieve a great wardrobe makeover even if you're on a budget. Here are some ideas on where to get cheap clothes online and anywhere else.
My clothing budget is one of the lowest you'll see around. I simply do not spend much money on clothes. I figure — if it's functional, I'll use it. Brand name or not, generic items or clever copies, I don't really care just as long as I don't pay much for it. As a true geek from Silicon Valley, I feel that trade shows are just as likely to be a source of new attire as anywhere else 😉 . It's one budget category that can easily yield savings, if you know what to do. Surprisingly, you only need to be resourceful to make sure you continue to look your best despite not spending a fortune in the process.
Also, one way to save a bunch of money on clothes and your appearance is by finding clever replacements for the more expensive stuff. Some time ago, I wrote about how to save money by buying replicas and the issues we face when we buy fake goods. But when it comes to clothing and accessories, "fake" seems to be the way to go in order to rake in some great savings — take the humble cubic zirconia, for instance.
So why not check out a few wardrobe makeovers which don't seem to take that much work or money to achieve (images are from ABCNews.com)?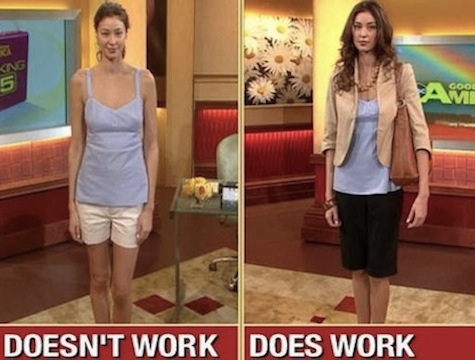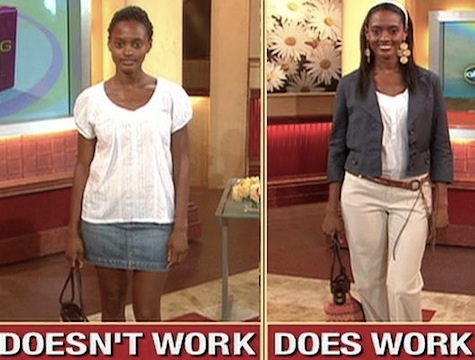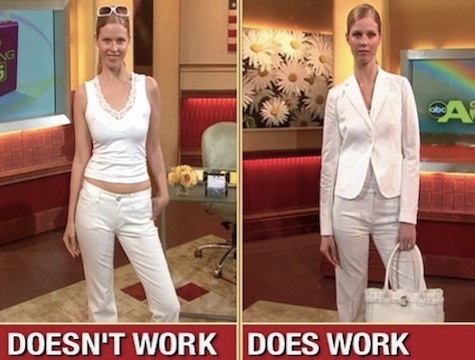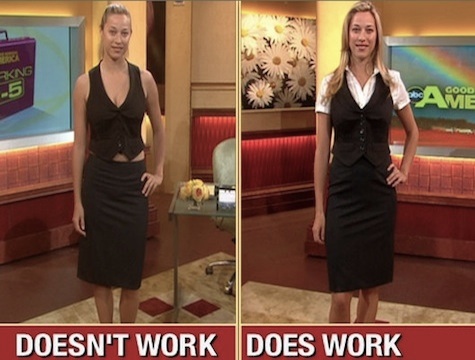 The takeaway here? Less skin = classy, especially when we're talking about work attire. 🙂

There are certainly many more ideas for lowering your clothing costs. As promised, following are several steps that you can take to ensure that your wardrobe looks great and is budget friendly.
Tips To Get Cheap Clothes Online or Elsewhere
1. Shop at outlet malls.
Outlet malls offer the same quality clothing as retail stores but at deeply discounted prices. They typically feature outlets for the big name brand clothing stores like Liz Claiborne, Gap, Old Navy, Adidas, and more. I found a great pair of Adidas tennis shoes at an outlet mall for $20. These shoes normally sell for $75 at a retail store, but at the outlet mall, I got a significant discount.
2. Earn rewards when you spend.
If outlet malls are too far to travel to, then do some comparison shopping in the comfort of your own home. A lot of times, you can get great deals on apparel and other merchandise through deal sites and online shopping retailers. A deals portal like Ebates can help save you money when you shop (for more on how to earn cash back when you shop, check out our Ebates review). Always figure out how you can earn rewards or cash whenever you have to fork out anything: doing so will help soften the blow of your spending.
3. Look for coupon codes that you can use at online retailers.
Be a wise or shrewd shopper. Another great tip is to simply search for promotional codes before you visit an online store. As an example, you can get great deals for shoes by securing a Shoebuy coupon code or a Macy's promo code prior to dropping by these sites to comparison shop or place orders.
4. Check out Freecycle.org.
Freecycle.org is a web site where members can give away and receive free items. Visit your local Freecycle.org and get to know the members in your community. It is very surprising to find what people are willing to give away: as they say, one person's junk can be another person's treasure. Some of the things you'll find here include brand new or gently used clothing, shoes, and accessories as well as many other items.
5. Shop for seasonal items after the season is over.
This is essential to adding new items to your wardrobe. For instance, if you wait until after the holiday season, you can find great deals on holiday dresses and outfits. And to make sure that your purchases get a lot of mileage, you should try to stick with classic designs rather than trendy items. Classic styles and colors will still be appropriate the following year. This way, you have something new and different to wear every year, and you get it at a clearance price. Remember that timing could make a huge difference — just check out this article on the best time to buy stuff.
6. Use accessories to change the look of outfits.
You can essentially wear the same basic underlying items, and change the entire look of the outfit with accessories. Find stores that offer great prices on necklaces, earrings, scarves, hats, and belts. Each of these types of accessories can transform an outfit from business casual to a date night outfit. I personally love the accessories at New York and Company. They offer a variety of colorful necklaces, earrings, and handbags that jazz up any outfit and just bring the whole look together.
7. Shop at thrift stores and Goodwill.
I know it does not sound glamorous, but thrift stores and Goodwill often offer some of the most basic items that you need for your wardrobe. Black slacks, white shirts, cute tees, and jackets are just a few items I have found at the local Goodwill. I also found my favorite pair of jeans here. You do have to rummage through the place for a while, but when you find that piece that you absolutely love, the search pays off. On my most recent trip, I found two cute t-shirts and a pair of jeans, and my total cost was all of $8! That is less than I would spend on a pair of earrings at a store at the mall. Look for the basics at these stores, and spice them up with new items. For more tips, check out these great places to earn and save money on used items.
8. Hold clothing swaps or exchanges.
So you may own a few nice pieces while your friends do as well. When you find yourself in such a serendipitous situation, could it be possible to conduct a trade or clothing/item swap with your friends? I think that clothing exchanges are an awesome idea. And don't worry about having unmatched wardrobe sizes either since you don't have to limit these trades to clothing. After all, you can also decide to trade accessories and shoes (okay, that may be a bit of a stretch, but you get the idea). Get a list of all your friends and/or family members and find out who among them would be interested in a clothing/accessories trade. Not only does this help you find new items for your wardrobe, but you get to declutter your closet as well. In my case, I've receive a countless number of hand-me-downs from my generous sister and mother who both have excellent taste in fashion. I have them to thank for what's in my closet!
Copyright © 2010 The Digerati Life. All Rights Reserved.