How tough is it getting out there these days? The general consensus is that it's been getting economically tougher, with more reports surfacing and providing us newer metrics that prove we're in the midst of a market decline.
And the latest proof that we're in a slump? How about a marked increase in the sales of used goods? Apparently, more and more people are unloading their possessions, valuable or otherwise, at various second-hand markets and at a greater frequency than in the past.
And no, people aren't selling stuff just because they want to declutter their home or have a desire to downsize. What the media is saying these days is that along with the arrival of recessionary forces and the frugality trend beginning to pick up, we're also seeing this concerning new trend: people selling stuff to pay the bills. They're actually selling off their goods — including their heirlooms and expensive possessions — in order to raise cash fast. I suppose that with the credit crisis coming to a head and sliding property prices preventing homeowners from using their home equity as a cash account, folks are simply running out of options.
This sounds a bit sensationalistic to me, but here are some points I culled from articles that are trumpeting a new kind of behavior among those who are trying to keep themselves financially afloat.
Selling Household Items For Cash: A Growing Movement
Supposedly, desperation is driving people to unload their heirlooms just to pay off higher gas, medical and food expenses.
Individuals with expensive tastes but who've lost their jobs are finding themselves in a bind: unloading high-priced, branded clothing like Hermes leather jackets, Versace jeans, silk shirts, handbags, and the like just to be able to pay basic grocery, utility and insurance bills.
Collectors are unloading their highly prized collections at online auctions in order to pay for necessities. I guess it's true: you can't eat art.
At Craigslist, for-sale listings are up 70% from 9 months ago and doubled from last year. Similar reports are coming from other online auctions and classified ad sites. The number of ads are much higher than normal.
The ads submitted in online auction and "flea market" type sites are written in a more desperate tone.
People are using online sites like they do traditional pawn shops.
Hot items in the second-hand market are cars, clothing and furniture.
Areas hit hard by high gas prices are seeing higher sales of vehicles in general but particularly those that are less gas efficient.
Recreational vehicles like campers, trailers and boats are glutting the used goods market.
Areas hit hard by the housing crisis are seeing more furniture on sale in used markets.
Unfortunately, Goodwill and the Salvation Army have been negatively affected by the sales trends as donations are down 20% this last quarter.
Prices of used items are going for 25% to 35% less than they did last year.
Though a lot of people have been affected due to job loss and dropping home prices, a lot of those severely affected have also been vigorous spenders in the past. From the aforementioned facts, it seems to me that a good number who are selling today are those who have a lot of extra things they can *possibly* get rid of; I wouldn't actually consider recreational vehicles, electronic gadgets or branded merchandise as essential to living….

At any rate, this is definitely a sign of harder economic times: where families are affected by job loss and general higher prices across the board. In my own community, we're seeing $4 per gallon and the $40 I used to spend for a full tank has now risen to $60. I'm sure glad I'm no longer commuting!
So along with higher foreclosures and bankruptcies, you can also consider this, a sign of the times: the indication that the used goods market is heating up big time. Which could be the silver lining to those of you who are frugalists in the market for buying stuff. So if you're looking to buy anything, you're in luck, as you're in the midst of fire sales right about now.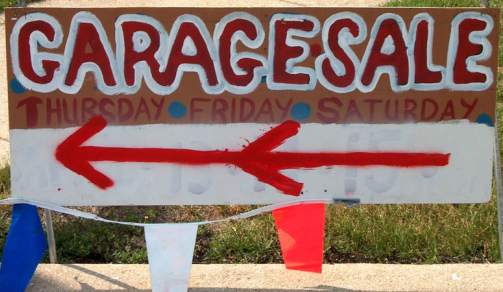 Where To Go For Second Hand Merchandise?
If you're looking to sell or buy used items, here is a quick list of places and resources to visit:
Online Sites
Craigslist.com is the original classifieds and business directory site, and is also recognized as the biggest one in its niche. Thanks to Craigslist, I've sold a couple of cars and also bought myself some furniture, including a nice dining set. 🙂
eBay.com doesn't need an introduction. For those who want to sell at the original online auction on the web, here are some eBay selling tips! I've been a regular buyer here of specialty items myself.
eBizAuctions helps you with selling your stuff on eBay as "professional and certified auctioneers and appraisers."
If you do an online search for auction and classified ad sites, there are tons more where these came from. 🙂 The list goes on. There are easy-to-scan reviews of auction sites on the web. Auctions have actually been a highly touted place to buy and sell wares, so much so that even houses are sold through auction sites these days! Auction sites have indeed come a long way.
Traditional Sources
Consignment stores in your own neighborhood are a good place to check out high quality items you need. Furniture, decor and clothing are common products you'll find available in these stores. I've picked up some really beautiful art pieces from consignment centers before.
Local classifieds are found in your local paper or at local community web sites. Fogster is one that I check out that caters to my neighborhood.
Flea markets are a traditional way to buy and sell your wares. I visit a few during the spring and summer when the weather is pleasant. Who knows what possible treasures I may stumble upon?
Holding garage sales is an American pastime that you may want to try at least once in your life. Ok, maybe not — it can be a big hassle and does take some time and preparation to pull off. It's not my favorite way of decluttering the house, but it's a good way to get a tan over the weekend while you attend to curious visitors on your driveway. But! I have been known to visit a few estate sales each summer just to see what can be had. Lastly, you can also advertise your garage sale via the web or your newspaper if you want to go this route.
Participating in storage unit auctions is a rather esoteric way to pick up some used goods. If you're intent on getting some good deals, you may just find them in these abandoned storage areas. I'm not kidding.
Your own family, friends and neighbors may be just the buyers or sellers you need to trade goods with (for a few bucks). I'm glad I have extended family around so it's been easy for us to take advantage of recycling items amongst ourselves for really attractive, bargain prices (if not free)!
Are there any other good sources out there? Please feel free to let us know!
It goes without saying that you'll need to check out the various resources and see which ones you're most comfortable working with. Different sites, storefronts and communities may provide different price points for items, so doing some research is key. I'd always start with the places I find most trustworthy and with the best reputations. I'd also score a particular resource well based on convenience and ease of use. For example, selling and buying on Craigslist is something I favor because there's representation in my local community and my experience with it has been straightforward and simple. I've also been happy using eBay as a good source of merchandise.
Given what's going on with our national as well as our household economies these days, it makes sense for us to buy used, to stop spending on non-essentials, and perhaps to trade in more of our clutter for cash.

Image Credit: Wikimedia Commons
Copyright © 2008 The Digerati Life. All Rights Reserved.