There are tons of articles out there that tell you virtually the same thing about how to sell your car. But a long time ago, when the internet was still incubating, we recall having had to sell our used cars the old-fashioned way — via the newspaper classifieds, for sale signs, word of mouth or stapled flyers on community boards. It worked though, because all in all, out of four cars we've owned through our lives, all sold without a hitch while only one was marketed via an online classifieds forum.
Here's a closer look at how we bought and sold our cars through the years.
Our Car Sale History

1978 Datsun 280Z
My spouse bought this used for $5,800 as a high school student in 1985 and sold it for $3,000 in 1990. Not a bad return, especially since the car was on its serious last legs. With the problems it had been experiencing, it seemed to be slated for the junkyard or at least a major restoration. It was sold via a newspaper classified ad.

1991 Honda Civic DX Hatchback
Bought for $6,500 or so in 1991 and sold for $3,000 in 1995. Just a standard sale of a functional, reliable car. Sold it via word of mouth.

1990 Nissan 300ZX
Ah yes. The spouse was a major car fiend who bought his dream car using an inheritance (well, he was young and unencumbered then…). He splurged and bought this car for $33,000 in 1990 and sold it for $10,000 in 1999. Ugh, flashy car, not very good sale price. To be fair, we owned this car for almost 10 years and took in multiple offers. Sold via a newspaper classified ad.

1996 Honda Civic DX Sedan
Bought for $12,000 in 1995 and sold for $6,000 in 2000. Again, Hondas have great resale value so it sold pretty easily via Craigslist.

Today, there are many more resources at our fingertips to enable us to sell our cars if we had to, so it should now be even easier to make that sale. Our plan has always been to sell our cars when their mileage reached 100,000+ miles in order to get a good resale price. Both our cars would reach that point within the next year or so, but after some evaluation, we are thinking of conserving our money by holding on to what we have for a bit longer. Thanks to frugal blogs, articles on the subject, and compelling stories like this, we're going to stretch out the use of our cars longer. But when the time comes for that sale, these steps should get us ready: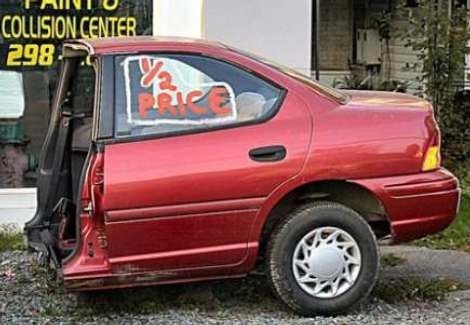 Steps To A Hassle-Free Car Sale
#1 Do the research and check your car's market.
Like anything else, preparation is key to a sale or any other transaction. You can get a feel for the used car market by checking out sites like Automotive. Honestly, it's been a while since we've looked at the car market, and seeing what is available today is amazing. Seems like the auto industry space in the internet has grown immensely in the last several years.
#2 Appraise your car and determine your price.
You can lurk around the car sites to get a feel, but it should also be pretty easy to find out how your car will be valued in the open market. We sold our cars using the Kelley Blue Book values (kbb.com) as a basis for pricing. These days, you can also use Edmunds.com and other car appraisal sites to figure out your car's value. Some other thoughts to consider at this stage: decide whether to trade it in at a dealership or sell it privately, which can garner you a higher payout.
#3 Organize your car records and prepare for the sale.
I keep our car maintenance records in a folder covering oil changes, major maintenance visits and receipts along these lines. Keep documents referencing major part replacements such as tires, wipers, fan belt, battery, as well as warranty and service receipts. Provide a CARFAX vehicle history report to potential buyers, which will boost your credibility. Good records can show any buyer that your car is well-maintained, a strong selling point.
#4 Make your car shine.
Clean the car very thoroughly by giving it the works. Detail it if you have to and replace small worn out parts if need be. Like anything else that goes on the block, show off your car in its best light.
#5 Market your car online and offline.
I'd first decide how to unload the car. Are you interested in trading it in through a dealership or selling it to a private party? Would you even consider donating it for a tax break? Let's say you're going for a sale: you'll always get a better price by selling it directly to a buyer. At that point, you can determine if you're going to do any of the following old-fashioned methods for selling stuff: hang a for sale sign on your car's windows, word of mouth, neighborhood community boards and forums, taking out classified ads in local papers and periodicals. But these days, I'm betting that it will be most convenient and easiest to do this all online, where the biggest advances have occurred since the last time we've sold our car. There are literally dozens of places you can use to do the deed. There are companies like CarSoup.com, Cars.com, CarsDirect.com, Craigslist (there's a craigslist per state) or Ebay Motors that can manage the sale of your car.
#6 Negotiate with a buyer for a win-win.
Avoid contingency issues that the buyer brings up such as additional repairs or a paint job as this would just complicate the deal. That is, if you can help it, don't accept a deal that is contingent on you doing more work on your car than seems reasonable or than what you're comfortable doing. Sad to say, as online buy-and-sell avenues have grown, so have online scams. Though many con jobs are done by sellers, there are also those initiated by false buyers. Be aware of scams that aim to victimize car sellers: this list of car buy/sell scams can provide you some information. And finally, always aim for a win-win even as you aim for the best price.
#7 Cover all the bases before the final sale.
Some points to consider once you're ready to finalize your sale transaction: watch out for scams by ensuring that you are able to receive payment prior to transferring ownership of your car. Have the check clear first and only accept payment in full. If you still owe on your car loan upon your car sale, then use an escrow service such as Escrow.com to allow you to close your loan and transfer ownership. You can also make the sale at the lien-holding institution and take care of paying off your loan balance from proceeds from your sale.
 
Image Credit: CollectorCarBuff.com
Copyright © 2007 The Digerati Life. All Rights Reserved.