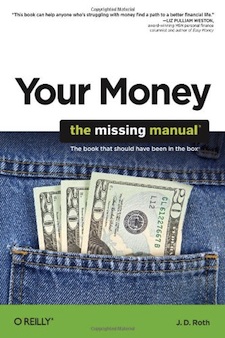 As someone with a software engineering background, I'm quite familiar with the popular O'Reilly books that have come to grace my shelves — all in the field of IT, software and general technology. But given my shift in career focus over the past few years, I haven't really come across an O'Reilly book in a while, till recently, when I've had the pleasure to receive and read J.D. Roth's new book, Your Money: The Missing Manual.
I'm actually still reading the book and can tell you that it's what you can expect from J.D., the guy at the helm of one of the most popular personal finance blogs in existence, GetRichSlowly.org. I don't say this lightly as someone who's collected more than a few financial books throughout the years, but this kind of book is something I'd quickly call a favorite. It's an easy, breezy read, something that I'm convinced should be palatable to a wide spectrum of finance enthusiasts, and has just the right balance of information and inspiration.
Being a fan of behavioral finance, there's a lot in Your Money that I could appreciate. Lots of great guidelines, anecdotes and encouraging words here. I also found the book very comprehensive; it struck me as a very well rounded way of tackling the subject of wealth, money and personal finance — from the practical stuff all the way to the psychological. If you're after the big picture on this subject, this would be the ideal book to get. Here's a peek at some of its sections and chapters.
Your Money, The Missing Manual: A Personal Finance Book Review
Basically, the book is divided into three main parts called Blueprint for Financial Prosperity (which PF blog followers out there will recognize as the former name of another popular PF blog named Bargaineering), Laying The Foundation and Building A Rich Life. There's so much meat in these sections, I regret that I won't be able to mention them all in this quick review.
Under Part 1, Blueprint For Financial Prosperity, J.D. discusses why being happy is more important than being rich (having "Enough" is the key to happiness, and there's research to support this!). He then gets into goal setting, where I particularly liked the list of tools and resources offered. I like the certain unexpected tips that are included here, such as the need for "accountability partners" to help you stay on track with your finances. It then follows up with effective budgeting, which tells you what kind of budget works and why most fail, along with strategies for defeating debt. It also get extra points for mentioning another one of my favorite financial books, Your Money or Your Life, which gave me fresh new perspectives on finance and helped shape some of my own views and relationship with money.
With Part 2, Laying The Foundation, you'll be empowered to read about how you can live richly with less, how you can make some money on the side or think like an entrepreneur, how you can make most of your accounts, use credit in the right way, how to decide if you should buy or rent a house, and how to deal with the big ticket items in your life. And there's an interesting discussion about those things we deem inevitable: death and taxes.
And finally, Part 3, Building A Rich Life, gets into investing, retirement topics and how money ties in with your goals and the things that matter most to you — your relationships with friends, family, church, charity and community. The final chapters allow you to look at money at a deeper level and hone in on the stuff that's truly important. Actually, allow me to rephrase that — I found many reminders in this book, from start to finish, that brought forth the importance of understanding the role of money in our lives and making sure that we knew what it meant to us. It's this extra treatment that adds a wonderful substance to the book that you won't find in many other works on the subject.
A Few Final Thoughts
I like J.D.'s use of tip and note boxes but there's also one more thing that I found both unusual and quite helpful, which added an extra dimension of interactivity (no, sorry there's no multimedia CD included): you'll discover that the book generously references Internet resources via tinyurls (shortened URLs). So if there were relevant online resources to a money topic at hand, you'd find them both sprinkled in the book and also cross referenced in a site called MissingManuals.com in an organized fashion.
And sure, while I have given you many reasons why I've been enjoying this book, there's just one more reason why you may accuse me of a little bias (which I'll quickly protest as unfounded 😉 ). The fact is, J.D. was kind enough to give me a shout out in a couple of its pages! Check out pages 145 and 267 for a mention of a couple of articles I've written here, some time ago:
The vibe and tone of the book is surely something you'll find friendly, engaging and accessible. Pretty similar to the first impressions I received from the author himself, whom I also had the pleasure to meet in a finance blogger conference a couple of years ago.
Copyright © 2010 The Digerati Life. All Rights Reserved.