I've had the pleasure of getting to know Kimberly Palmer from my online activities over the past several years. She's the well known personal finance columnist for US News & World Report who runs the Alpha Consumer blog. And this time, she's adding one more feather to her cap with a new book on personal finance called Generation Earn: The Young Professional's Guide to Spending, Investing and Giving Back.
Generation Earn: A Book Review
So I got the chance to go through her book and really enjoyed what I read. The book is divided into three main areas: the first focuses on the SELF, which shares stories and advice on goal setting, budgeting, spending and investing; the second focuses on the HOME, and discusses the issues surrounding feathering our nest, the finances that fuel our personal relationships and raising a family; the third section talks about the big picture, and how we can make a positive impact on our WORLD.
Kim draws a lot of content from her own experiences and from the people whom she's met and worked with, both in real life and online. She intersperses these stories with advice and Quick Tip boxes which I find helpful. And each chapter ends with some exercises and action items you can try.
It's a pretty easy, breezy read. The casual style makes it easy for you to whip through the pages. There's a lot about it I appreciate — I find that it does a great job at addressing the questions and concerns of its target audience: young people who are starting out during a time when debt and unemployment seem to weigh more heavily on our nation.
A Guide To Spending, Investing and Giving Back: Here's A Taste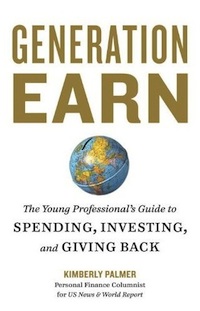 I'm going to share just a bit of what you'll find in this book: in particular, the first section that deals with positive life building strategies. There's so much more you'll find in here, of course, but I wanted to share just a taste of it here.
On Spending
This section includes a sampling of answers to questions such as these: Should you buy a hybrid car? Is it worth it to get a Costco membership or to buy in bulk? You'll also be treated to myth-busting tips that shed light upon the wonders of online shopping and the hassles of mail in rebates.
On Job Juggling
This is actually my favorite chapter of the book, and not just because I made a cameo appearance in it! I find it to be spot-on with its advice on how to earn a better income in this day and age. The basic principles of managing your money ring clear in this book, but this chapter stands out for being extra relevant to the present age we live in. Times have changed in the workplace, and the tips here can help you navigate a dynamic employment landscape.
On Managing Debt
Another area of intense interest to those who are just starting out, the topic of debt is tackled with talk of opportunity costs, student loans and the debt free life. This chapter also emphasizes points on how to use debt wisely, with a discussion on credit cards and how you can get a better grasp of your debt load.
On Investing & Retirement
The last couple of chapters in this section cover investing and retirement, which are some of my favorite topics in personal finance. Their treatment here is pretty light though, but it's a good introduction. You may want to check out more advanced books in this area such as The Smartest 401(k) Book You'll Ever Read, Common Sense on Mutual Funds and Earn More: The Index Fund Solution.
As mentioned, this is just an overview of the first section of Generation Earn. To read more about these great topics along with additional chapters you'll find under Creating A Home and Changing The World, you can pick up this book.
For those interested, here are a few more books from popular personal finance bloggers:
Enjoy!
Copyright © 2010 The Digerati Life. All Rights Reserved.