How to keep your moving costs down: first make sure you hire reputable movers!
A few weeks ago I had a writeup about the true costs of relocating. It turns out that it can cost upwards of $10,000 to move to a new town. When I moved from a 4 bedroom home in one town to a new home that was 30 minutes away, I recall how I needed to spend $1,500 for a one day lease of a mover's truck plus the assistance of two or three movers. It wasn't bad at all, but then again, we had also moved many boxes of items ourselves while relegating the larger pieces of furniture to the professionals.
It seems like it would be a whole different story and a whole different price range if you decide to relocate to a different state or even to a different country altogether, which is actually what a relative of mine is planning to do within the next few months (hence the inspiration for these posts).
So if you're in the same boat, here are some thoughts on how to keep those costs down — would you be able to have someone else foot the bill?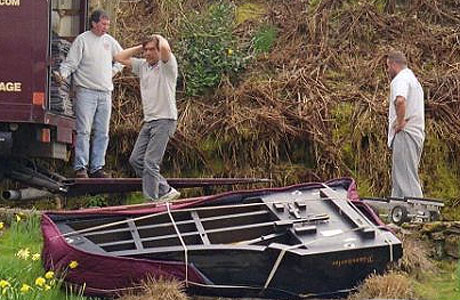 Image Credit: blogs.guardian.co.uk
How To Control Your Moving and Relocating Costs
Make your company pay.
If your relocation is due to the pursuit of an employment opportunity, then your boss may have some influence in the cost management of the process. Getting your employer to foot the bill would be a huge deal if you can broker it, and the key is to convince them (if they need it) that this would be an investment vs an expense. Some interesting facts on the moving process based on a poll of 5,272 employees conducted at CareerBuilder.com and Apartments.com:
1 in 3 employers have recently paid moving expenses for a new employee.
For paid relocation expenses: 40% of employers agree to pay more than $1,000, 33% would cover more than $2,500, and 10% would pay at least $10,000.
More than half of respondents are willing to move to a different location. Top 5 states to move to? Florida, California, Arizona, North Carolina, and Colorado.

Research your new locale.
You may already know what country, state or town you'll be moving to, but you're still going to be facing the big decision of figuring out what neighborhood to settle in. Researching the best places for your needs would be a start followed by some visits to the actual areas once you have narrowed down your options. The more you know, the less costly things can be once you actually make your trip there. A great tip would be to visit your intended place of residence on a working day to see traffic trends and find out what a typical commute feels like. Is there anyone you know who lives in the new area? Find out all you can about the neighborhoods, schools, commute, local prices.
Do the math. Know the cost of living in your target city.
This was one of the major sticking points I had with my relative, who plans to make an international move. If the main reason for the move is financial, then relocating to a more expensive city means that you'd need to make even more money just to maintain the same standard of living. For moving within the United States, here's a cool calculator you can use to see how much more you'll spend by living elsewhere.
Hmmm…. moving to Flagstaff, Arizona from San Jose, California looks tempting by these numbers 🙂 .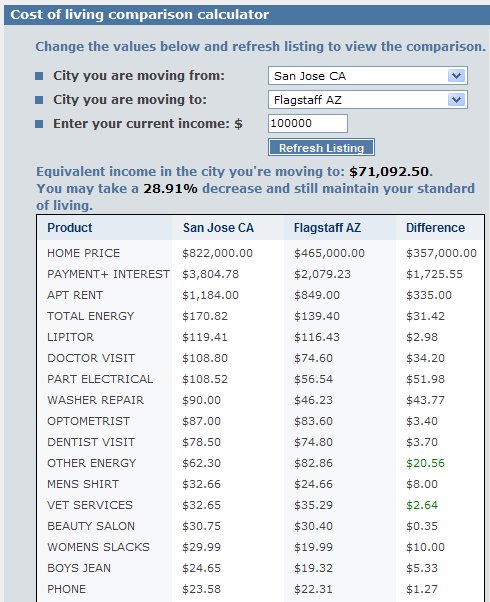 Rent your new home for the time being.
Some additional stats from the earlier poll on moving trends that I mentioned:
41% of people surveyed who have moved for a job said they rented an apartment, while 36% bought a house right away, 5% initially stayed in a hotel for an extended period, 4% purchased a condo, and 16% said they made other arrangements (such as staying with friends or relatives).
I was surprised to see that over one third of new settlers immediately bought a house, but then again, it may be due to the fact that they know their new town well or are decided upon staying for good. In general though, it's highly recommended that you rent a house once you move to your new community. You'll never know how long you'll be staying there and you may want to get a feel for the area before committing to a piece of property for the long term. Take note of the 2 year tax rule as well which states that you'll owe capital gains on a home that you sell if you've only owned it for less than a couple of years.
Time your move.
Moving is like preparing for a wedding or booking a cruise in the sense that there are "peak periods". If you slate your move for the off season (October to April) then you're bound to get 5% to 10% discounts on the fees. If you schedule your move in the middle of the month rather than the beginning or end of the month, you'll get better deals. Make sure you get several quotes and check the Better Business Bureau for a moving or shipping company's reputation.
Discuss your move with your family, friends and loved ones.
Get as many opinions as you can from the people you love and trust. Hearing the wisdom of those who know you best and who have more years under their belt should be very assuring. Others may provide you with additional insight on your plans that go beyond just the money angle. Remember that the entire family is affected by a relocation and will shape lives well into the future. It would be just natural for the rest of your inner circle to echo in on this matter.
Make use of web site resources or other material to assist you with the moving process.
Given how expensive the moving process can be, you may want to arm yourself with more information on the subject. Quite helpful are the resources available online that cover all aspects of the process. Here are but a few:
#1 Before you move, check out the cost of living at the city you're planning to live in by using cost of living calculators such as this.
#2 I've seen a few shows on television highlighting the sordidness of the moving business, which seems to have its share of scams. So before you hire anyone, check out this interesting web site called movingscam.com to find reputable movers as well as to offer you tips on how to avoid problems with the moving process. Or you can also look at Protect Your Move to find out the consumer complaint history for any mover.
#3 Another web site dedicated to helping you move is the American Moving and Storage Association site, which exists to verify your mover's credentials, license and insurance information.
#4 I also found HomeFair.com to be enlightening, where you can find various tools, resources and financial calculators to help you with deciding and preparing for your move. The Salary Tool, Rent vs Buy calculator and The School Report were some tools I found of great value. Cool stuff!
#5 And finally, if you're bent on buying into the local market, you can find out the region's home sale values at Zillow.com or Domania.com.
Much luck on your relocating adventure!
Copyright © 2008 The Digerati Life. All Rights Reserved.