My in-laws just sold their mobile home within 2 days after relocating to live with a daughter. Admittedly it was a small unit, with 2 bedrooms and enough space for an elderly couple. But the point is that in spite of a depressed market, there are customers willing to fork over $20,000 to live in that location in South Texas. The common misconception that only poor people live in trailers does not hold up. I have seen all the comforts of home in gated areas such as the one my in-laws just vacated.
Buying A Mobile Home As A Cheap Housing Option
If you're considering ways to live cheaply, have you thought about buying or living in a mobile home? Here are some thoughts on the subject:
1. It can be cheaper than renting.
Buying a mobile home is an excellent alternative for those unlucky enough to have lost their original homes to foreclosure, or for retired folks who don't want to splurge a large amount on a regular home. Granted, they'll have to pay rent for the lot they occupy; my in-laws used to pay around $300 a month including utilities. A small mobile home of recent construction can easily be cooled or heated with portable units. If you can afford to invest between $10,000 and $15,000 in a used mobile home, you will spend much less this way than if you rent an apartment, and you'll have additional privacy.
2. You may want to consider relocating to a place with a lower cost of living.
Many retirees prefer to relocate to a new neighborhood if they live in the northern part of the U.S.; we call them winter Texans for obvious reasons, but quite a few decide that they like their new location sufficiently enough to make it permanent. They enjoy another bonus available to those who live on the border with Mexico (swine flu notwithstanding!); set aside all talk of a pandemic, which is a temporary matter, and you'll find that cheap dental and medical care, including medications, are a few minutes away. Check out the big picture: the cost of living in what we call the Rio Grande Valley is much lower than in large cities, so a modest income can go a lot further.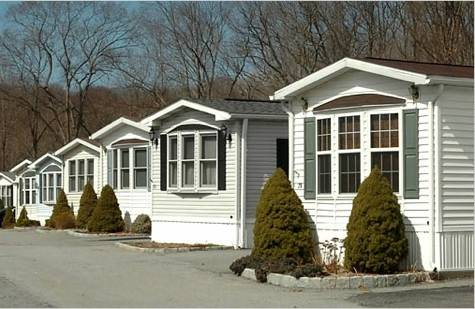 Image by
NY Times
3. Be watchful of the safety standards for mobile homes.
I was surprised to learn that one in every three homes in Florida is a mobile or manufactured home. These homes must be built in accordance with Manufactured Housing Construction and Safety Standards established by the federal government (HUD) in 1976; do not buy a mobile home made before that date as it can be unsafe. The Florida website on Motor Vehicles Safety recommends the following: All single family mobile/manufactured homes must bear a certification label, which is displayed on the rear of the home. A label is required for each section of the home.
4. Determine how your home's value may appreciate.
While a manufactured home is not for everybody (e.g. a family with 3 children), it can be a recourse in difficult times, whether you decide to rent vs buy a house. Many mobile homes are set on other people's land, but you could also buy both the lot and the manufactured home. Now you may wonder about your property's value over a certain period of time. If the mobile home is well maintained, and if the area of the country where you live sees enough traffic, growth and jobs, your property's value may hold up pretty well. It is nevertheless a bargain to buy a used manufactured home compared to a regular house. So study the options before deciding to buy.
For those looking for some serious bargains in housing, check out this really cheap real estate. Here are some deals on $1,000 homes here and here. No matter how bad the market, location or territory, I just can't believe that there are actual homes selling for this much!
Copyright © 2009 The Digerati Life. All Rights Reserved.