What else is big in Japan? The secret life of Japanese suburban female market speculators.
There's this woman who is not your typical Asian housewife. Well, neither am I, but that's beside the point. 😉 This woman though, is part of an "underground activity" considered taboo, that many a suburban Japanese wife participates in. It's clandestine, dangerous, and extremely exciting for those who do it. It makes for the adrenaline rush that many a bored housewife trapped in a domestic setting would get addicted to.
This secret occupation is nothing else but day trading.
This New York Times article lets us in on the growing popularity of online trading in Japan:
Tens of thousands of married Japanese women ventured into online currency trading in the last year and a half, playing the markets between household chores or after tucking the children into bed.

Ms. Itoh, a homemaker in the central city of Nagoya, did not want her full name used because her husband still does not know. After cleaning the dinner dishes, she would spend her evenings buying and selling British pounds and Australian dollars.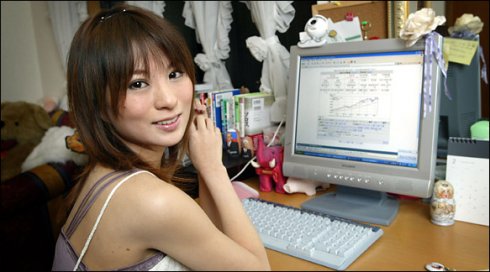 Well, you know what they say when you've got a smart, idle, thumb-twiddling housewife cooped up at home while you're away at work, right? Don't look now, but she may just lose control and get herself into some speculative investing (also known as day or online trading). And may make millions without you even knowing!
YUKA YAMAMOTO dutifully quit work to assume her expected role as suburban homemaker when she married six years ago. But she quickly grew bored at home, and when she saw a television program about online stock investing, she took $2,000 in savings and gave it a try.

Today, Ms. Yamamoto says she has turned her initial investment into more than $1 million as a day trader, scanning her home computer for price movements in stocks, futures and foreign currencies that could lead to quick profits. And by writing books and holding seminars on trading strategies, she has also become a celebrity among homemakers who are investors. She says she has met thousands of other married women who now play the stock market online, many without their husbands' full knowledge.
Beware, the lure of online day trading.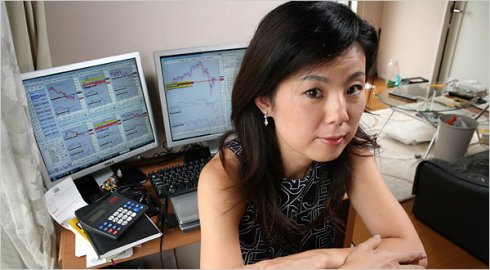 There are many other reasons beyond the typical for why these women speculators engage in these activities. Sure, there are the usual attributions to greed, to boredom, and to the competitive nature of aspiring wealth-builders. And in Japan, doing this sort of thing is even more distasteful as it is considered "wrong" to be making money without working for it. But for these particular women, could it be that culture also played a part in waking up this perfect storm — something to do with women wanting to ensure themselves some form of financial independence even as domestic homemakers? Lots of women want to feel in control of their financial destinies and want to avoid feeling vulnerable even as they dial down their careers to keep an eye on their home, children and families. And I guess they've become quite resourceful about addressing these matters in certain countries 😉 .
Some reasons for why this type of market play has taken off in some places:
Japan is a culture that highly values job stability. But in recent times, people are no longer guaranteed their jobs for life.
Living with uncertainty can change one's views on how to make money.
Who knows how financial information and education are assimilated elsewhere? In different countries, market and cultural orientations are different, so what's common knowledge for us here, such as index investing, asset allocation and so forth may not be as readily understood elsewhere.
And speaking of cultures…and subcultures — how about this possible motivating factor for trying your luck out this way?
The surge in day trading has even created celebrities, including its own "stock idol," a young woman named Maiko Asaba who poses in miniskirts for photographs in day trading and stock investing magazines next to captions describing her fondness for ice cream and index futures.

"In Japan, every true subculture has celebrities," said Ms. Asaba, 28, a financial researcher and part-time day trader who keeps a giant teddy bear next to her trading terminal in her cramped Tokyo apartment.
Oh yeah… the sweet taste of fame and glory. I quite find it amusing that this movement has molded "celebrities" out of those secret traders who went public with their success. These folks have gone on to ride their publicity to branch out as authors, as founders of trading groups, and as so-called expert consultants in this "money generating" field.
Where do you stand on risk vs reward?
And yes, I agree, this day trading thing is a money generating field….sometimes. When the market goes up and we're in the midst of a massive economic boom, everyone's minting money, and day traders, speculators, market timers are all big winners, along with the rest of us who've got investments at stake in the market and riding that same market wave. But when the market hos instead of heaves, and the market wave recedes? Well, then the hopelessly hopeful get a quick lesson on risk vs reward.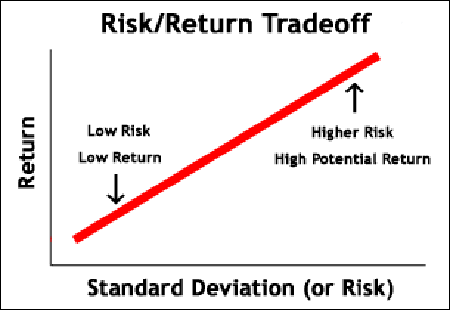 Regardless of where you're from, it doesn't change the fact that day trading is highly risky. No matter where you do it, how smart you think you are or how rich (or poor) you already are, playing this game is very risky. That risk is the reason for both the huge returns:
During the four-and-a-half hours each weekday that the Tokyo Stock Exchange is open, Mr. Mimura sits in his bedroom monitoring stock prices on three computer screens. He said he became hooked two years ago, after he put all his savings, $25,400, into shares trading at about 25 cents, and then watched the price jump to 45 cents in just two days. He said his parents, who are farmers, were opposed to his day trading, but he appeased them by earning $127,000 in a month and using the money to renovate their home.

Over all, he said, he has made $2.54 million by trading stocks at home, enough to be invited to a New Year's party attended by a few dozen of Japan's biggest day traders.
and the massive losses that traders experience:
When the turmoil struck the currency markets last month, Ms. Itoh spent a sleepless week as market losses wiped out her holdings. She lost nearly all her family's $100,000 in savings.
And you can definitely magnify those risks even further by doing a few more things:
Use margin trading. It's speculative to the nth degree.
Leverage your entire life's savings.
Put all your eggs in one basket.
Don't tell anyone what you're doing, especially not your spouse.
Don't stop.
Even a broken clock is right some of the time.
For those who continue down the trading path, it doesn't sound like they've read this book: Extraordinary Popular Delusions and the Madness of Crowds. If they did, then they'd realize that our history is littered with stories of snake oil, money schemes and fads that took off, became big sensations, and made a whole subset of people rich then very poor in a span of a few years. They'd realize that their financial strategies haven't really been thoroughly tested until they've sat through full market cycles with trend lines going in more than just one direction. But as we would have it, there will always be a place in the investing community for market speculators, timers and traders because the dream to get rich quick will be one that people will nurture through eternity.
But don't get me wrong, I don't dispute that market timing can work for some people. A minute few, perhaps. But are they really experts or are they just lucky? Market timing experts do exist, but I doubt that you'll find these people among the ranks of Japanese suburban housewives.
Copyright © 2008 The Digerati Life. All Rights Reserved.