Most of us want to get further along in life, financially speaking — to grow, improve and develop ourselves further while hopefully finding prosperity in the process. I can only name one person I've ever met in my life who didn't want to go down this well-beaten path as he reveled in a much more austere way of living which included months of hiking in the Appalachian trail and involvement in interesting "basic living" communes. But for everyone else I know, I've seen them heed the familiar call to wealth building, with some more eager about pursuing this than others.
I've also seen people get ahead of themselves quite a bit with money making opportunities, and that's why I've decided to devote a few posts on this topic. Earlier on, I've described the profile of the "get rich quick" lover; this time, I'd like to discuss what's behind these schemes.
Now there will always be people who will make money through such ideas, which could actually be profitable and legitimate. If we have open enough minds, you'll see that some of them may actually work for certain people — especially those who are skilled in the fields these ventures operate in. But the problem is that there are also schemes that are outright scams, or that entice people to join in these operations even if they're clearly not a fit for these activities. In fact, most people may not be "right" for these things but end up getting swept in by the promise of turning in a quick buck.
If you're truly interested in building wealth, it's not enough that you make money, it's also about keeping that money and minimizing your costs, expenses and losses as much as you can.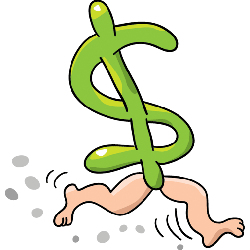 So how do you know if a scheme is something you should avoid or at the very least, evaluated *very* carefully?
Spotting Get Rich Quick Schemes
The scheme has a good amount of risk involved.
It asks you to put up significant amounts of money up front.
The scheme has no known track record or has a poor history of returns.
It promises you a lot of money for little work.
It promises you a lot of money quickly.
It appears "viral" or tries to snare as many people as possible into the scheme.
It sounds too good to be true, with a high payout.
Over time, you're getting poorer rather than richer.
It banks on one's emotions, particularly on one's greed.
In many of these schemes, only a handful of people make money and everyone else loses their entire investment. I certainly wouldn't call this a long-term plan for financial success. Here are a few examples that I came up with that are of this ilk:
Types of Get Rich Quick Schemes
Some examples:
"investing" in penny stocks
flipping houses
MLM or network marketing
day trading or compulsive market timing
gambling
purchasing lottery tickets on a regular basis
The worst of the bunch are identified as Ponzi or pyramid schemes and are fraudulent, but do note that not all these schemes are illegal per se, and not all are entirely unethical either. Some are merely very high risk ventures that people tend to do to try to achieve instant success. What makes them "get rich quick" is the promise of big returns for relatively little work and with quick turnaround, which can lure many into thinking that this is the way their fortunes can be built; and while there are those who are terribly lucky (see: buying lottery tickets) or those who rise up to become "experts" in these areas and who do succeed in building their wealth this way, most actually just end up with less than they started with.
So when evaluating an opportunity, just make sure you read through the fine print and understand the risks involved before jumping in. If you must get involved in something like this, start out small so that you limit your potential losses. Personally, these more adventurous and exotic opportunities aren't my cup of tea.
Copyright © 2008 The Digerati Life. All Rights Reserved.