What does a market crash look like?
Forget charts and graphs, if you want to see what investment risk, a market slide or a volatile stock looks like, then here's a different kind of visual.
All around the world, a market crash looks the same, etched in the faces of many who watch it unfold. When stocks falter, we are faced with the global reactions of disbelief, shock, dismay and fear. This just brings home the point that we're all tiny cogs in a huge economic wheel that works the same no matter where we live or who we are. Greed and fear are universal. And we're all at the mercy of the same dynamic forces and factors that make us rich or poor. We are the market after all.
~ The Faces Of Market Gloom and Doom ~
If you're experiencing deja vu, then you are not alone. Every few years, our stock portfolios, our jobs and confidence in our financial situation get shaken by a new economic storm. It seems like it was just yesterday when the rug got pulled right from under us when the subprime crisis (and the accompanying credit crunch and real estate market slide) dominated our consciousness. This time around, it's the global debt crisis, which we've touched upon somewhat during the past year. Perhaps this page will turn into an album of sorts that captures moments of discomfort and paranoia over troubled markets throughout the years.
London, UK
Here's a point in time when Europe was in chaos, with the FTSE 100 slumping by 3.39% on Monday, August 8, 2011. The total loss, however, is a stomach-churning 12.22% over the past five days. The Paris CAC 40 had a bigger dip of 4.68% by the end of Monday.
~ooOoo~
Tokyo, Japan
Across the seas, a similar scene was unfolding. The Nikkei dropped by 2.18% by Monday's close but that was a drop in the bucket. The previous 5 day loss totaled a steep 8.70%.
~ooOoo~
Frankfurt, Germany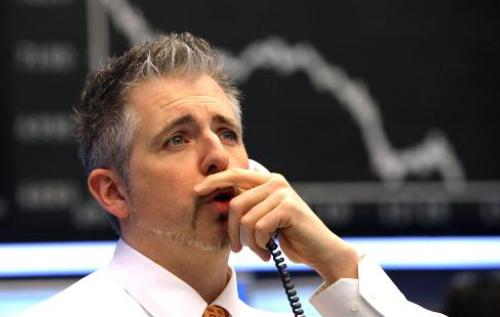 A trader reacts after the news of the Bear Stearns buyout on March, 2008.
~ooOoo~
Buenos Aires, Argentina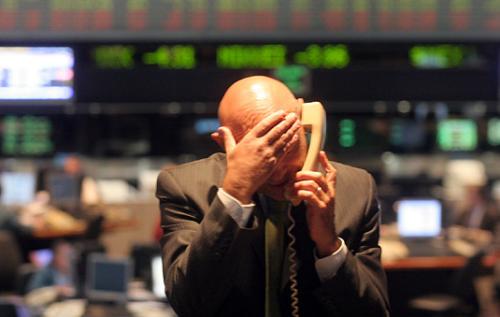 Like many Latin American equity markets, the Argentinian market is particularly volatile. Argentina's MerVal index falls 6.9 percent on this day.
~ooOoo~
Mercantile & Futures Exchange in Sao Paulo, Brazil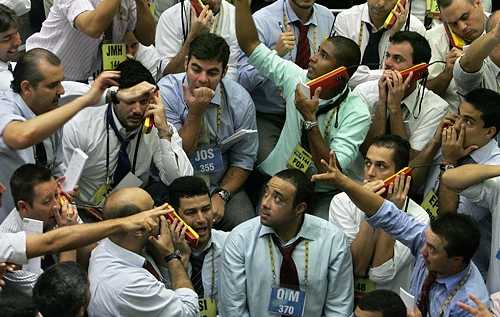 A 6.6 percent drop in the Bovespa index of the Sao Paulo Stock Exchange triggers some chaos.
~ooOoo~
Shanghai Stock Exchange, China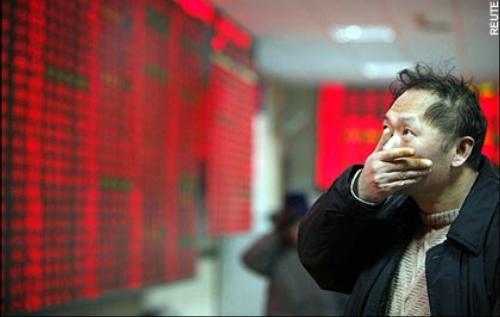 Wasn't too bad this time: the Shanghai composite only fell 5.14%.
~ooOoo~
Mumbai, India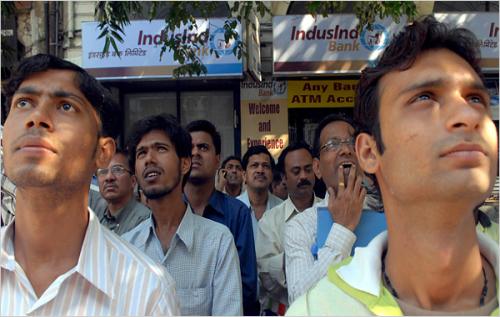 Nothing to do but stop, stare and watch a crumbling market, agog.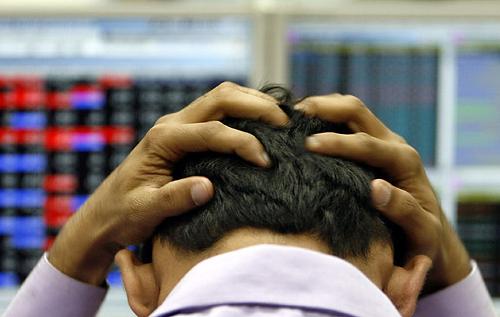 Somebody grabs his head in dread when the main Sensex index receives a massive 7.4% shave.
~ooOoo~
Malaysian Stock Exchange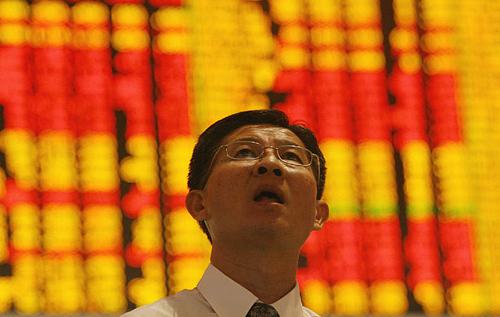 An investor watches the Kuala Lumpur Composite Index (KLCI) do its dance.
~ooOoo~
New York Stock Exchange, USA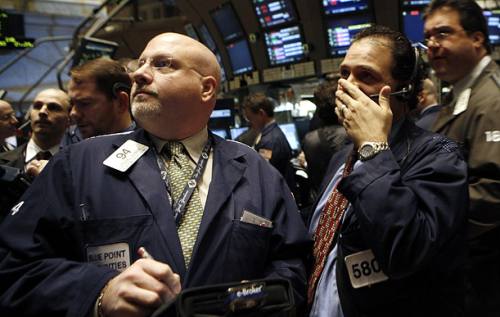 Another day at the office: traders watch a 460 point drop in the NYSE. There was a subsequent retracement in the NYSE, after a Fed cut spurred a rally.
~ooOoo~
Philippine Stock Exchange (PSE), Makati, Philippines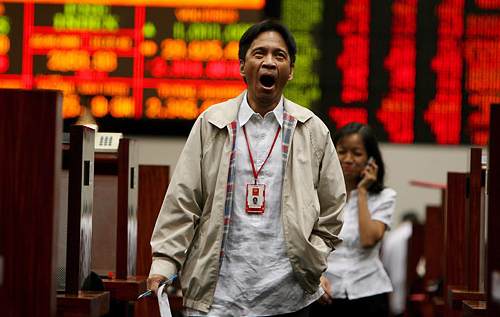 This Filipino broker is in a subdued mood and is caught yawning. At least he's not yelling, as traders are wont to do at work.
~ooOoo~
Tokyo, Japan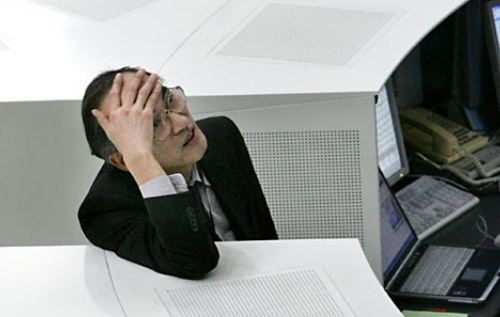 I'd have this expression too if I were a Japanese suburban mommy day trader caught with my knickers down. [Pardon my analogy.]
~ooOoo~
Our expressions don't lie — it hurts to lose money in the stock market. But there are ways to alleviate our fears somewhat. I've written quite a number of articles on surviving stock market volatility, so what's a few more suggestions? 🙂
How To Take A Stock Market Dive In Stride
#1 Stay diversified and you'll better manage your risks.
Don't overexpose yourself in stocks in a way that will hurt you financially, especially in the short term. Spread your risk around by building a well-balanced portfolio, particularly one that suits your investment temperament.
#2 Don't panic.
The market will do what it will do… we can't control the herd. But what we can do is control our attitude towards it — being emotional will not help and may even hurt. Panicking may influence you to react impulsively to market movements, which is usually disruptive to a long term investment plan. Accepting volatility as part and parcel of the markets will keep you better focused on your investment goals.
#3 Be aware of the fundamentals.
You'll feel better by keeping an eye on the fundamentals of the markets, the economy and your specific investments. Most of the time, the market overreacts to news and the underlying fundamentals aren't as weak as they may seem, especially when we look at the bigger picture.
#4 View it as a buying opportunity.
I've mentioned this often — that I love playing the contrarian. It makes me look forward to corrections and even the occasional bear market (although when a bear becomes extended, I do start to get uncomfortable!). If you can afford it, why not move some of your short-term savings into the discounted market, then build your savings back up later? You'll be buying low!
#5 Take the long term view.
The longer your investing horizon, the less likely you'll lose money (hence the argument that you should invest as early as you can). This graph by MainStay Investments says it all: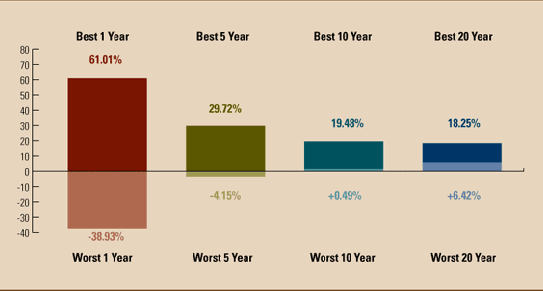 Since 1950, the best and worst one-year returns widely fluctuate. However, over longer time periods, the volatility flattens out. As you can see here, based on rolling periods, the stock market is positive a majority of the time. In fact, over the past 50 plus years there is no 10-year period that the stock market has not posted positive gains.
Here's more discussion on long term investing vs short term trading.
#6 Try not to obsess.
It's hard not to do but try to keep your mind away from the gloom and doom. My spouse is addicted to these types of stories and it's made him more anxious than he should be. Think that "this too, shall pass!"
#7 Put things in perspective.
Check the historical financial charts a bit and it can help put things in perspective. What's happening now will probably be happening repeatedly into the future so hopefully the market's cyclical behavior is something you can get used to. If not, then you may want to rethink your participation in equities.
#8 Pick up some valuable lessons.
It's when things get tough that most of us learn a lesson or two. I have. And it can only make you a better investor! Just check out my bumbling foray into the markets and the things I've learned along the way…
#9 Reflect.
By reminding ourselves what we're in the markets for, it may give us pause and prevent us from making abrupt decisions that may derail our financial goals. I've put some of my own thoughts into writing, which helps me live through a rough market patch:
Here's how I reflect: I blog. For me, blogging about the stock market is therapy 😉 . It helps me release my tensions and anxieties in a way that I find productive. And by keeping connected with my financial blogging peers, I don't feel alone; it makes me less likely to do something hasty. Funny as it may sound, I do think that some form of release will do a "stock market chicken little" a whole world of good! 🙂

Image and Info Credit: Time's World Financial Markets Stumble; The Globe and Mail
Created June 24, 2008. Updated August 9, 2011. Copyright © 2011 The Digerati Life. All Rights Reserved.