The economy and the investment markets behave like roller coasters sometimes. So what do we do in the face of such changes? Whether you are an investor, entrepreneur or employee, you'll benefit from being prepared when changes strike. Here are some things I do to prepare myself for economic uncertainty.
What do you do during uncertain times? When the stock market is tossing and tumbling, I become more vigilant and more excited. In particular, my household begins to strategize about what we should be doing to take advantage of the uncertainty in the various financial markets.

What's confusing to us is that some of our sources — places where we get our information to make our own forecasts — are giving us seriously mixed signals. Some sources are telling us that everything is going to hell in a handbasket, while others are beginning to sing the tune of a buying opportunity somewhere in the horizon. On top of that, some investment bloggers are uncertain about their positions, thinking that any kind of dip may be a dead cat bounce.
The truth is, during volatile market periods, I would often opt to build a larger position in equities by buying more shares when they got cheaper. And in the past, it was comfortable to dollar cost average down because youth was on my side. I used to think: "If the market dies, so what! I'll just make up the difference with my consulting income." And that thought was my security blanket. And looking back, that strategy played out fairly well.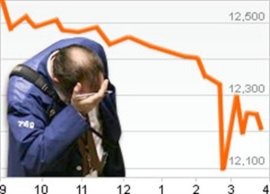 The only time we ever pulled the plug on the market was when we sold out about 65% of our equity holdings on January 2000. That was when our sources gave us heavy warning about the upcoming debacle expected to hit the dangerously peaking market. Back then, it was easy to see that the market was becoming insanely irrational. After all the animated arguments I've had with the leveraged traders at work who laughed at me for being relatively conservative, my gut feeling confirmed that it was time to lighten up.
Fast forward to today: this time around, we're older, and on a more limited income (thanks to bigger family expenses). We're reasonably invested but there's a tug-o-war happening in us: our clocks are telling us to slow down a little, but our portfolio looks rather stodgy (and boring). So we're evaluating possible moves.
Find Investment Opportunities In Any Market Environment
Can we capitalize on market volatility? I believe we can. Here are some moves you can make to survive a market that refuses to stay still.
#1 Think ahead and try to think positively.
Your financial situation won't hurt so much if you begin focusing on your end goals. I console myself by thinking that when economic shifts happen, the stock market usually reacts to such changes in advance. So if we expect the next year to be rosier for the economy, then watch out for a stock market recovery several months earlier (e.g. some experts will say 6 months earlier or thereabouts).
#2 Understand what's upsetting the market.
I've taken a renewed interest in understanding how the investment markets work; it's been said that down periods are rife with prime opportunities. I try to look at what things we can leverage today so we can be better positioned when things start to get better.
So study the markets. A technical break in the stock market's movements and a shift in market direction should prompt you to revisit overall economic indicators. If they're still positive, you may assume that the impact of a one day (or few days') sell off won't be felt for long and the markets should eventually rebound. It's when there's a basic underlying change in the economy that a technical break like this can be the start of something more ominous and potentially damaging to the markets.
Time will tell how a one day slump will turn out. But it will be one of the following:
(1) A blip or non-event (market recovers quickly without a dent in it)
(2) The start of a correction or a drop of at least 10%, but not more than 20%
(3) The start of a correction that eventually presents a buying opportunity
(4) The start of a long term downward trend (bear market activity)
Depending on whom you ask, you may get different answers on what will happen next but the key is to sift through the news and analysis to determine how overall fundamentals are doing. By keeping abreast with such information, you can at least anticipate some general market movements and not get too shocked when equities make like a roller coaster.
#3 Wait for a buying opportunity if you intend to increase your equity position.
If you're planning to get into equities, then wait for a buying opportunity when the market weakens and take advantage of a developing market correction.
#4 Hedge and get into new or underrepresented asset classes.
I want to consider new ways to invest. I've started to nibble on gold and have investigated currency plays. But we prefer to hedge our portfolio better by considering adding weight to areas that we have a bit more familiarity with and which may benefit from current market trends (such as real estate and international equities). I'm also keeping my eyes peeled for investment opportunities that pop up in our local area. I've also been checking out rental properties as well as the possibility of carving out a position in REITs. Another move would be to raise the allocation of our international equities as fund share prices in this area decline.
#5 Rebalance your existing portfolio.
On those occasions when the markets are in free fall, it hurts to see sinking numbers. This is why I check my investment portfolio on a regular basis to ensure that it doesn't stray too far away from our original asset allocation model. I've been working to readjust our investments so that our cash position doesn't overwhelm our shrinking stock allocation.
You can also do the simplest thing and just rebalance your portfolio after any recent market shifts. This would just entail staying with your intended allocations and making sure your investments are still conforming to their stipulated amounts.
#6 Sell and lighten your position.
You always have the option to go lighter on those investments that bear more risk. Sometimes, you can decide to make tactical moves based on where you think the national and world economies are headed. You may want to think about "selling" equities in favor of other investments (see #4). Or you can lower your risk by moving your most concentrated single stock investments into more diversified positions (such as index funds).
#7 Or sit tight and do nothing.
This is a prerogative that you have when the markets begin to unravel. You may want to stay put and stay the course. I prefer to review our positions first before seeing if it could benefit from some tweaking. If there are fundamental reasons to break out of the inertia that is "buy and hold", then we need to reevaluate just how we can capitalize on the changes we are seeing in the financial and investing landscape.
In Conclusion
Depending on your goals, you may want to make some readjustments to your portfolio. But first, perform a portfolio review and see if you have enough funds to get into additional investments or whether you'll need to focus on minimizing your risks. If we can channel our fears into more productive actions, we'd not only do our finances good, but we could also possibly help influence the direction in which our economy is headed.
Created April 9, 2007. Updated June 12, 2012. Copyright © 2012 The Digerati Life. All Rights Reserved.