Things we can do while waiting for the economy to turn up.
When we're faced with a dour financial forecast, we're often told to batten down the hatches and stay the course. But what if you can't stand to do nothing as your portfolio erodes? Well for those of us who feel compelled to take action, there are ways to leverage this rocky and weak stock market.
I've previously written why this stock market slump can be good for us and have shared some ways to shrug off a market fall. Whenever we hit a rough patch of the economic cycle and the market deflates, I've trained myself to see the silver lining in it. Though I'm not an advocate of market timing, I believe that there are timely things we can do, depending on where we are in a market cycle.
Steps You Can Take To Leverage A Weak Market
So for those of us who can't sit still, here are some things we can do to make the best out of a tough economic cycle:
#1 Consolidate and simplify your portfolio.
The market is down, which means you're sitting on smaller profits. Now may be the perfect time to reduce the clutter in your portfolio. I am guilty of having a somewhat convoluted portfolio, having collected too many funds over the years. I've had a hard time consolidating them because I wanted to avoid tax hits on the accounts. Well, when profits are smaller, it may be a convenient time to consolidate. This may leave me with a smaller tax bite.
#2 Take advantage of tax write-offs by dumping losers.
Financial articles call this "harvesting your losers". If you've been itching to dump poor performers in your portfolio, you've got a great excuse to do it now. When the market is doing well, you'll probably see green numbers across the board and your weak performers may still be eking out gains, discouraging you from selling them then. But when you start seeing the "red", you're more likely ready to get rid of those weaklings. How it works:
Ditch the losers to offset gains in your portfolio, then any losses left over can be deducted against other income such as salary or dividends, up to $3,000.
If after doing the offset you still have remaining losses, carry over your losses into following years, while following the same rules (offset gains, then other income up to $3,000). As long as you still have losses, you can rinse and repeat this indefinitely each year and have your gains absorb your losses this way.
Be wary of the wash sale rule if you decide to buy back your losing investments. That is, if you sell a stock or fund, you won't be able to take a tax deduction if you buy the same type of investment within 30 days before or after your original sale.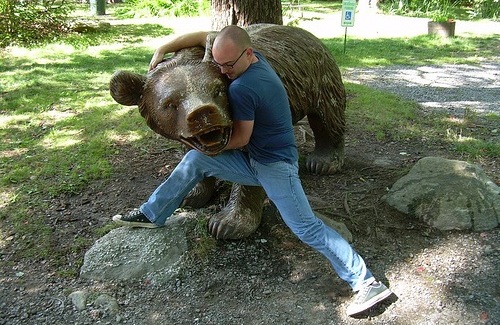 Photo by shygantic
#3 Do a Roth IRA conversion.
You may be considering converting your traditional IRA to a Roth IRA, a retirement vehicle that allows you to make after tax contributions into a tax free account. In 2010, the Roth IRA conversion limits were lifted, such that anyone is now eligible to do a conversion if they so wish. Income restrictions for conversions are no longer an issue. But note that the conversion triggers some tax costs. You'll pay taxes on your previously deducted traditional IRA contributions and on your IRA earnings; hence, it's better that you do any conversion when your IRA accounts are on the low side.
I am strongly considering this move right now. With our family income tied to erratic income-generating businesses, it may serve us well to convert to a Roth IRA when income is on the low side. Plus, with the market in the dumps, low IRA earnings also mean lower taxes if we convert to Roth IRAs.
#4 Rebalance your portfolio.
Whenever drastic changes happen to your investments, it may be time to revisit your portfolio to determine if you need to rebalance it and to ensure that you keep your allocations as they should be.
#5 Learn and accommodate hedging strategies.
No, I am not recommending you go out and short the market if you aren't quite sure how it works. But when times are bad, we learn how to become wiser and more resourceful about how to protect what we have. Because of fear of loss, we have more reason to evaluate hedging strategies such as the possibility of buying into annuities or including additional diversifiers in our portfolio (like currencies, commodities or REITs).
#6 Rethink your asset allocation.
With the negative returns we're seeing, it may be worth our while to review the vulnerabilities in our portfolio and see where it can be improved. When the stock market is doing well, we don't want to touch our allocations — even when we're heavy on equities — because we're enjoying the great returns. But with down markets, our portfolio's flaws are exposed and may need to be patched.
#7 Know where your financial institution stands.
How is your bank or mutual fund company holding up right now? Times like these may show the kinks in their armor. If your financial institution is in the FDIC's troubled bank list, you may want to reevaluate your relationship with them.
#8 Improve your investment choices.
Take stock of how you're doing and check to see if your holdings and positions are in line with their benchmarks. If they're doing worse than the market, maybe you should look into alternatives that are doing better.
#9 Buy low.
I've said it time and again that difficult market conditions provide many opportunities for shrewd investors. If you buy when prices are down, you stand to gain so much more when the market rebounds. If you're concerned about the volatility at this time, you can dip your toes into the market by using dollar cost averaging, value cost averaging or some other portfolio building techniques.
#10 Understand where you stand with risk.
This market will separate the wheat from the chaff (or chicken littles from the iron stomachs) as they say. One of the first things you determine as an investor is how well you (and your gut) can withstand market shifts. If you find yourself questioning your position as an investor, you can only thank this market cycle for helping you assess your taste for risk. It's better to discover what your appetite for risk is, before you actually encounter a really big bear (market, that is).
#11 Teach yourself to be more frugal.
I can't help but feel like I need to be more conservative and frugal about our money when our investments aren't doing so well. The good thing about poor markets is that they afford us learning experiences that may very well turn us into better and more effective savers and investors in the long run. When times are tough, we become tougher — what doesn't destroy us can only make us stronger.
#12 Rework your financial plan.
This is the time and opportunity to tweak and adjust a financial plan that is less than ideal. If there are holes in your financial plan, they'll be easier to spot now!
#13 Train yourself to be less complacent and to be better prepared.
Use this period as a trial run for bigger things that can happen down the road. Let's plan to be ready for anything!
#14 Test your current investment strategies.
Now that this economic downtrend has knocked the wind off your portfolio's sails, are you still on track towards your financial goals? Should you stick to your guns or do you need to make adjustments to your investments in order to reach your objectives? This doesn't mean we should attempt to make up for losses by taking on more risk; this simply means that we should assess what we've been doing so far to find out if we can make improvements to our investment approach.
~ooOoo~
It's easy to feel anxious and uneasy when our portfolios are facing losses, and it's very tempting to try to take action when things are happening outside of our control. But we should be careful that we don't overdo things and try to do too much, as any actions we make may backfire on us if they're not well analyzed or executed.
I look upon a bad market situation as a way to become a wiser investor who refuses to let her emotions get the better of her. Consider a challenging financial period as just another character-building moment for long-term investors.
Copyright © 2011 The Digerati Life. All Rights Reserved.